Today I'm talking about classroom management tips for secondary teachers. Older students demand a different approach to classroom management in the classroom. You can have successful secondary classroom management, though. 
If you want management ideas, I do have some for you. Classroom management for high school is entirely different than classroom management with middle school. In this post, I am explicitly writing about classroom management ideas with high schoolers.
And? I love high school kids. That is the age that I was meant to teach! I do build relationships with my students, and I do incorporate SEL. Still, classroom management for high school students still requires thought and attention.
I narrowed down the five instances that cause the most upheaval in my classroom and provided ways that I handle them. Personalize these examples, bend to fit your situation, and make them your own. Here are five classroom management ideas for the high school classroom.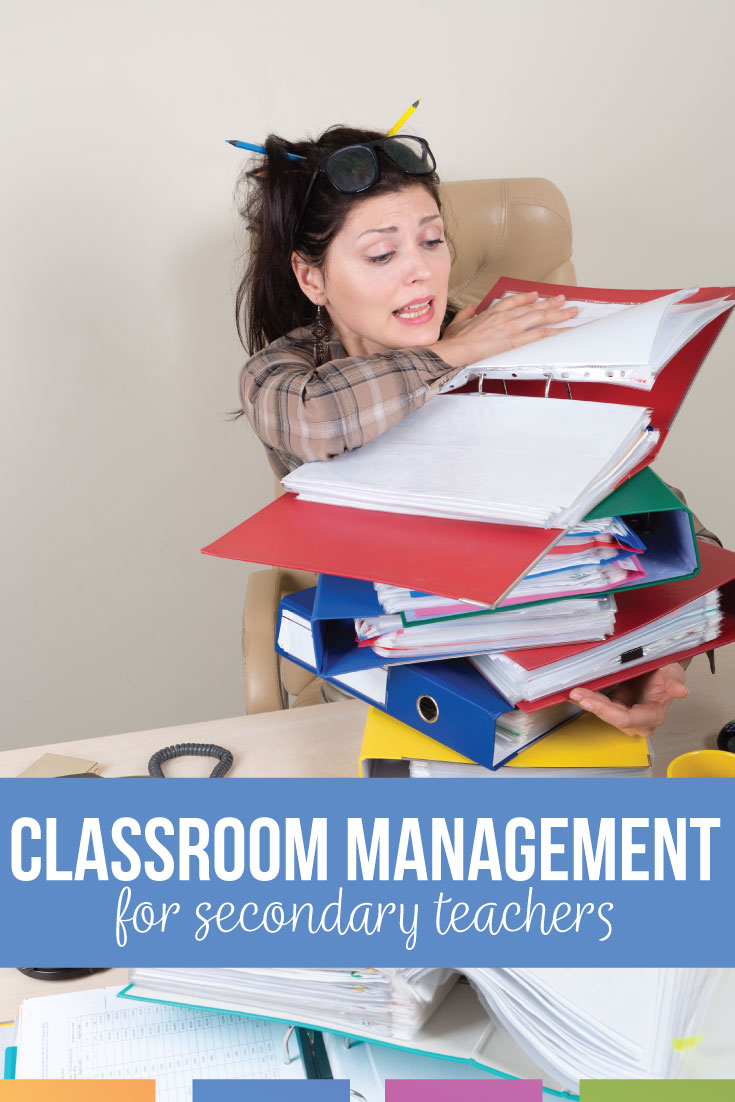 #1: Classroom Management Issue: Leaving class to see support staff.
Short answer: With a few exceptions, they don't go.
Long answer: I have two important points with this. One, our counselors and student service department members excel at communicating student needs. If a student has a history that dictates they meet with someone, they of course go. Two, if students have an IEP or any other paperwork that states they may need to speak to someone on occasion, again, they of course go.
This once was not my policy. If a student asked to see their counselor, I wrote them a pass. I never wanted to keep students from seeking any sort of support. Quickly, I learned that the students wanted to avoid classwork and that the support staff often had meetings and were not even in the building! (Did the student return to class? Well. . .) My heart was wanting to help students, but they took advantage of that. Plus, part of secondary classroom management is keeping students safe. Students who roam might not be safe.
This is what I do now: I communicate with the support staff. If the student has a standing pass that they can leave when necessary, they go. Otherwise, I tell the student that I will make sure the counselor/social worker is in their office, email them, and wait for a response. Sometimes, they shoot me an email right back and want the student. Other times, I get an email that confirms that student has pulled that trick before and needs to stay in class. I've even had counselors say they are with someone and will call that student down when they finish.
So, students don't go immediately. Instead, I follow up with the support staff the student wanted to see.
The largest takeaway for classroom management for high school with this example? Communicate with your coworkers.
#2: Classroom Management Issue: Starting class.
Short answer: Bell ringers.
Long answer: When my students enter the classroom, they begin the assignment for the day. They know what to expect, I take attendance, and we move on from there.
Note that I use "bell ringers" as an encompassing term. I don't have a book of bell ringers. Sometimes students begin by taking notes. Other times they get with a partner and start answering questions. It depends on our goals for the day. Secondary classroom management requires planning ahead. When I provide a starting point for students, they begin work which lessens the opportunity for problems. 
Put in place strong classroom management ideas before students arrive.
#3: Classroom Management Issue: Disruptive talking.
Short answer: I stand next to them.
Long answer: A student who continually disrupts after I glance at them, directly ask them to stop, shake my head at them, and more? I stroll over to them and refocus them. I show where we are working, get them a pen, or put away whatever is distracting them.
High school kids do not want a teacher standing right next to them. They will stop.
#4: Classroom Management Issue: Leaving for the bathroom.
Short answer: I let them go.
Long answer: This previous year, I reread The First Days of School by Dr. Wong. I'm paraphrasing, but he suggests that teachers have pencils to give students so that class will continue. Overall, he wants to turn a huge issue (no writing utensil) into a non-issue. If pencils could become a non-issue, could restroom passes?
Leaving for the restroom has previously been such a large issue for my classes. Bathroom passes and pencils are not the same, obviously.  Still, I wanted to change the situation and was willing to try a new approach.
I experimented this previous year. I told students at the start of the year that I didn't want to be involved in their bathroom usage. They may go as needed, but (and this was an emphasized condition), if it became abused or problematic, they would have limits.
I had students that I felt went to the restroom to be on their phone or goof off. I shared my concerns and told them it was becoming an issue. They caught on and bathroom use became less frequent. The situation never became one where I contacted parents.
This worked because I emphasized the procedure: you may go, but if leaving class is done too often, I will question you. It worked this previous year.
#5: Classroom Management Issue: Tracking absent work.
Short answer: Google Classroom.
Long answer: Assignments, activities, and homework have a place on Google Classroom. When a student is absent, they know to find the assignment there.
At first, it was cumbersome for me to add information online. It became so handy when students were absent that I kept with it until it became habitual.
When I think of the top classroom management issues that stress me every year, these came to mind. My classroom management solutions are not perfect, and they may need switched as I continue with them.
Secondary classroom management is a constant project; I'm always changing and reflecting. Use what works for your individual classrooms and remember, while these are my ideas, Melissa from Reading and Writing Haven has more ideas about classroom management. Jump to her blog, and then join our Facebook group where she share freebies and other teacher ideas.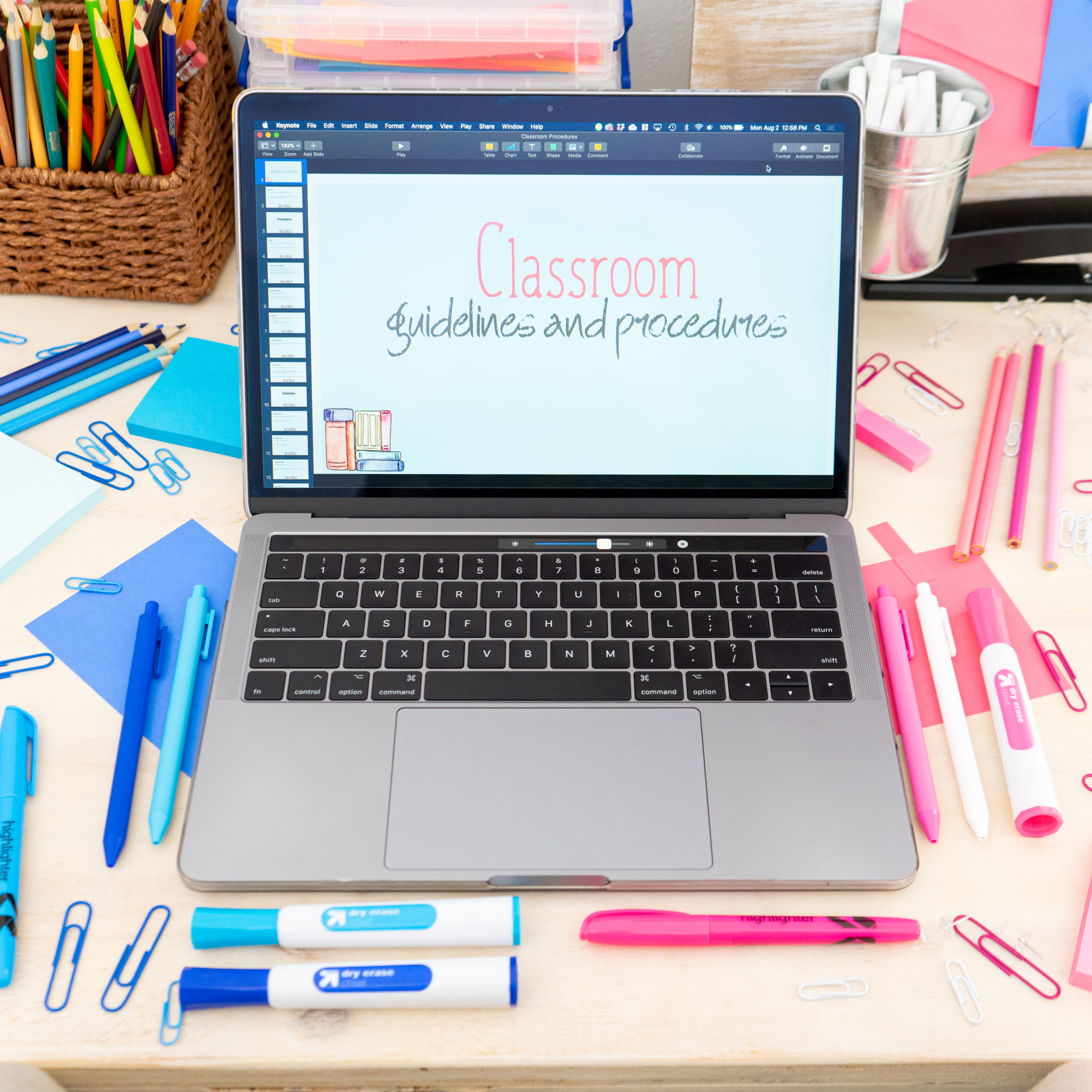 Are you interested in more classroom management ideas, specifically classroom management for high school? Join our private Facebook group, ELA Today. We discuss all ideas related to education.