Looking for a public speaking bundle? I can provide you with an overall picture of how to teach public speaking. 
EDIT: This blog post about a public speaking curriculum has turned into a monster post! It is easily three times as long as my normal blog posts. That's ok because I know how intimidated I was when I taught speech the first time. All of the lessons and activities mentioned below are in my Public Speaking Bundle. BUT?! I think you could still use these ideas as a springboard into speech if you aren't looking to buy a bundle.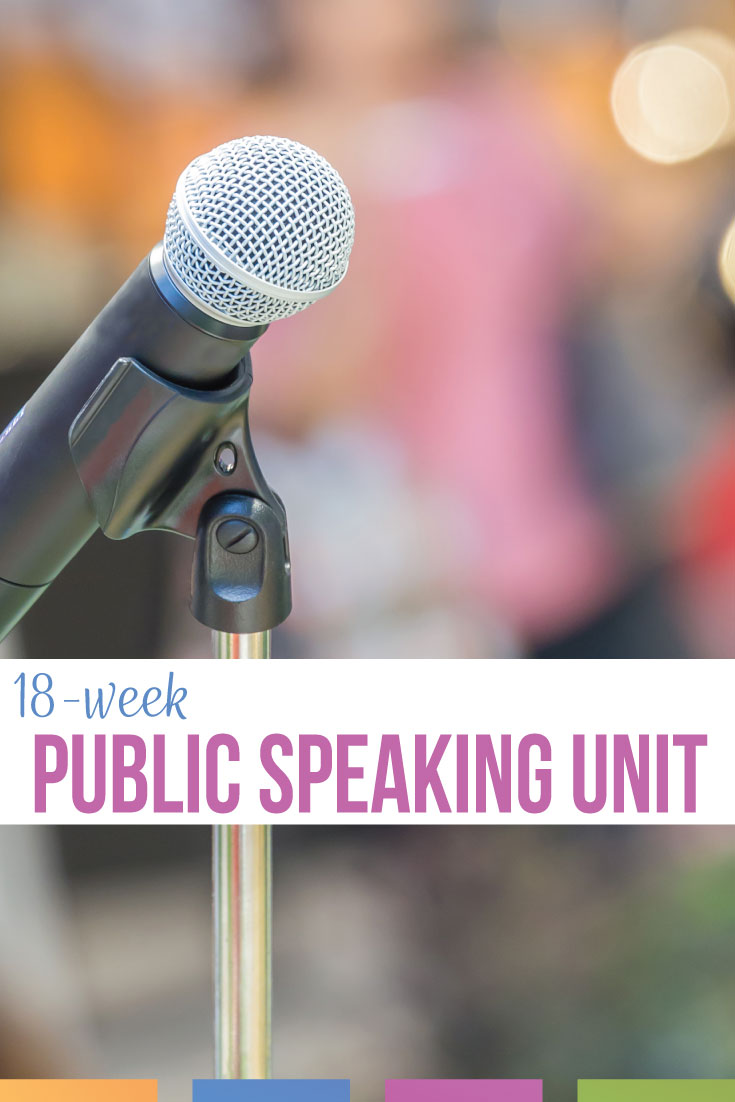 I get lots of emails. Most emails pertain to grammar. The second most emails? Public speaking. Teaching public speaking is challenging. 
I have taught public speaking; I teach in Illinois and hold a teaching endorsement in speech. Additionally, I have coached a speech team and substitute-taught public speaking. I understand the challenges and rewards. 
Students have ambivalent feelings about public speaking. They understand the power of speeches, but they are nervous as can be. Our goal as teachers is to harness that range of feelings and get students speaking comfortably in front of crowds. That is my overarching goal as I organize and create these activities.
A few notes about this blog post:
This public speaking outline took me years to develop, and I still add pieces every semester that I teach. The order and the activities have reasons for placement, and I'll explain those as we continue. For your needs and students, you may wish to rearrange these procedures. Please! Personalize as necessary! I purposefully left room for teacher personalization.
ALL of these activities are in my Public Speaking Bundle —BUT!—if you aren't looking to purchase anything, I hope you can still use this outline to get started, to know what to expect with a public speaking course.
When I mention a "Discussion Starter," I am referencing an activity in the bundle. The topic is a recurring question students have, so you should be aware that students will need that information.
The "weeks" are general guidelines. Don't stress if you finish early or run a day over—I do too. Flexibility and compassion help nervous students.
Please, please feel free to contact me. I will happily answer any question about public speaking. It may be the most difficult class I've ever taught, but it certainly is rewarding.
My biggest belief with teaching public speaking: students need time to practice their speeches while providing structure and diverse speaking opportunities. We spend days practicing our speeches alone, with peers, and with me. Professional speakers practice intensely, and students should see that practice prepares them. Teaching public speaking requires flexibility and pep talks.
Week One: Introduction.
How to teach public speaking? Connect with your students and their parents. We complete introductory speech activities. (Download for free. ) Part of teaching public speaking should be building a community to set young public speakers at ease. Giving a speech in front of others can be nerve-racking, and I have never regretted spending time discussing communication and the multiple factors of public speaking with students. General conversations and fun activities help build a supportive community; you really will be setting the room for success.
Discussion Starter: "In the Beginning"
I email parents/post to the classroom website the note for parents about public speaking. (Note in bundle.)
I cover the role of audience members with students (worksheet in bundle). When I give students this expectation, it helps because they know they have a role in class even when they are not speaking.
We read an overview of giving a killer presentation. This takes an entire class period; we discuss how powerful speaking is.
I define the differences between interpersonal and intrapersonal communication. We write about how our intrapersonal communication influences our interpersonal communication.

Week Two: Baby Steps.
Audience Analysis. Who is your target audience? For every speech, students must recognize their audience. We complete the Audience Analysis activity which normally takes two class periods.
Write a radio commercial. Students must realize that their audience cannot read the message; they can only hear and see. I practice "hear" first with a thirty-second speech. Students write and deliver a radio commercial.
This helps because students understand that public speaking holds power—in fact, that is probably why they are nervous about speaking to an audience! I want to harness that excitement and power but not scare students. With the radio commercial, students can "ease into" public speaking. It is quick, short presentation, but it allows me to outline my expectations for speeches.
The radio commercial also allows students to focus on verbal communication without focusing on hand gestures, positioning, etc.

Weeks Three – Four: Narratives: writing and presentations.
Teaching public speaking is a personal endeavor because students will share personal information. Narrative speeches are a great way to build relationships with students.
Discussion Starter: "Where do I stand during my speech?"
I choose a narrative topic for students. I have done numerous, so I have plenty of samples and instructions.
Goal setting sheets help student, and I devote time explaining the process and reasons for planning goals in life. I want them to set goals so that the information is important to them, so they are invested in the process. Setting goals also allows me to differentiate without students asking about their classmates' plans. After the narrative speech, students create their first goal sheet.
Students deliver a speech without researching and citing sources. The narrative is about them, so they can write and deliver it rather quickly. This gets students in front of an audience without immense pressures.

Week Five: Informative: research and writing.
For the first researched speech, I have students complete a biography. I do this because they are so easy to organize—students use a timeline of a person's life. When I question how to teach public speaking, I believe starting students with confidence pays off later.
Additionally, with researching and citing sources, students can become overwhelmed. When they start with a biography, they do not yet have to worry about organizing information. We use the brainstorming sheet as we research these speeches.
Discussion Starters:
"How do I research my speech?"
"Citing sources"
"Outlining your speech"
We research and write the speech outlines. During this week, we practice extensively. Students have completed several smaller speeches at this point, but this speech is different since students research the topics and cite sources. My sample speech is about Kate Chopin. Showing students this speech allows for me to demonstrate organization while not stealing a potential topic. Most students won't write about Chopin!

Weeks Six – Seven: Practice, prep, and planning. Presentations.
This week, students will make a visual aid, decide on their goals, and practice their biographical speeches. I often have students work with peers and provide feedback. I rotate around the room these days. Students often put too much information on their visual aids, and this is a correction I work with them.
To differentiate, students choose their own goals. A goal can be to speak loudly, to minimize "um," or to move hands purposefully. When I grade, I keep each student's goal sheet by me and watch if they have improved on what their focus was.
Students often want to write their speech and deliver it the next day. To prevent this, I make the outline due a week before we start speeches. Students get points for having their outline done, which they appreciate. This forces them to practice.
I cannot stress enough that students will need lots of prompting and encouragement to practice. Students sometimes tell me that they perform better if they don't practice. This is not true! Rarely have I given a class too much time to practice and had them bored. Students can always perfect their speeches.
We have many discussions and classroom conversations. Our worksheets start reflection and provide talking points.
Discussion Starters:
Presentations take about a week (of course, this depends on the size of your class). I encourage proper audience behavior. Students should be engaged and check statements from presenters. Part of a speech class is learning to be a good audience member.
I record students as they speak. As we finish presentations, students watch their presentations and reflect. They write what they should improve, how to improve—taking their goals into account. We wrap up by having a class discussion about concerns and strengths. Students can become overwhelmed or unmotivated, so I always acknowledge the difficulty of giving speeches and how they are succeeding in certain areas.
Weeks Eight – Eleven: Argumentative research and writing.
At the start of this process, students are still watching and reflecting on their previous speeches. Students do this alone, so the rest of the class is often researching and outlining their new speeches.
We repeat the informative layout, but we cover more information as a persuasive/argumentative speech. To me, this is the type of speech students will most often deliver in life. It's important for them to take it seriously and do well. I don't have this as the final large speech because when I did that, winter break or the end of the school year (whenever the semester ended) took away from serious speech practice.
I add another week into this speech because I typically increase the time requirement. Students need more practice as this speech is a new format and typically longer.
Decide ahead of time what format you want students to use. I typically use Monroe's Motivated Sequence for persuasive speeches.
Two days are spent completing the Ethos/ Pathos/ Logos Activity.
Discussion Starter: "Diving deeper with your topic"
Students are familiar with the creation process, so the speech creation and practice process normally is better.

Week Twelve: Impromptu, narrative.
Students have worked hard so far, and I give them a slight break from preparation while teaching them valuable skills: thinking, organizing, and speaking quickly. Plus, students often have habits that need broken: fillers (um, yeah, so) or unnecessary hand gestures. These short and relaxed impromptu topics require students to speak, but at the same time, they can focus less on the content and more on what they should improve.
We also study a famous speech by Susan B. Anthony. These activities are important, but they also give students a rest.

Weeks Thirteen – Fifteen: Informative, non-biography.
Returning to an informative speech is difficult for students, and I do this on purpose. Students must understand the different expectations of speeches. They will try to persuade during this speech, and that is something of which they must be aware. Part of teaching public speaking is challenging students in new ways.
Informative speech topics can include different types of technology, careers in a certain field, or roles of government branches. I have a sample informative speech included in my speech unit. The speech is on modernism, and I stress to students that they should not border on persuading their audience.
Discussion Starters:
"Adding emphasis in your speech"
"Elevating your rhetoric"
We repeat the speech preparation format that the other speeches followed. I also show a presentation about figurative language and show students speeches with samples of the figurative language. Then, students brainstorm figurative language to put in their own speeches.

Weeks Sixteen – Seventeen: Impromptu/Argumentative, how-to.
(Again, you can download these public speaking lesson plans PDF in my library. The impromptu activity is included.)
We practice persuasive speeches again, only this time in impromptu format. Students need to present their point of view logically and persuasively. Many "speeches" will be in front of a college professor or boss when called on to present their case for or against something.
I have students create the topics which normally include ideas like, "sell me this pen" or "explain why your work schedule should change."
Finally, if I have a large class, students might complete the impromptu speeches the entire week. If I need another speech topic, we complete the other how-to speech we did not do earlier. (I have two how-to speeches included, one for food and one for non-food.)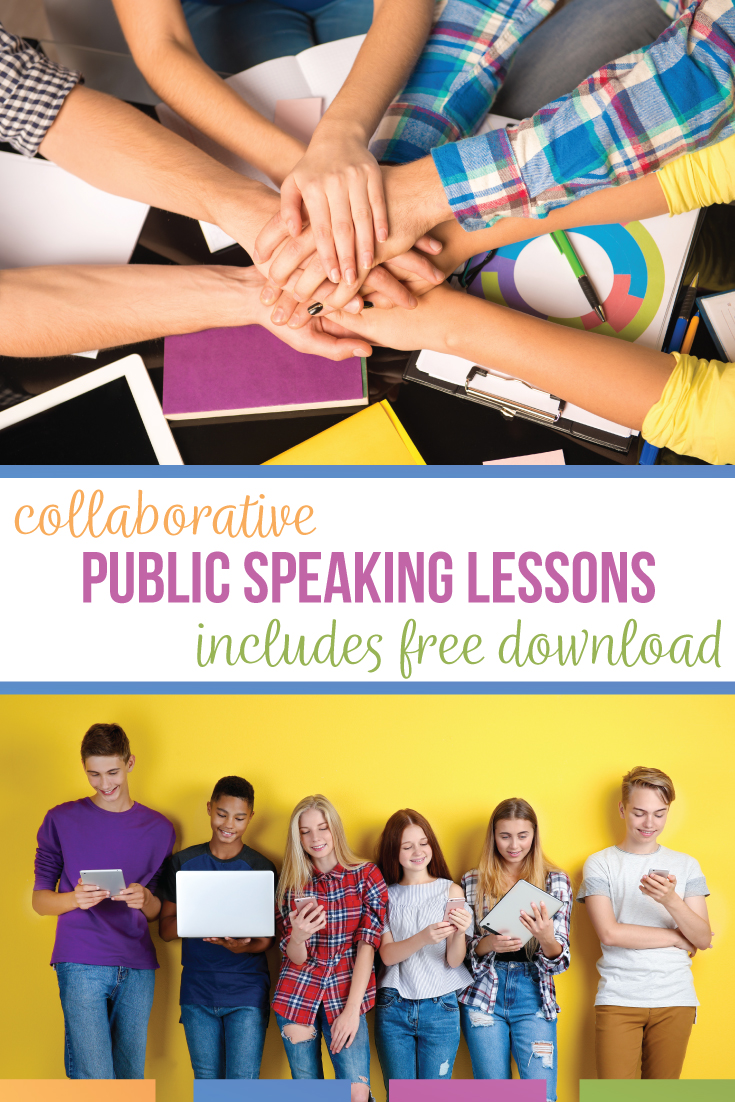 Week Eighteen: When I taught seniors, this was the most exciting time for my speech class. Students wrote a graduation speech, and administrators judged who would give the speech at graduation. (Students not in my class could participate too.) It was an authentic audience, it was meaningful, it had everything for the end of a public speaking course.
I do not give students a list of rules for their graduation speeches; I make students develop them. This is more meaningful because it shows me if they understand what it takes to create and deliver a great speech, if they understand that not all speeches are the same, and if they can take the initiative in delivering a speech. I use the rubric that is included in the bundle.
Sometimes, schools require that each class have a final exam. The public speaking bundle has a test, which I give if required. Other times, I use the graduation speech as the culminating activity. Then, we complete a final evaluation sheet so that we can close the class.
***
When I began teaching, I had fifty-year-old books that my students hated. (I didn't love them.) I had my speaking experiences, and not much else. Teaching public speaking takes dedication and effort, but you can succeed. My hope is that this outline of a public speaking curriculum saves another teacher stress and pain.
I developed this order, these processes after mistakes, reflection, and more reflection. I hope this public speaking unit helps other teachers.
Thanks for stopping by my blog! I'd love to connect with you after you download the public speaking lesson plans PDF. Join me on Facebook to meet other educators who discuss best practices for how to teach pubic speaking, how to develop high school speech lesson plans, and how to create a speech curriculum for high school.