This is a review of a popular young adult literature author, Sarah Dessen and three of her young adult literature books.
Welcome to "This or That," a monthly chat where the authors of Reading and Writing Haven and Language Arts Classroom cover different ways of approaching common decisions in the ELA classroom.
Background
Last year, I had a student who proclaimed a book changed her life. I'm always interested in life-altering books, so I paid attention. I keep a list of books that students suggest and added "Sarah Dessen" to the list. This summer, I took that list and rummaged through library sales and used book stores for her books and one day, I struck gold. I purchased several of her books and proudly added them to my library.
When I introduced my students to my library this year, students grabbed at this stack of books. So. I knew that I need to read a few Sarah Dessen books.
Below are the three books I have read so far. The links will take you to Amazon, and I am an affiliate. (I always want to be honest with my readers!)
Enjoy – and! – add some Sarah Dessen books to your classroom library.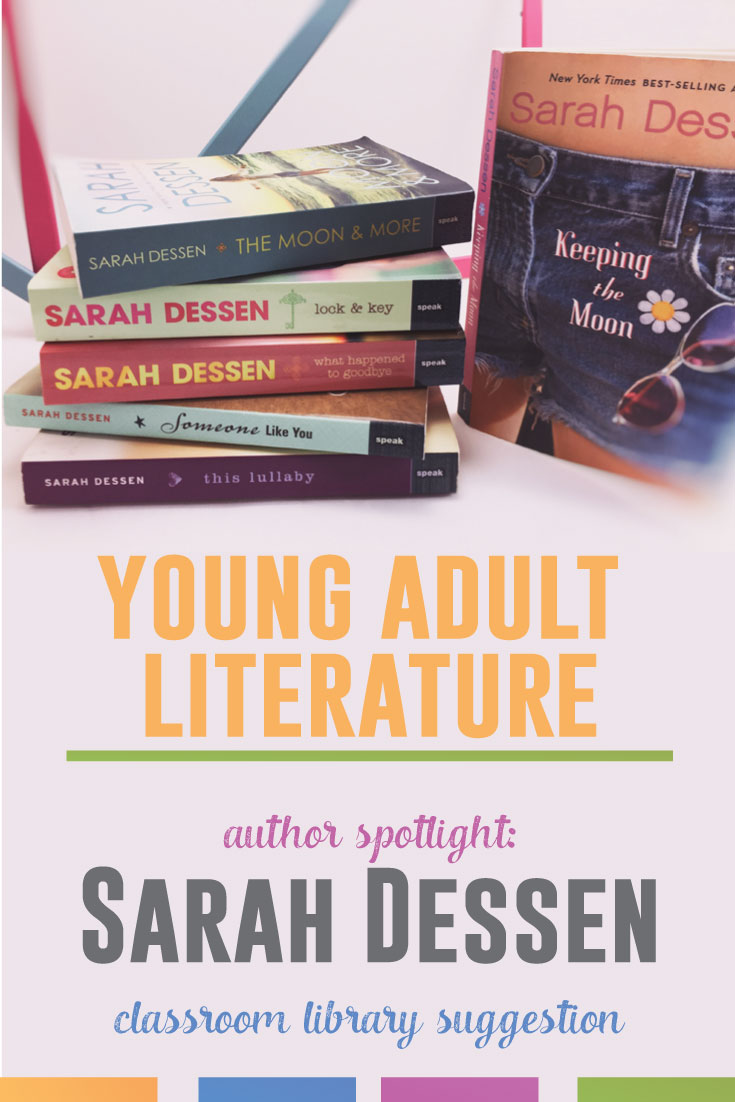 The student who introduced me to Sarah Dessen suggested that I start with this one because it was her favorite book, ever.
The plot centers on Sydney who has an older brother who currently sits in jail. The family, especially Sydney's mother, struggles with their new normal. Sydney feels misplaced, and her mother won't grasp the severity of what Peyton (the brother) has done.
In an attempt to gain independence and confidence, Sydney finds a new group of friends. She overcomes obstacles and decides how to make decisions that are right for her.
Who will like it: Most students will like this book. The characters are fun, and most students can relate to a parent who does not "get it." Sydney finds her voice in this story in an appropriate way. I understand why my student named this as her favorite book.
This is my favorite Sarah Dessen book thus far. I put myself through college by waiting tables, and when three characters in this book mull over their tips, I related to them.
Colie has a famous mother: an aerobic, working-out, infomercial-starring, exercise guru. While her mother travels for the summer, Colie stays with an eccentric aunt, meets new friends, finds a new job, and begins dating. Colie's bully finds her miles away from their hometown, but Colie learns to handle the situation.
I loved this book because it paints a realistic image of teen life. Most people can relate to that bully finding you anywhere!, learning that your opinion should win, and working an under-appreciated job.
Who will like it: The characters in this book overcome bullying and adversity in an authentic way. This book has more of a love story than the other two Dessen books I've read. Keep that in mind when recommending this one.
I enjoyed this book, but I don't know that all teens will enjoy it.
The book opens with a death of a main character's boyfriend; the main character soon finds out she is pregnant. The narrator, Halley, (the pregnant character's best friend) begins a more assertive role in the friendship. The girls are true friends, and students will enjoy that aspect. Students gossip about the pregnant friend, and the girls' emotions and reactions ring true.
The story does not glamorize teen pregnancy, but as it closes, readers see the Halley leaving the hospital after the delivery. It is a tad too "neatly tied with a bow" for my liking. The baby is in the nursery, the new mother is asleep, and their friends all came to the hospital for the big event. Halley reflects on that evening… and… she's happy. She's also going home, still a teenager.
Honestly, new mothers rarely sleep, babies don't stay in the nursery very long, and the high school friends go to college. The book did not send a wrong message, but it skirted an accurate message.
Who will like it: It's important for teens to read a variety of topics, but when students check this out from your library, I would include a disclaimer. Students are interested in this subject matter, and they will read this book.
Sara Dessen creates characters that teens find relatable. Whether a character has a routine for eating fries, names a cat after a roommate, or avoids summer camp, students will remember these characters. I plan to add more Sara Dessen books to my classroom library.
Interested in reading about more high-interest options? Reading and Writing Haven is sharing her thoughts on Ruta Sepetys; don't miss her post!
There are affiliate links in this post. If you click through and make a purchase, I may receive a commission at no additional cost to you. Read more here.