Teachers deal with educational naysayers. Their responses can shape how the public perceives teachers and the public school system. 
Public education has a situation that exists simple from its arrangement. (I'm in the United States, btw.)
On one side, teachers and administrators earn multiple degrees in education. They immerse themselves in research and maintain certification.
On the other side, parents are taxpayers and have obvious interests in education. Most of them experienced public education as students.
The results… are weird. Both sides, from their educations, from their experiences, and from their interests bring diverse expectations to conversations. Throw in history and the media and differing regions, and you can have miscommunication.
Sometimes the conversations are important and valuable. Listening to concerns and common misconceptions can help educators. Interest in education can move us forward.
Sometimes, a guest corners a teacher at a dinner party or family gathering and espouses false research, illegal expectations, or simple anger. These educational naysayers can dominate a conversation, and nothing is learned. The way we respond as teachers—it matters.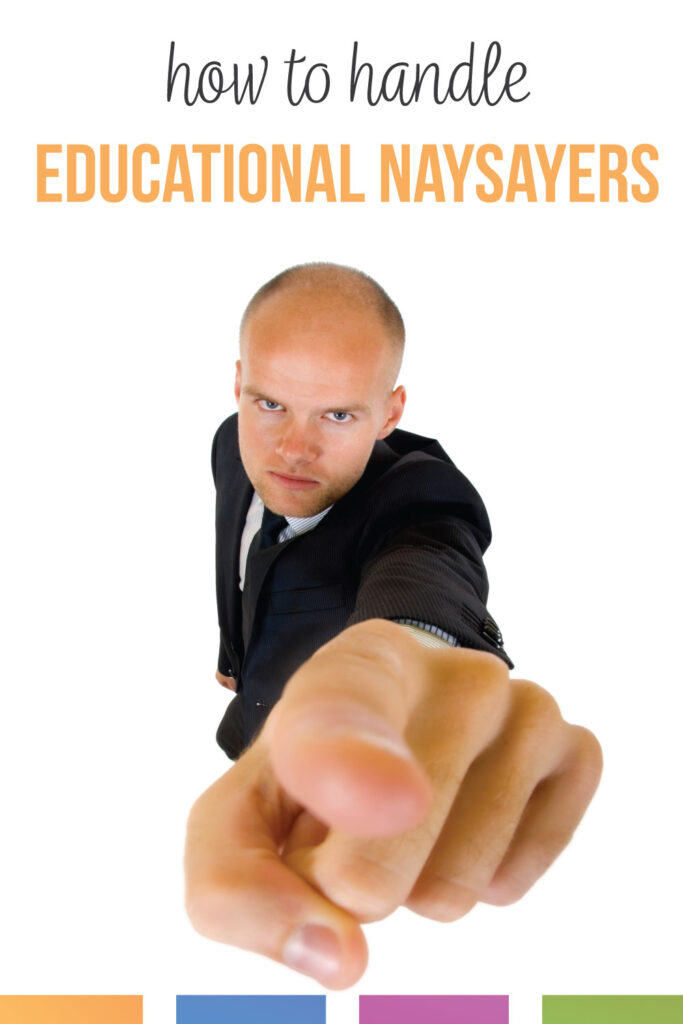 That might be unfair; it probably is.
You can never speak for all teachers or schools, but sometimes the situation calls for clarification. Here are some ways to handle educational naysayers.
Assume the best.
Sometimes, people simply don't know, and their experiences confirm their expectations. They also might have honest questions about the workings of a school. Assume that this person will consider an explanation.
For example, someone once complained to me about sandwich bags on their child's school supply list. Would their child use an entire box? Isn't that a classroom supply? Should parents supply that?
Legitimate thoughts? Sure. I explained that all the interactive pieces, the small art crafts, the creative side of education often calls for a sandwich bag.
First, I didn't work at that child's school, so I didn't make assumptions about the teacher. I assumed that person had good intentions and asked:
Should the school purchase the bags, or should the teacher?
The teacher probably can't afford (nor should the teacher be responsible for buying classroom supplies), so, if bags are needed and the school won't buy them, who should?
Should the teacher limit those interactive activities? The art crafts? (The child was in elementary school.) I happily ship a box of sandwich bags off to school every year, knowing that paint and glue won't ruin my child's book bag.
I assumed the person wanted to know. He didn't realize the purpose of these bags and how often they are used. Perhaps he wanted me to be quiet, but the conversation did end once I assumed the best and provided a glimpse into the classroom.
Sometimes, people boast stereotypes about educators, and they do not want a solution. So…
Offer suggestions.
When a nasty stereotype pops up (teachers drink coffee and read the newspaper all prep period—why do teachers have those anyway?!), with ridiculous advice (teachers should "shame" students more), or complete rudeness (teachers are glorified babysitters),* I offer suggestions.
Explain that their idea is illegal, and teachers must follow the law.
Encourage them to join the parent-teacher association, to volunteer in their child's classroom, or to run for school board. Schools need all sorts of help, and if that person honestly wants to help, they might not know how to get involved. Encourage them to be part of the solution.
Suggest a book. "I recently read ___, and it details research on that topic. I would happily share it."
Many states have teacher shortages. The educational naysayer could change education with a career switch.
Numerous school laws and standards originate in our government. I encourage naysayers to call their elected official, or better yet, run for office.
Comment that you never witness that behavior. When was the naysayer inside a school to witness a teacher's prep? Was that during their schooling? How many years ago was that? Twenty?
Finally, suggest that education has greatly changed. I was in high school over twenty years ago, and yes, I had teachers who did not teach. I saw coaches map out plays for football (I probably worded that incorrectly) instead of helping students. Twenty years ago.
No profession is perfect, and education's history is not perfect. Today, I never witness these outlandish scenarios—a teacher shopping online all hour. I'm not saying that they don't happen, but the expectation certainly is that they won't.
If they do happen? That parent should contact the principal, and I always mention that when someone complains. Normally, they admit that it isn't a story from their child, but instead, it happened to them.
Twenty years ago.
Still other times, someone will want you to solve all of educational woes, or they will lambast your profession. Then…
Walk away.
We are teachers, and we are professionals.
Anyone can search the news and find sickening stories of lawyers, doctors, police officers, dentists, accountants, any professional caught of wrongdoing.
"Bad apples" exist in every field, not just teaching. I have endured several family meals where people claim that my entire profession is full of lazy people who "can't" in any other profession.
Educators face an overwhelming job, and I believe the majority want to help students and want to teach. If someone throws insults and crude insults your way, leave.
Teachers face criticisms, largely because of the system that I mentioned earlier. I happily will offer an idea or encourage someone to become more involved in education. Name-calling, braggarts about making a former teacher cry? Ignore it, and tell yourself that you deserve better, because you do.
***
I've stared at this blog post, walked away from it, and returned to stare at it more. I don't have all the answers for education, and I don't think one person does. I understand there are frustrations about the educational system; I share frustrations with others as both a parent and teacher.
Listening to educational naysayers who have no interest in contributing to the solution? who have no desire for clarification? Don't let it spoil your Thanksgiving dinner.
* Perhaps I am the exception, but family members have said all of these comments to me.