These January language arts tips will get you through the longest month of the school year.
As a secondary teacher, I have two first days of school: one in August, the other in January. More hoopla surrounds August; students are pumped (even if they hide it), new friends, advertisements, school supplies… but… new classes after winter break need love too.
I always want to capture some of that fall excitement and sprinkle it in January. For many students, these are completely new classes; I've never met some of these students before. I get first day jitters all over again, and I always stress that I won't make this semester as meaningful as the first. Because older students sometimes act nonchalant, I must force myself to remember that they do care. My behavior at the start of a new semester matters a great deal.
I'm a teacher, I have two first days of school, and it stresses me out! If you are the same, read on for January language arts tips.
Here's how I start new classes after winter break, on my second first day of school.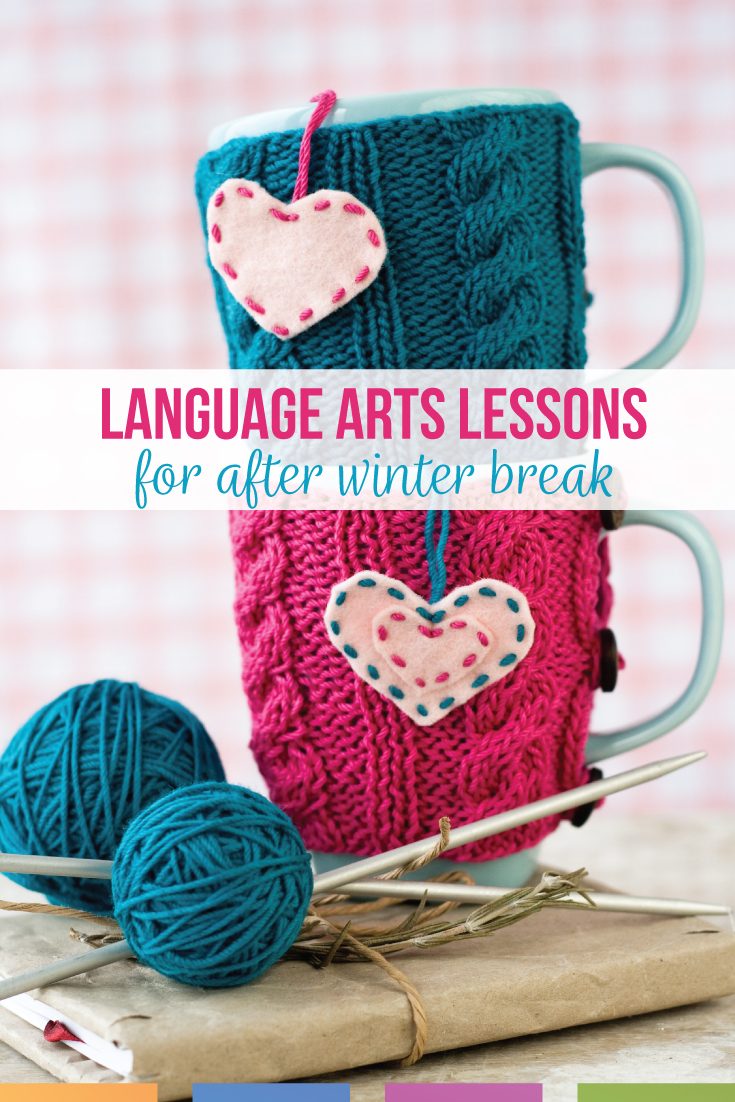 New Everything
I switch bulletin boards, rearrange posters, and remove old student work. Over the years, I've less time to spruce the classroom than my first years of teaching, but I attempt to dust and tidy bookshelves.
If my labels for class supplies or sheets for classroom procedures are ragged, I reprint them.
Winter can be bleary and negatively affect students. I want my room to welcome them and even though I don't have the energy to recreate my classroom like I do at the end of the summer, I spend time refreshing it.
Literacy
In August, we teachers are fresh and determined to make a difference. For me, in January, I am not as hyped as I was five months ago. Back in August, what was my goal? Overall, I want students to be readers, to value literacy. My classroom activities after winter break, therefore, include building a culture of literacy.
I implement First Chapter Friday and bring out books from my classroom library.  If I have minutes to spare, students spend time reading. We experiment with different genres and research authors on social media. I put literacy at the front of my language arts winter lessons.
Bell-Ringers
Sometimes, teachers (myself included) become lax as the year continues. I greet students at the door most days, and sometimes I forget to set-up material for students to begin when they enter. A "bell-ringer" needed be incredibly formal, but students start learning and allow me to take attendance if I've posted work for when they enter.
Over the years, I've used coloring sheets, digital response questions, task cards, and journal entries as bell-ringers. What I've learned is that keeping momentum every day contributes to positive class energy.
Fresh Seating Charts
Some classes do repeat themselves. It is a new semester, and I try to give those students a fresh start too. A quick way to do that is with a new seating chart.
This signals to students that they have a new semester, a new opportunity. It also provides a fresh perspective; students can read different posters, see different art.
A New Start
While covering classroom procedures, I tell students that I may have had them in class before. A new start begins with new classes after winter break.
Honestly? I mean it. I know some students don't buy it, and some think I remember everything. (Teens give teachers too much credit—no way can I remember grades from a previous semester.)
I begin class with students completing new information cards (phone numbers, email addresses) to signal that the previous cards are gone. Whatever notes I made (conversations with parents, counselors) are tucked away. Then I present classroom and normal first day rules: fire drills, location of missing work, art supply procedures, and on. Students may have forgotten, or they may have never known and were ashamed to ask.
Of course if students have a hearing problem or need special attention, I remember that. My goal is to show students that even if they weren't happy with the prior semester, they have a fresh start. Overall, my attitude toward the new semester is that it can be what students make it.
I get excited about new classes, and I want my fresh set of students to experience the same excitement that is expressed in August. It takes a bit of extra planning (and maybe getting to school over winter break), but I start the new semester with new students excited and ready.
Do you have new classes after winter break as a secondary teacher? Purposeful planning and classroom activities after winter break can engage students during dark winter months.
Need ideas for the fall? Try these November English lessons. Need to back up? Try December English lessons.