February language arts activities can bring engagement and fun to a dreary month.
Sometimes I think that January is the longest school month of the year. Then, every year: February.
I don't perform well when I am cold and surrounded by darkness. Plus, the school year by the second half has physically exhausted me. The combination makes February a rough month for me. Until March (and the temptations of warmer weather) arrive, I struggle with February.
Sure, I have built a classroom community by the second semester, and I have met a great deal of standards with my students. I still sprinkle some seasonal activities throughout my secondary language arts activities for February. Here are some ideas.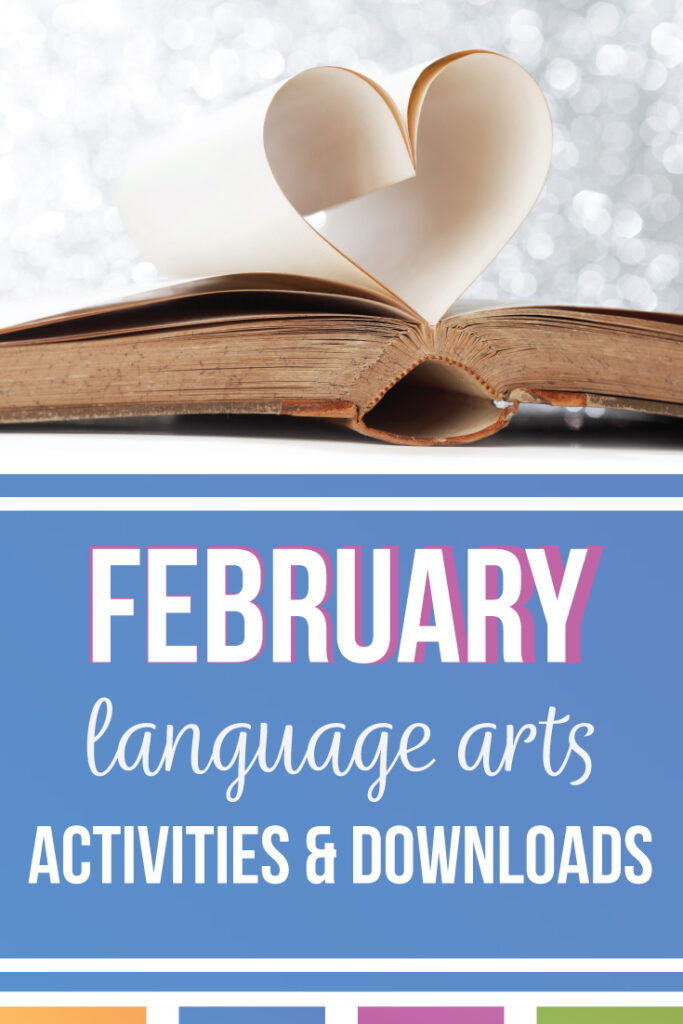 Black History Month
February is Black History Month, and many quality websites have quality (free) materials for students:
If you have additional resources that are helpful, let me know, and I'll add them to the list.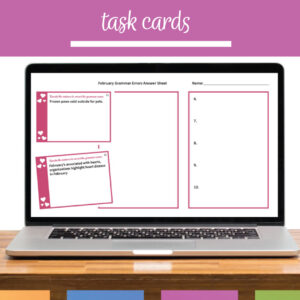 Grammar and Writing
Typically, students and I write longer papers during February and March. When students find the process of editing and revising long paper overwhelming, I back up and review concepts from previous years.
Where do students need review?
Misplaced and dangling modifiers
Incomplete sentences
Punctuation use
Parallelism
And, like I share with them, all writers struggle with certain areas. When I write personally, rarely do I NOT have parallelism issues.
A quick review of grammar and writing errors along with well-placed direct instruction allows students to apply those concepts to their own papers.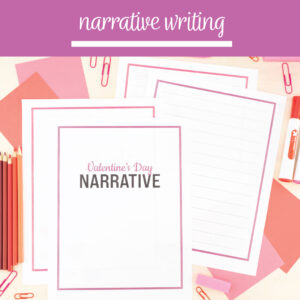 Love?
Write about love with middle schoolers—seriously!
When I taught middle school, my students were jaded about Valentine's Day. I created an activity to expand their understanding of love, of how humans express love. Basically, I asked students to think beyond romance and dating.
During the brainstorming process, students will consider what they have loved in their lives—a television show, famous character, book, season, outfit, shoes, or napping spot. Then, we would write papers concerning the various approaches of love in our society. Doing so allowed for less cringe surrounding Valentine's Day and if student wanted to write about romantic love, they could do so.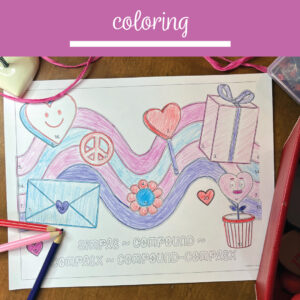 Coloring
Students enjoy coloring. Many students doodle or create to add to their notes, to occupy their minds, or to express themselves. I've written previously about the benefits of coloring that I see.
Years ago, I combined grammar and coloring because I figured that if students were stressed from grammar lessons, maybe they would be less stressed from coloring.
The idea wasn't completely wrong, but overall, I found that coloring while studying grammar had a larger benefit: The formatting encouraged students to practice the concept twice. Students work through the practice sentences (sentence structure, pictured above), and then they re-check their sentences as they color.
Plus, older students still enjoy seeing their schoolwork hung in the classroom.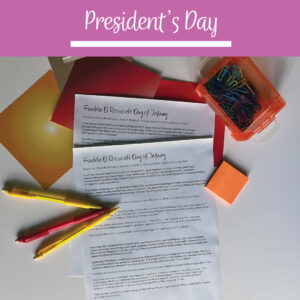 President's Day
As a speech teacher, I incorporate the analysis of famous speeches into other parts of content. Using famous speeches allows students to see how speakers use language to command their points. For instance, many students are aware of President Reagan's famous speech after the Challenger disaster or President Obama's victory speech. Once you tap prior knowledge with students remember (or learning about) a famous speech, you can look at other speeches.
For President's Day, I often cover Roosevelt's "Day of Infamy" speech. Doing so allows many other topics of conversation: the M.S. St. Louis and Japanese Internment Camps. Furthermore, the speech has powerful rhetorical appeals and creative uses of punctuation. Those ideas carry over into writing and literature lessons too.
Don't forget the power of infusing videos and other voices into lessons. Check out my list of YouTube Channels for ELA Teachers for ideas..
February language arts activities can mix in with your current activities to make the month fun and reflective of students' outside lives.