Coloring sheets for older students seem to be the rage. And popular fads can be productive, beneficial fads.
My Facebook feed has gobs of advertisements and blog posts focused on coloring sheets or coloring books for adults or teenagers. Most of the coloring books in my house are for my toddlers, and include Dora or Elmo. My oldest children typically don't sit and color (video games!), but I wanted to read about this interest in coloring. I wanted to mom-research. I did, and eventually, it led to teacher research.
Like I mentioned, I became interested in this because of my two oldest children. They are different; one is craftsy and invents art projects, while the other is logical and mathematical. For Christmas, we gave the artsy child a "grown up" coloring book. She loved it.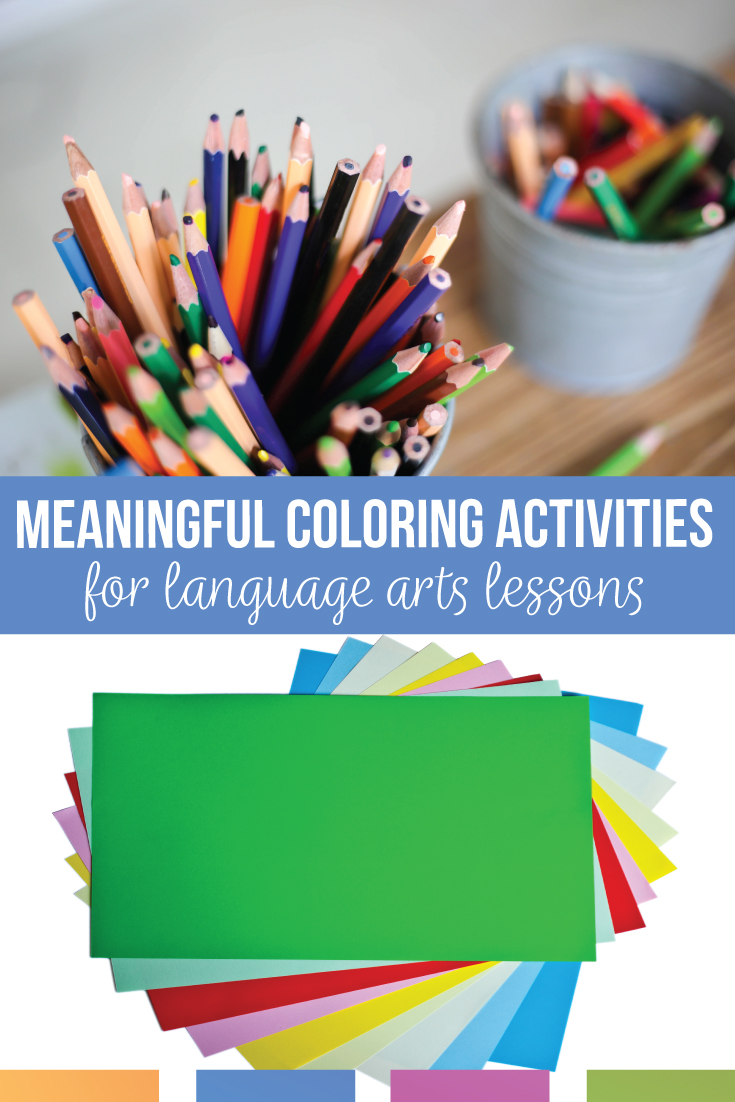 The older (math-lovin') child asked for sheet from the notebook. I though surely he wouldn't bother with it.
I was wrong; they both sat, coloring, inventing.
Their finished products were different. One had a symmetry, a pattern to it. The other was carefree, with splashes of every color from the pencil box. (I'll let you guess which child had which drawing.) Now my teacher-brain was working. What about grammar coloring worksheets? General language arts coloring pages?
Ok, my non-scientific experiment worked with my children. They both loved coloring. What about research? Could coloring in the classroom help students? I found these benefits to coloring.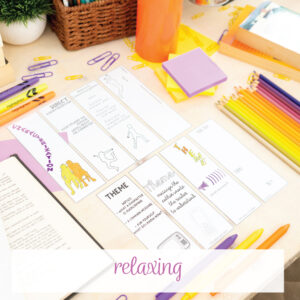 Relaxing
School (and certain elements or classes) stress students. Coloring relaxes people, and students find it low stakes. I personally would not consider myself artsy, but when I color with my children, I do find myself relaxed. In a world of stress, I like to offer coloring for my students.
When we have early-dismissal days, low-attendance days, or any other odd day at school, I offer coloring sheets with review activities. Students are still working, but in a low-pressure way.
Finally, middle school coloring pages can allow students to relax and experiment. During a complex story, for example, I might ask students to doodle literary devices. Doing so allows me to see where students are in their understanding. Language arts coloring pages don't need graded. We can explore and let our minds wander.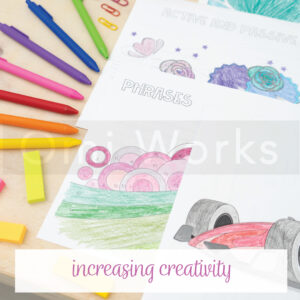 Increasing Creativity
Looking to transition from one part of class to the next? Coloring can increase creativity and can be the perfect warm-up for writing or other creative endeavors: "The practice generates wellness, quietness and also stimulates brain areas related to motor skills, the senses and creativity." Many of my students color during First Chapter Friday, and I wonder if the act of coloring helps them remember the stories. (If anyone has research on doodling while reading, I'd love to see it. My brief search turned up nothing.)
Plus, I believe that older students enjoy language arts coloring pages that relate to seasons. I provide fall and winter grammar coloring sheets, and we decorate our classroom with them, together. Grammar coloring worksheets don't need graded. Students can merely practice.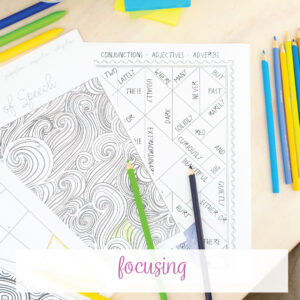 Focusing
Coloring can refocus students. Brain-based learning supports coloring with students because coloring employs the frontal lobe of the brain and art alters the brain in positive ways.
It seems that research supports implementing coloring sheets for older students. That makes sense: The more I teach, the more that I realize students prefer different methods of learning. Some enjoy a straight-forward worksheet. Some prefer task cards. Why wouldn't some enjoy language arts coloring pages? Plus, coloring can help students' brains if they have experienced trauma. Sometimes, we teachers know very little about students' lives. Providing language arts coloring pages can soothe students when we don't even know they need help. (I am in no way implying that coloring can cure trauma.)
Middle school coloring pages (and even high school!) can. Hopefully by adding a splash of color and a dose of relaxation, students relax in class.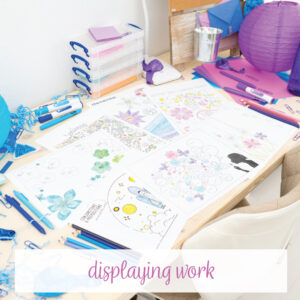 Displaying Work
Often, I struggle to decorate my classroom as I don't want the walls to appear babyish or out of touch with older students. ELA coloring activities are the perfect decor because students designed the decor. Plus, I hand out tape, and students can add their finished products to the wall.
Students do enjoy seeing their work displayed, and parents do as well. Finally, I proudly display students' grammar coloring worksheets. So often, students have a negative view concerning grammar, but the have fun with grammar coloring. The displayed work reminds them that grammar can be fun. 
It seems that research supports implementing coloring sheets for older students. Have you found success with coloring in the classroom?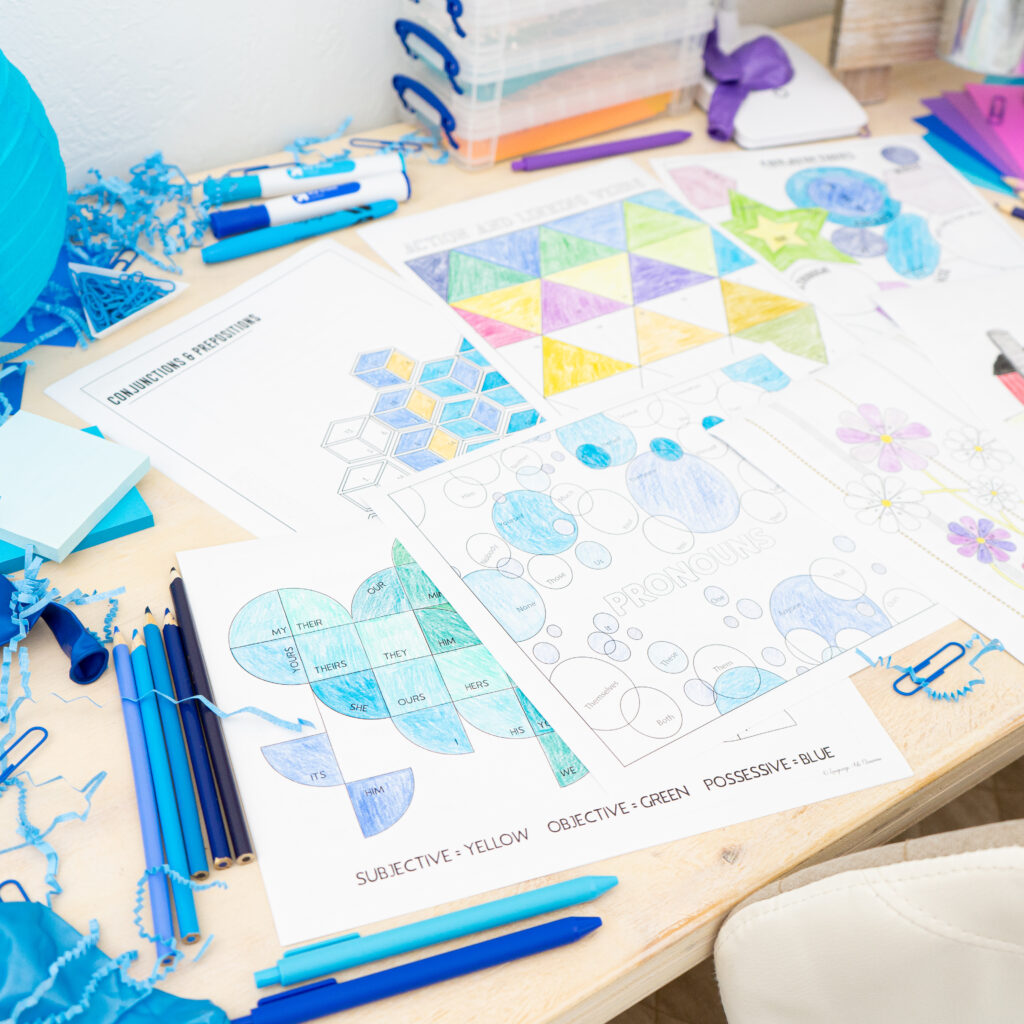 Are you looking for help with grammar coloring sheets and grammar activities? Grammar Gurus has support and ideas for ELA teachers.