Healthy teacher tips: take a look at these (completely do-able) ideas. Then, let us know what you have found helpful over the years. 
My first year of teaching, I ate like I was still a college student. You know—fast food, snacks of prepackaged goodness—junk. One little problem (not my butt): I wasn't walking around a college campus anymore. I was sitting and grading tons of papers.
Well I couldn't afford new clothes and I figured that if I cut down on food, I would have more money for clothes. I was single and young—this is how my mind worked. I didn't focus on my overall health; that came many years later.
Once I did realize that healthy changes would improve my life, I permanently ate better and exercised more. I am not the epitome of health, and I eat dessert. No one ever calls me a "heath nut." However, I do check out perfectly at the doctor and I maintain my weight.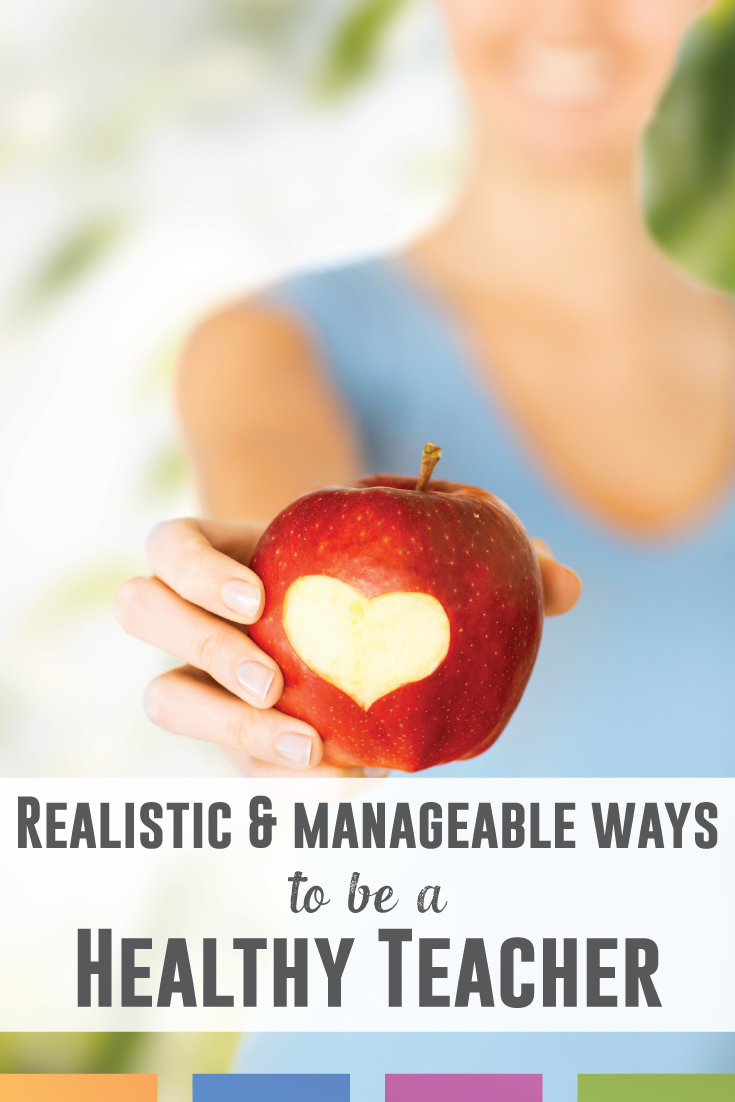 Teachers have stressful jobs with long hours, and unhealthy habits can make anyone cranky and
tired
. We need easy to implement ideas. Here are my healthy teacher tips.
1. Figure out your unhealthy habits.
For me, snacking on fries while grading and lesson planning got me. It was easy to drive-through somewhere and head home to finish my work. It was also easy to eat a complete meal later, after I had already eaten the equivalent of a meal's worth of calories.
Starving on the way home from work, I was! Plus, I deserved a treat after working all day! My thinking was wrong.
I put some granola bars (today I would maybe put some protein bars) in my car. I ate one as I drove past my old drive-throughs. Lara Bars are my favorite.
Another bad habit was snacking during my prep. I cut out the trip to the teacher's lounge (why are there always snacks in there?!) and grabbed my carrots or raisins. I had a plan and healthy snacks to substitute for my old habits. Planning ahead helped me become a healthy teacher (more so at least).
2. Exercise.
This proved to be the toughest part for me years ago, and it still does. I'm not a gym person who likes to take classes. I don't like exercising in groups, no matter how nice the instructor is. Walking is my favorite, followed by lifting weights.
And I do. I walk through my neighborhood, checking social media, running part of the time. I knew that to keep my weight at a healthy level, I would need to implement something, and this is what I do.
3. Buy fruits and vegetables, and know the grocery stores' tricks.
I spend a great deal of time in the produce section. I experiment with new foods; I now love spaghetti squash. Apples, carrots, and celery are my easy-to-pack foods for snacking.
Of course, all of this food is at the entry to the store, which is a grocery store trick. If people load up on health food and produce, marketers figure, then they will be more likely to "splurge" later on processed deserts and frozen pizzas. It evens out shoppers believe, research shows. So I keep that in mind as a I shop.
(Side note: Anyone teach "Contents of the Dead Man's Pockets"? This cam from research from extension activities).
4. Save the produce with coffee filters!
Produce spoils if you don't care for it. Too many times I went to make a salad, had disgusting lettuce, and ate something I shouldn't have instead. I researched and read a few forums. Water spoils lettuce and the like. Duh!
So I would wash my produce in anticipation of eating it, and then it would get wilted from water. I was trying but failing. So now,. I wash my produce and divide it—with coffee filters. I can grab a plateful of lettuce easily and the coffee filters absorb the excess water. Paper towels would probably work, but coffee filters are cheaper.
5. Eat your cheesecake or pizza. I have friends who run marathons, those who work in a gym, and others much-healthier-than-I. They all say the same thing: don't take away everything you like. I made that mistake a few times in my younger days. I was "done with sugar" or my "cheesy-salty" whatever. It never worked, and then I would overdose on my favorite snacks that I had avoided.
Moderation is key, at least with me. I don't eat pizza all the time and avoid cheesecake most of the time; I am able to say "no" most of the time because I say "yes" sometimes.
I know people get pepped up at the start of a new year and fizzle out with healthy resolutions by the end of January. Hopefully, these tips for health will last longer. Add your healthy teacher tips in the comments below!
*I am not a health professional and this advice is not meant to substitute anything a doctor tells you. Please consult a doctor before you begin any health or diet changes.