Reflection as a teacher: reflect, reflect, reflect.
Reflection as a teacher is a bit of a motto—reflect on experiences to better your instruction and connections. John Dewey stated, "We do not learn from experience… we learn from reflecting on experience." We teachers are taught to reflect so we grow as educators.
Still, we cannot drive ourselves crazy overthinking and overanalyzing ourselves. The longer you teach, the more you'll be able to distance yourself from reflection as a teacher and yourself as a person. You are more than a teacher in life!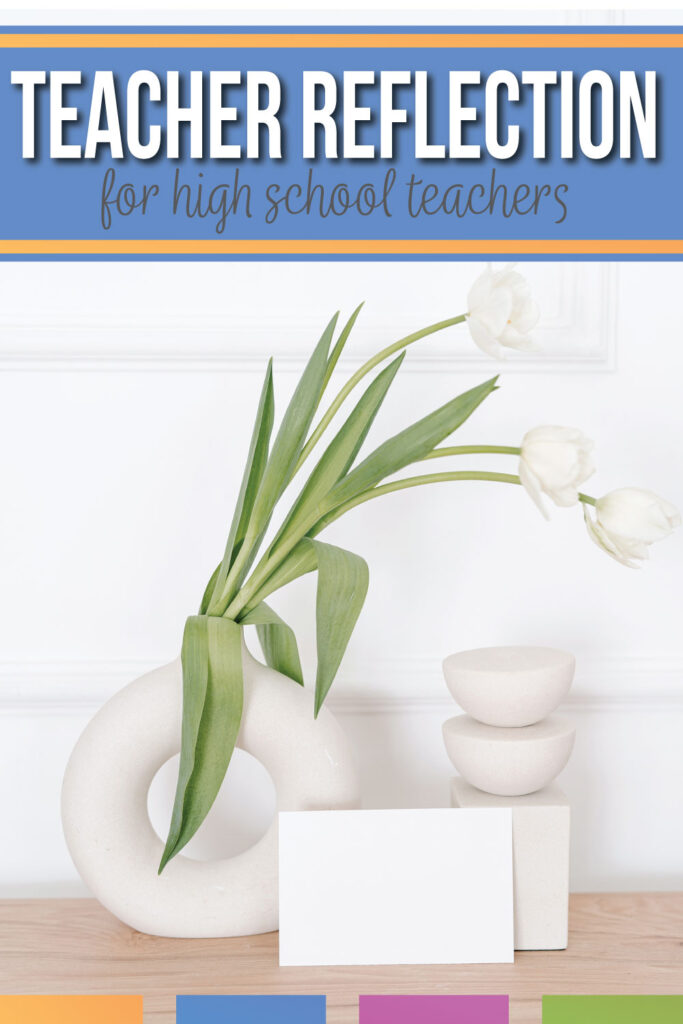 For me, one of the benefits to blogging about education is that provides a platform for reflection with other educators, sometimes with controversial education beliefs. In this post, I'll walk through my thought process for reflection as a secondary teacher.
As another year closes, I've spent time reflecting on successes and challenges with students and my own children. Reflecting, learning what works and doesn't. Here are my ideas.
Explain that every student has different goals, and that is ok.
Just as every student brings varying life experiences and abilities, they will have varying goals. I've known this, but lately I explain this to students. Spending a few minutes at the start of a new session or unit pays off later.
I remind students to think back to the goal that fits them as individuals. Are they working toward a personalized goal? Are they making improvements? Don't compare your journey to someone else's journey; you need to do this, that person that. I normally approach public speaking and writing papers with goals. Now I'm implementing goal setting into ACT review, reading, and grammar too.
Not only does verbalizing this belief help with relationships with students, but it also helps with differentiating material. Students understand why we work at different paces sometimes: We're different people with different goals!
Balance work and life.
Right now, I'm teaching part-time. Later this school year, I will move to full-time. My goal for this change is for balance and sanity to accompany it. I cannot work insane hours, and I cannot fail at teaching my students.
So, what will I do? One belief I've formulated over the years of teaching through reflection is that my interactions with students and delivery of material matter a great deal more than the physical material. Let me be clear: We shouldn't teach junk. But still, do I need to recreate an entire activity, or can I modify a few main points? Part of reflection as a teacher is that I teach better when I am rested. I don't need to retype a perfectly clear and usable activity at midnight.
Don't turn up your nose at new ideas.
I try not to brush off new ideas, but sometimes skepticism wins. My son adores graphic novels, which I first tossed off as a fancy redo of comic books. Anyway! At first, I reluctantly checked them out at the library. Then he reread them, asked for them for Christmas, and turned off his computer to read them.
What? Time to look closely at these. I've sat down to read a few, and they don't appeal to me. He loves them, and I never should have been so snotty about them. A humble reminder.
Another year done, numerous students taught, more lessons (for me and them) learned. Looking back on a quick reflection as a secondary teacher, I see improving content and relationships with students, protecting my mental health and sleep, and trying new tools.
I'm always interested in my readers: How is your reflection as a teacher?