Meaningful vocabulary activities can benefit students for the rest of their lives.
The language standards are clear: We must move students beyond simple memorization of a word and its term. Students should consider the word's connotation and denotation, be able to use the words in different formats, and examine how language changes over time.
No matter how I acquire a vocabulary list, students and I walk through a four steps with vocabulary. Whenever we are deep into learning, busy manipulating language and rearranging words, I find myself relying on these four steps. They are simple steps, and you'll be able to use them across grade levels.
I will NOT complete these four steps with every single word. When students need modeling or help with one word, however, we will run through these steps.
The beautiful part? You can too—in no particular order and with as many parts of the process as you need.
The process consists of building on prior knowledge, rearranging the word, finding a picture, and brainstorming.
Here is the vocabulary studying process. Below, I'll use the word "precarious" to model.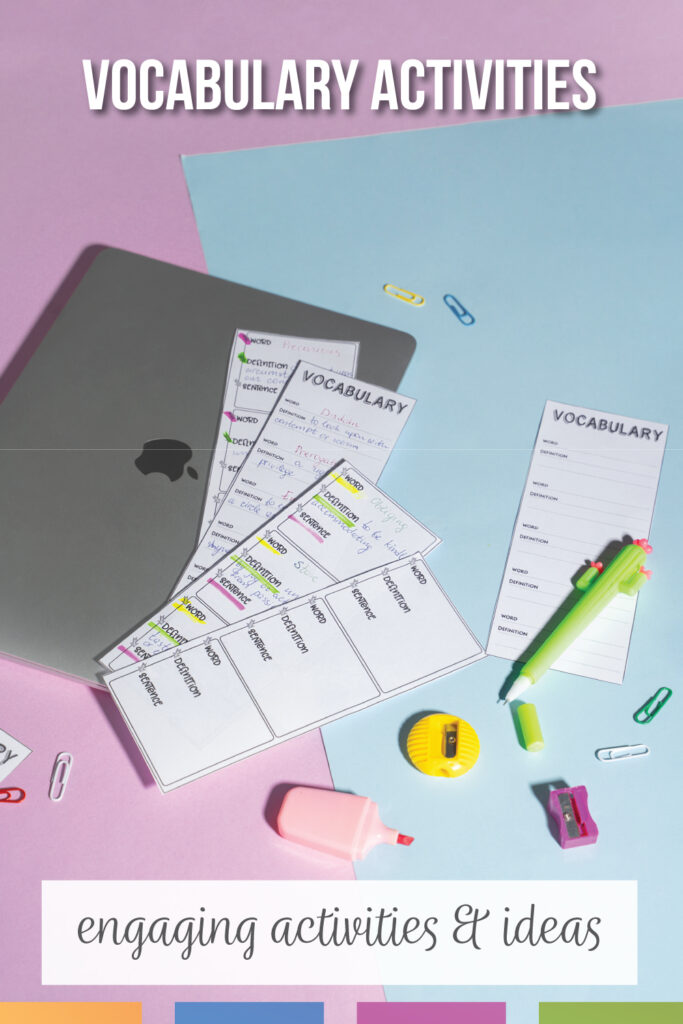 Build on prior knowledge.
To begin, I share the educational concept of "prior knowledge" with students. Doing so builds cognitive awareness. When I tell students that research supports our meaningful vocabulary activities, I increase buy-in.
With the word "precarious," I might say something like:
Look at "precarious." The definition is "dependent on circumstances beyond one's control."
Students might need help understanding "dependent" or "circumstances" (for example), and I'll model how to understand the definition. Sometimes, we write out the definition and then define the words contained in the definition.
I'll continue walking through the process of building prior knowledge and making sense of this new piece of information (the definition) by drawing connections.
So what in your life is precarious? (Help students activate prior knowledge.) Ideas might include: weather, money, living arrangements, certain times in history (war).
Continue working with these ideas with which students are already familiar, showing students how "precarious" connects to their lives:
As teenagers, our students often have little control over where they live or their financial situations. Students probably have been in a precarious situation.
Also, sans a futuristic gadget, humans cannot control the weather. As much as we wish it would not storm during a family picnic, it might.
War. Unfortunately, citizens have little control over their country going to war. The draft is often seen as a precarious situation as well.
Through a personalized approach, a human approach, and a historical approach, you have helped students build constructions with their prior knowledge as the basics.
Rearrange the vocabulary word.
Meaningful vocabulary activities should allow students to play with the vocabulary word, using it in a sentence or context. Sure, students should use the original word, but to advance student understanding, use the word in varying ways—rearrange it. Not only will students understand their word, but they will also expand their vocabulary in general. Many standards require students to use the dictionary and to understand the word in different forms.
When I work to manipulate the word with students, I'll pull up the dictionary for the class.
Under "precarious," we'll see precariously (adverb) and precariousness (noun). At this opportunity, I will talk about those different forms and remind students of the definitions. An adverb modifies a verb, adjective, or another adverb. This adverb ends in '-ly.' A noun is a person, place, or thing. This noun ends in 'ness.'
Typically, I let students work with a partner to create sentences for these two words. I encourage goofiness (but prohibit cruelty) and require actual context. We avoid sentences that do not show context: Precariousness is nice. Instead, the rearranged vocabulary word should showcase understanding of the term.
The puppy precariously stuck his front legs over the baby gate, but he could not rotate his back legs.
The precariousness of the looming legal trial made the family reassess their situation.
As I work with vocabulary lessons, I learn that modeling helps students learn what works for them. We rearrange the words together, and then students do so independently. Modeling is an important component of meaningful vocabulary activities.
Find a picture.
When I think of other areas of my classes, like creative writing, I consider how I can borrow teaching concepts and apply them to language lessons. Pictures, images, and fun videos immediately come to mind.
I will use pictures to connect to vocabulary words in several ways:
In advance, I'll find pictures that seem "precarious."
During the activity, I'll ask students to draw a picture that relates to "precarious."
As we work through the lesson, I'll ask students to find a picture of a "precarious" situation. Students typically do a basic image search.
We will also work on connotation and denotation with the thesaurus. Pull up the thesaurus for students. Type in "precarious." Which word best articulates the action in this picture? Consider the word's connotation.
Finally, I will print some of the students' pictures and add them to our word wall. With our word walls, we build a visual level of understanding with our vocabulary words.
Brainstorm.
As a final component in working with vocabulary words, I ask students to imagine or predict situations in which they will use the vocabulary word. I've found that brainstorming uses of a word connects to our first step of building on prior knowledge.
So I'll ask: In what situations would you use the word "precarious"? I often present fun situations that require critical thinking: How would you use the word. . .
In a fantasy story?
When purchasing something?
While experiencing a strong emotion?
Then, write! Most of my graphic organizers address the "writing" component of this process. Most commonly, I ask students to use some of their words in whatever writing assignment we are currently working on. You can also easily turn these vocabulary word studies into a creative writing quick-write. For instance, ask students to use the words in a fantasy story! Ask them to draft a mock email to a famous person as a historical fiction document. Adding vocabulary to creative writing means the sky is the limit.
When I model these works with this vocabulary process, "precarious" is a favorite word that students can understand and still learn. "Cordial" works well too. Any word that has multiple forms works well.
I hope these talking points help you as you work on vocabulary with your students, and I hope you can weave some of these examples into your own meaningful vocabulary activities.
The more I work through language standards for middle school and high school English students, the more benefits I see to overlapping and connecting all components of language standards—grammar and vocabulary and every connecting piece.