Digital grammar activities: we teachers can add meaning to our lessons. I know many of us are teaching grammar virtually, and many more of us want fun ways to teach grammar online.
In the spring of 2020, I was thrown into online teaching like teachers across the world. The entire process was overwhelming and reflecting, I wish I had done a few procedures and methods differently especially concerning my online grammar lessons. Sure, I could use digital grammar worksheets, but could I provide more interactive methods? Could I add interactive grammar lessons to a virtual setting?
Moving forward with digital activities, I possess a better understanding of what I should do and the material I should provide. I wrote this post about digital grammar activities to help others. A few key points:
Below, I've also included lots of free downloads for you to implement in your classroom. You can gain access to all of them here.
Many longtime blog readers are in my private Facebook group, Grammar Gurus. You are welcome to join! You'll find support and help for online grammar activities and more.
The downloads and the group combined with this post should help you in all areas of grammar instruction for the coming school year, specifically as we ELA teachers look for interactive grammar lessons.
Digital grammar can provide scaffolding, differentiating, and brain-based learning opportunities. Read on for strategies for grammar in a digital setting. Please let me know how these ideas for online grammar lessons help you!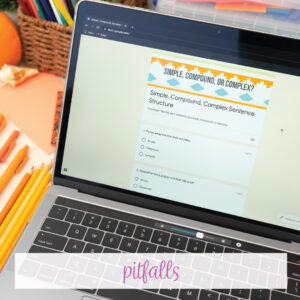 Pitfalls To Avoid
Don't start off with the wrong message with grammar. No matter the grammar topic, I've seen and made mistakes in teaching. With digital grammar activities, perhaps completed in a long distance setting, you'll want to avoid these.
Teachers tell students they won't like grammar.
I used to do this! When we tell students that we won't like something, we are putting off students who might actually enjoy grammar instruction. We are also reinforcing the misconception that grammar is bad or that grammar is only to find errors in student writing. We can be honest with students and tell them that grammar and its concepts are difficult. Approach grammar with a collaborative attitude.
Overall, I approach grammar as a tool for helping students in writing and communicating. I don't tell students that grammar is something to check off our list so we can move to other ideas in class.
Teachers use grammar as a punitive part of class, as finding something wrong with writing.
We can frame grammar instruction in several ways. We can talk about the "wrongness" of a concept, or we can present the concept as a tool for communicating.
With all grammar lessons, but specifically online grammar lessons where I can't "read" a room, I approach lessons positively. Think of appositive phrases. We can approach those in two ways.
We can present a sentence with an appositive phrase that is missing commas. What is wrong with this sentence? Or, we can present appositives another way.

Here is a tool that can amplify your writing; here is an idea that will allow you to showcase an important character or person in your paper. When you use an appositive phrase, you have a new way to write a sentence.
By presenting grammar lessons as a tool for enhancing communication, we are creating interactive grammar lessons.
Teachers don't connect grammar to other parts of class.
Grammar taught in a brief minutes and then forgotten won't prove fruitful for anyone. For instance, there are tons of 10-minute grammar programs, and they don't work. They show students that grammar is a problem rather than a tool; they section grammar off and don't connect grammar to other parts of class; and they show that grammar is something they have to do because someone else said so, not because it has any importance in their lives.
Until teachers connect grammar in multiple ways and use the domain-specific language naturally, students will not apply grammar to other areas.
So, those are the pitfalls. How can we design meaningful grammar instruction, specifically online grammar lessons?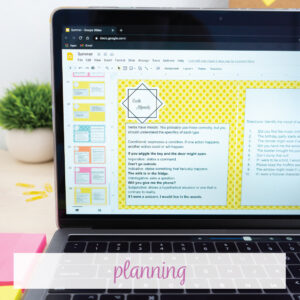 Planning
Look where you are going, typically at the end of the standards. For instance, the 11-12 standards are difficult. What scaffolding measures do you need to take to get students meeting them? A standard that really encapsulated all of our work is: Identify and correctly use patterns of word changes that indicate different meanings or parts of speech. That is a huge standard! That requires lots of knowledge, lots of application. It is application to writing, and it is deciding if you are going to use a noun, an adjective, or maybe a verbal. A quick lesson with students would be remind, reminder, reminding.
Again, another standard is: Apply the understanding that usage is a matter of convention, can change over time, and is sometimes contested. That is a fun standard, and there are plenty of approaches teachers can take. Without much research, consider the capitalization of Black, what is happening right now. In previous years, consider the new approach of "funner" or of the Oxford comma. Going back a bit more, you can look at court cases decided by a semicolon. Rules change, and if our future lawyers, teachers, and advertisers don't have a large picture of language, they are at a disadvantage. 
Finally, think of your overall goal with grammar. My goal with grammar is not to belittle people or be a grammar cop. I dislike those "I'm silently correcting your grammar" mugs. Interacting and owning a language should be for everyone, not a few elite people. The overall goal of grammar in my classroom is to provide a tool for effective communication. That might look like parallelism in a speech, nuanced differences between a semicolon and a comma in a long list for a paper, or identification of "broken" grammar rules in literature. The beauty of language is that it changes, that we can change it. It's our language. We can recognize the nuances and beauty of it. We can bring the modern world to language with our students. 
Do you need extra ideas for building grammar lessons? Read my entire process, a process you can use for teaching grammar virtually.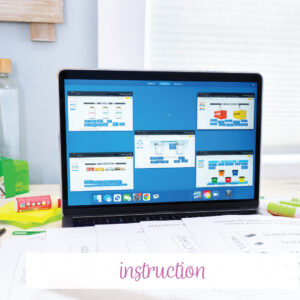 Direct Instruction
Some direct instruction is necessary with grammar lessons, but the entire existence of grammar instruction should not be direct instruction followed by identification. Fun ways to teach grammar online exist!
Start with a pretest if you don't know where students are. A lot depends on your grade and where your students are when you get them in your class.
Some direct instruction is required, but the more we can connect grammar to other ideas, the more students discover it. What brain-based learning tells teachers is that connecting ideas to prior knowledge helps the brain place that new information students can understand. With grammar, it might look like rediscovering a picture book or breaking down a word from the dictionary. Sometimes if you find a familiar medium, students find the grammatical concepts less intimidating. 
If students are confused after direct instruction and perhaps not succeeding with interactive grammar, try some digital grammar worksheets. Then return to advanced grammar activities.
We have an opportunity with digital platforms to move grammar and language instruction ahead, to really personalize it. Take graphic organizers for example. Graphic organizers are huge tools for grammar. Now we can add infographic pieces and images to those graphic organizers. 
And, I harp on the idea that grammar is more than errors, but sometimes errors cause a confusion in communication, and we don't want that. When my students and I address errors like confusing words, incomplete sentences, or misused punctuation, I provide targeted practice. Online and digital platforms allow me to personalize the practice. 
I compiled my best activities that target grammar errors.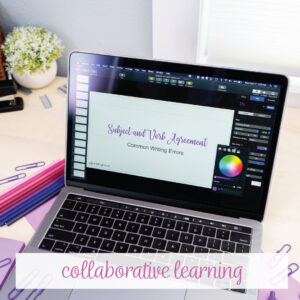 Collaborative Learning
After you provide direct instruction, branch into various practice forms. Brains work better when they work with other brains. Grammar lessons are no exception! Collaborative learning encourages to discuss their ideas with peers. Collaborative learning with grammar definitely improves retention.
Additionally, students are open with their classmates and as the teacher circulates, she or he can hear the common questions or misconceptions. This allows for corrections and clarifications in a low-pressure way.
Finally, group work with grammar naturally creates note sheets and study guides. For instance, I will make a copy of the digital activity for each group, and students will work on the activity. Then, I can copy and paste examples and notes into a master presentation to share with the entire class. If students use images to build their understanding, I take screenshots and share them with the class. Students take pride in creating the study material for their classmates.
A great way to include collaborative learning is with grammar sorts. Sorts are a nice addition to fun ways to teach grammar online.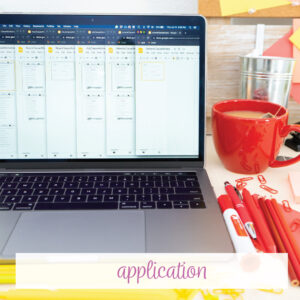 Application
For students to retain grammar lessons, they must apply the concepts to another area; they must make connections with the information. You can get started with application, and it is fine to get started with baby steps. 
First, we teachers do a great job of implementing domain-specific vocabulary across our class content. We don't always use grammatical concepts outside of grammar lessons or conversations about errors. The next time you are reading or reviewing the written word, find examples of your grammar content. Verbalize what you notice with students and show them that grammar is absolutely in other areas of class. The application can be simple. 
Second, apply grammar to writing. Show students that those concepts are tools for diversifying their writing. A possible script: A participial phrase functions as an adjective. When a participial phrases introduces a sentence, it needs a comma. Let's write a participial phrase that modifies a subject. What about a phone? What could describe a phone? Broken and dented, the phone needs emergency care.
If you are worried that you won't be able to think of an example immediately, go to the board with a loose example and be ready to switch out the subject or descriptors.
Finally, apply grammar to what students hear and see. How does language influence their social media use? Highlight with students that language changes, and their actions on their phones is actually changing our language. You can also show students clips of famous speeches to evaluate how speakers use verb voice, parallelism, and vague pronouns to evade or promote ideas.
Lots of higher order thinking can come from grammar lessons. We just have to get students there.
Connecting grammar to real life can happen naturally, especially with often-found concepts like active and passive voice.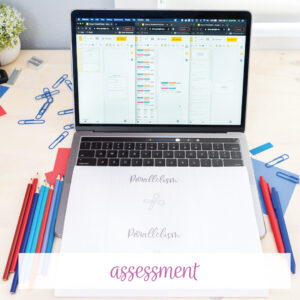 Assessment
Understanding concepts is important. I don't think memorization is a bad word, especially when students can memorize a list of subordinating conjunctions or conjunctive adverbs and then have those ideas at their disposal. Grammar instruction can't end there, can't end with digital grammar worksheets, and too often it does. While teaching grammar virtually, we can't simply assume students can apply grammatical concepts after they've shown proficiency in understanding the concepts. 
Manipulating vocabulary words.
Sometimes with vocabulary assignments, I'll ask students to use words in a different way. That can be considered a vocabulary assignment, but it is definitely an application of grammar.
Connecting to writing in a positive way.
Ask for direct application of grammar instruction in student writing. Instead of finding errors, ask students to:
Use a variety of sentence structures.

Experiment with different phrases.

Use an inverted subject-verb formation.

Employ parallelism in combining sentences or ideas.
Assessment doesn't need one "right" answer. How can students apply their grammar lessons? That is a direct assessment.
Using mentor sentences.
Pull sentences from literature or nonfiction, and work on different components with students. If you are confident, you can ask students to pull sentences. Sure, you can dissect a sentence and identify nouns, pronouns, verbals, and more. You can also ask students to evaluate the effectiveness of those concepts. What effect did the author create? Would another approach have brought about a different mood in the story?
The more times students experience grammar outside a worksheet, they more likely they are to understand your direct lessons. Mentor sentences allow that experience.
Assessment can also be direct and simple.
Digital grammar activities and online learning provide teachers with an opportunity to engage students, provide scaffolding, and ease the differentiation process. Those are my best ideas for online grammar activities and lessons!