Grammar errors in student essays can frustrate students and teachers.
I advocate teaching grammar, clearly. I read grammar books and studies because I am passionate about grammar. I write about methods for teaching grammar and wrote a book because I've seen students soar in ELA classes when they understand their language in a new way.
If you've read my blog for an extended period, you know that I don't simply think an understanding of grammar contributes to better writing. Grammar is the study of our language, and understanding how our words work makes for better readers, for larger vocabularies, for stronger speakers.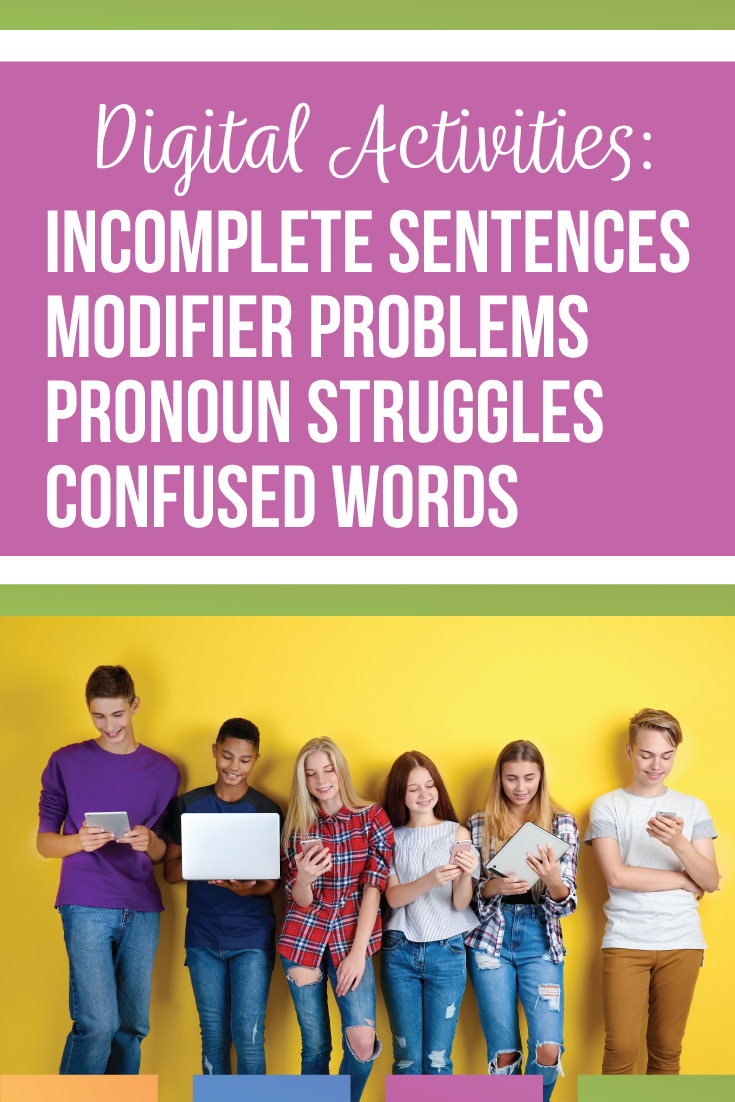 I've tried to be honest about my experiences with grammar lessons because I now enjoy teaching grammar where I once dreaded it. I think that for these reasons, teachers feel comfortable sharing their grammar woes with me. Often, teachers are frustrated with grammar errors in student essays.
Finally, you also probably know that I believe in making a strong foundation with grammar and in teaching grammar in innovative ways. After you've done that, turning to errors in student writing won't be a big step.
Below are common errors in student writing. You can find activities for these common errors in my grammar and writing bundle. I've also provided talking points and ideas for scaffolding. I hope these ideas get you started!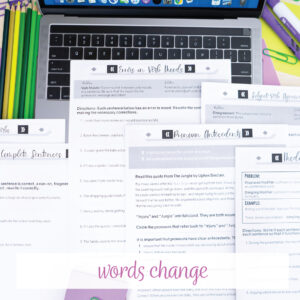 Words Change
Part of teaching language is showing students the richness of our language, and I agree: teaching this off the cuff can be scary. If students struggle with changing words, perhaps frame the situation as a challenge. Look:
We exchanged pleasantries. (noun)
Yesterday, we were pleasant. (adjective)
We pleasantly spoke. (adverb)
For example, this might seem to be a difficult aspect of grammar, but honestly, this is what makes grammar studies much more than memorization. Give an example like this (or this example!) to students. Write about this simple exchange. Debate which situations call for different uses. Then ask students to apply these concepts to their writing.
Words allow for writers and speakers to decide what version best conveys their message. Not understanding how words change can be frustrating. When students see the power in manipulating words, they are experiencing the power of grammar knowledge.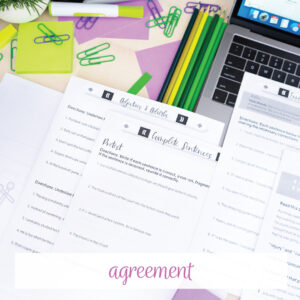 Agreement
Subjects and verbs need to agree, and pronouns and their antecedents need to agree. Disagreement can cause confusion and send the reader down a path of rereading to end confusion. Show students how to make components agree for ease of reading.
Subject-Verb Agreement
Someone with patience and with resources bring the supplies to the meetings.
Most commonly, a phrase or a clause sits between the subject and the verb. "Someone" is a singular indefinite pronoun and "bring" is the verb. The verb should be "brings" (the singular form). "Resources" is plural and next to the verb. Model for students how to identify a sentence's subject and verb to be sure they agree.
I also find the simple practice of walking through sentences and looking at the subjects and verbs reduces the amount of incomplete sentences. Students are also likely to improve their verbs if they discover repetitious use.
Pronoun-Antecedent Agreement
Kathleen and Breanna brought her project to the classroom.
Whose project? Was it a joint project? If so, "her" should be "their" so that the pronoun and its antecedent agrees in number.
If the project belonged to one girl, don't use a pronoun; use the proper name.
Kathleen and Breanna brought Breanna's project to the classroom.
Similarly to walking through a paper and finding subjects and verbs, students can mark pronouns and antecedents. It is another reading, and students clarify meaning along the way.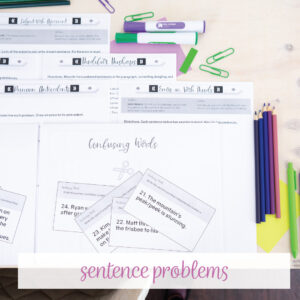 Sentence Problems
The point of any piece of writing is to effectively communicate ideas. If sentences are weak or if they are confusing, the writing won't get the writer's point to the audience. I explain that background to students, and then we dive into sentence problems.
Complete Sentences
I've written an entire post on complete sentences because teachers ask me so many questions about fixing them. You can read that post if that is the main source of pain for you and your students.
Overall, if complete sentences are a huge issue, I walk students back to simple sentences.
Short, concise sentences can still express a student's message. Start with simple sentence, a basic step, and increase student confidence with writing.
Once students have complete sentences in their writing, you can move to combining sentences.
After I work with students and create simple sentences with them, I allow students to show me what they can do! If they are still struggling to write complete sentences, I will provide targeted practice for run ons, fragments, and comma splices. Writing complete sentences in student essays is a must; practicing specific areas and then tying the concepts back to student essays is what works. I don't hand students 30 practice sentences and go over the answers with them. We work in a group and look at our papers as we discuss ideas. Lots of application!
Misplaced and Dangling Modifiers
Another common sentence error deals with modifiers, often misplaced or dangling modifiers. When modifier problems strike, I frontload the information.
A misplaced modifier is when a modifier describes the wrong word:
Slowly climbing the ladder, the dog barked at dad.
The dog is not climbing the ladder, dad is. "Slowly climbing the ladder" is modifying the wrong word, hence "misplaced." The sentence should be:
The dog barked at dad as he slowly climbed the ladder.
A dangling modifier doesn't have a word to modify:
Reaching into the pantry, knocked down a box of noodles. 
Who knocked down a box of noodles? "Knocked" doesn't have a subject, so that modifier is "dangling" at the front of that sentence. The sentence should be:
Reaching into the pantry, my brother knocked down a box of noodles.
Modifier problems can really sink a paper and make the paper confusing. If I provide examples and definitions and don't see improvement, we complete targeted practice. Students can then apply the concepts to their own writing with your prompting.
Parallelism Errors
Another sentence error centers on parallelism. Errors in parallelism happen with a series, verb voice, verbals, and overall sentence structure. Sometimes, students simply don't know about parallelism! A quick review might help:
Yesterday, I found time for cooking and to fold my laundry.
Walk students through the process. Start by identifying the conjunction, "and." Ask students to look on both sides of the conjunction. The sentence has two phrases: "for cooking" (a prepositional phrase) and "to fold my laundry" (an infinitive phrase).
Ask students to make both of the phrases the same:
Yesterday, I found time for cooking and folding laundry. OR
Yesterday, I found time to cook and to fold my laundry. 
Be sure to let students incorporate their choices. What phrase best conveys their message? Alway emphasize that language should help convey a message, and student choice is part of that effort.
If parallelism is confusing students (and readers of their papers!), you might need targeted grammar practice for this pesky grammar error.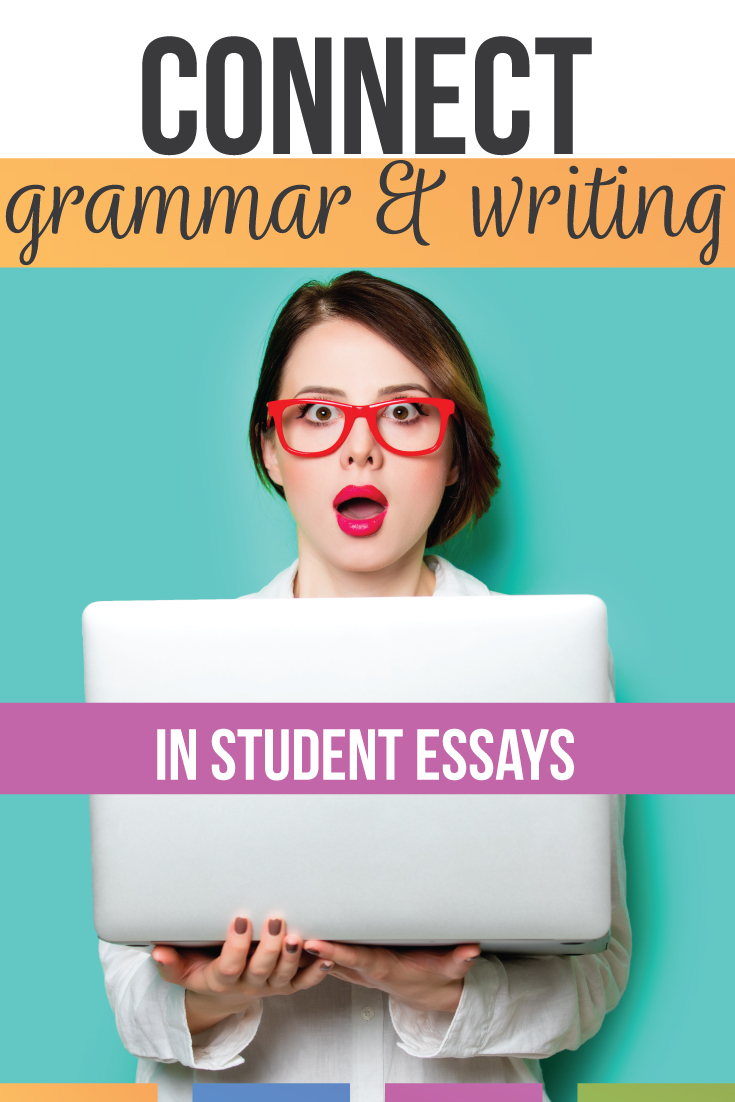 Tons of problems can stump students. Often, using words incorrectly, creating confusing sentences, or not correcting disagreement limit a student's message. These ideas will give you a starting place for helping student writers. Grammar errors in student essays that confuse readers can feel defeating for young writers.
Finally, targeted practice helps to correct grammar errors in student essays. Modeling the fixing of errors will benefit students as they work on their writing. If you're looking for targeted practice, my grammar and writing errors bundle contains practice for helping student writers.
This post contains affiliate links.