Looking for how to clean your classroom before summer break?
Finals are over, reports handed out. You promise to meet your coworkers for tea over summer break. You sigh and turn off you classroom light.
Before you leave for break, take some time (probably a few hours) and clean your classroom. You can make life easier in a few months by following this list now.
Ask Questions
Before you completely empty your room, be sure you have permission for your plan. A clean classroom (aside from waxing the floors or dusting shelves) might be expected! If a maintenance crew will deep clean your room, you might need to pack up books and supplies. Ask questions so you know the expectation.
Also, secondary schools might want final exams kept for at least one year. Other schools ask that you keep communications on file. Can you toss all student work? You might want to keep excellent student work as examples for the upcoming years. Sometimes, I use work as classroom decor. (I try to ask students before I do that.)
Before you begin cleaning, ask your mentor or administrator what you must store. Do it now; you won't remember what and where papers are in two months.
Then…
Throw. Away. Papers. You. Do. Not. Need.
At one time, I kept extra copies of assignments—a file for each story, each writing lesson, etc.
I tried to use them again the following year. I wanted to cut back on waste and even though I had good intentions, I was driving myself batty to:
organize the extra copies.
remember to get them back out the following year.
count them and then make appropriate numbers of copies for the next class.
refile if I printed a different assignment on the back or used less material.
This process was lots of work, and in short, I now recycle. I suggest that you don't create extra work for yourself. Toss extra copies of assignments and random papers.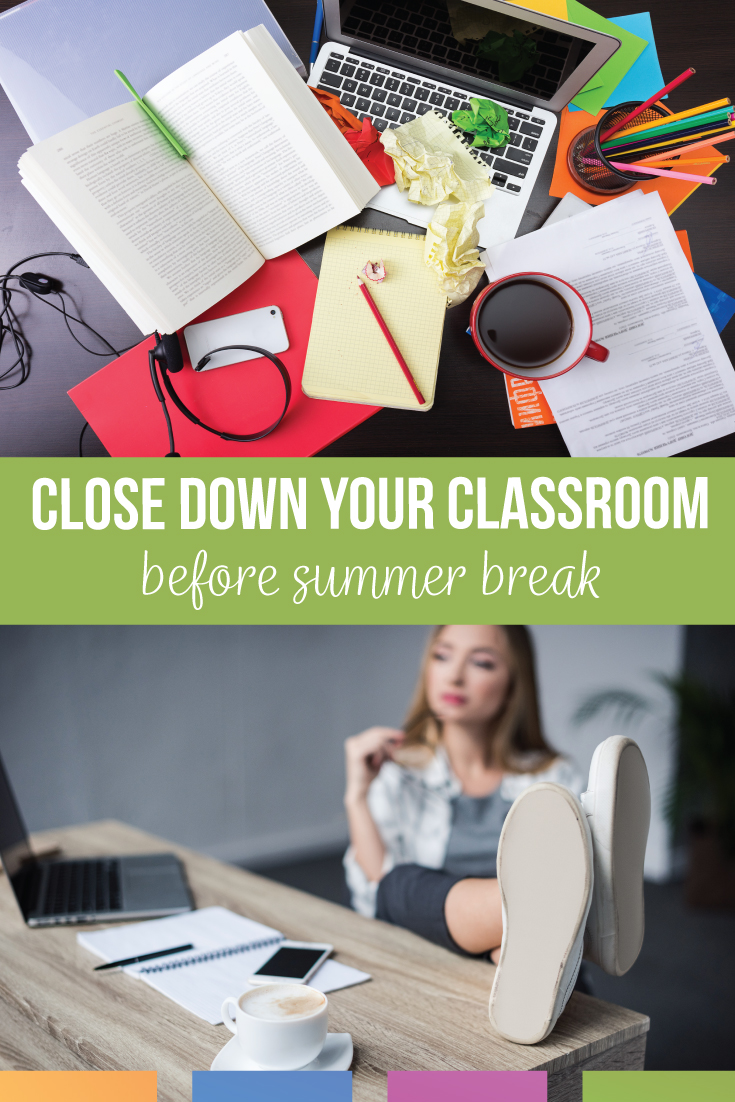 Draw a Map
Is your room undergoing a deep cleaning—desks, rugs, bookshelves? If items will be moved, draw a quick map to help those who will move your stuff.
Make multiple copies of the map. Tape one to the desk, put one inside the desk, place one in the filing cabinet, and take another one with you. Take a picture.
Items in a classroom are large. You may not physically be able to move filing cabinets, book shelves, and a teacher's desk. The map will help everyone get your classroom ready in a few months.
Pack Boxes
Only once did I have to pack up my room, and it was when I got new carpet. If you need to pack boxes, label each one with your last name and room number, and tape it shut.
When I returned, I found all of my supplies! Happy teacher.
I have heard of stolen items though, especially if the items are not stored at your school. (Don't be a sad teacher.)
Take Down Wall Decor
Every school I've taught at turns the air off for the summer (I assume all do). I've left decor on the walls and returned to curled and yucky posters. Materials that I could have reused were instead ruined. Some of them were on the floor, tape everywhere.
I (try) to start fresh every school year. This encourages me to decorate differently, to implement new ideas. Take posters down, remove the tape, lay them flat if possible.
Dusting/Cleaning
How to clean your classroom… well, the least fun part… you probably need some dust rags. (Sorry.)
Wipe down general areas, knowing you'll deep clean before students arrive. Throw away obvious trash so that the maintenance crews can do the deep cleaning.
One time, I arrived in August to organize and had left my classroom in a hurry. The maintenance crew did not know where items went, I was frustrated, and I wasted time cleaning and organizing.
Cleaning as the school year ends may seem like a drag when you want to sprint out the door for summer break. I get it.
Spend some time now to make the return to your classroom in a few months easier. You'll be happy that you did.
Experienced teachers: what would you say to new teachers? What advice would you give for how to clean your classroom?