Secondary classroom decorating ideas can (and should be) simple. Don't overwhelm yourself or students with high school English classroom decor.
Middle and high school classrooms must acknowledge the desires and attitudes of older students. While considering secondary classroom decorating ideas, think away from prepackaged posters and banners. (I've never seen prepackaged themes aimed high school classrooms—only posters. Am I alone?) Instead, think of secondary English classroom decorating ideas that encourage creativity, thought, conversations, and literacy. 
I'm not crafty but I love every classroom I've ever crafted. Why? It must be a combination of my desire to have an authentic learning space that both my students and I like—that we participated in the creation of. Where do I find decor for a high school classroom? These are my five places to gather high school English classroom decor, which should work for both experienced and new teachers.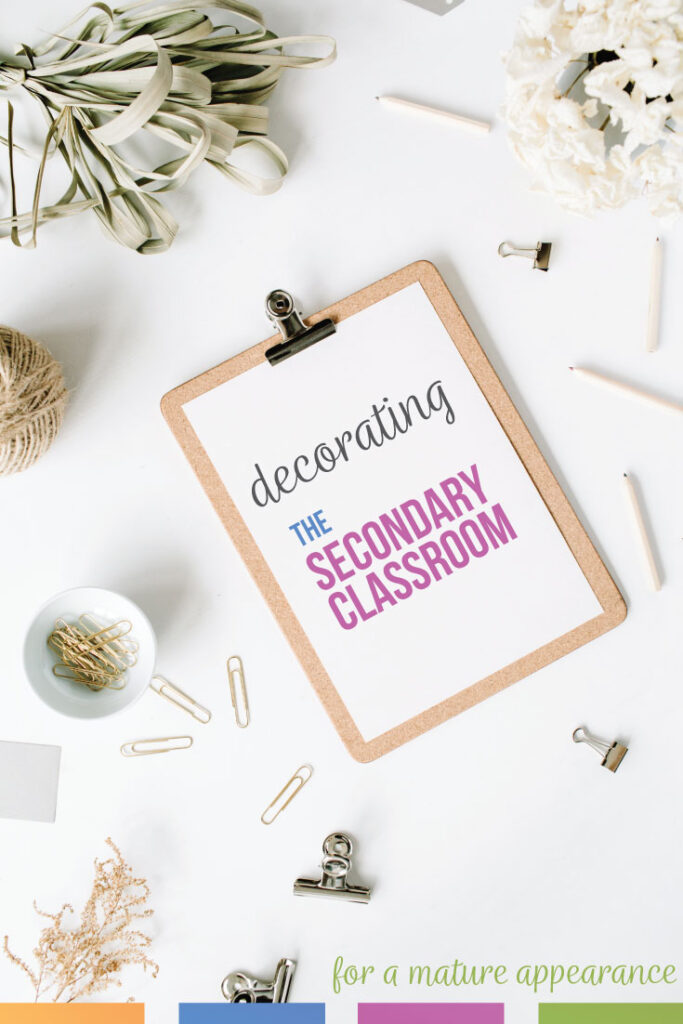 1. Use student work.
After a project, I ask if students will throw their projects away. Sooooo many times they say "yes." I ask if they mind if I keep them and they almost always hand it over. (Many times, they are elated that I wanted to keep student art.)
Student work not only provides decoration but also adds to units. Previously created goodies can explain difficult reading material. For instance, cartoon strips from "Julius Caesar" help current students understand the difficult plot.
Remember: classroom decoration ideas for high school can be simple. "Publishing" student writing and projects does more than make your room pretty. 
2. Shop (a little) at the dollar store, but seek out secondhand goods.
My first year teaching, I bought quite a few products from the dollar store. Aside from my personal coasters, everything broke. Even the small pencil sharpeners for group work fell apart. You can get some classroom decor at a dollar store, but don't spend tons of money there.
I have better luck shopping at secondhand stores or garage sales. My best purchases include:
Picture frames. Use these to showcase student work. I've even purchased (high quality!) large frames and put posters in them.
Old suitcases.
A bookshelf.
Clear glass containers for storage. I think these were used as canisters in a kitchen, but they now hold glue sticks, cute erasers, and scissors.
Vases, tins, and other pretties.
Art material. My best haul came from a lady who was quitting scrapbooking and was selling high quality materials.
Specifics for units. Once I came across old Sears catalogues. These are perfect for showing students what characters dressed like during a specific time period.
Often, I explain that I'm a teacher who is decorating her classroom. People often generously donate to teachers.
3. Visit home stores.
I'm not referring to top-notch stores, but rather discount ones. My local ones include Big Lots and Home Goods.
A previous classroom of mine had worn carpet. I put rugs in particularly bare spots. Another one had rusty cabinets. I covered those with a clearance tablecloth. Speaking of which…
The clearance section at discount stores? Perfect for teachers, especially if your classroom has an eclectic feel. Lamps and posters are other purchases I use to brighten a secondary classroom. Vases and little containers are perfect for storage.
High school English classroom decor can be unusual!
4. Don't forget craft stores.
Michaels is my craft store and I always stock up on coupons before shopping. What do I buy? Baskets, seasonal items, and clearance art supplies such as poster boards and glue. This goes a bit back to #1 because I rely on my students to create materials. Instead of reviewing types of pronouns or vocabulary on small pages, ask students to create an informative poster or build a word wall with them. Assign students to make character profiles for a social media site and create a bulletin board of them. Secondary classroom decorating ideas needn't be all teacher purchased or created. With older students, they have design and organizational abilities: use them, but provide the materials.
5. Showcase books.
You've probably curated beautiful books for your classroom library. Show them off! Encourage students to organize them by any method they envision!
Switch books around the room to display different authors, genres, and titles. Organize piles of books by color. Place some books on your chalkboard ledge. You don't need many books (or fancy bookshelves) to display beautiful titles to your students.
Create your dream classroom over time. Add to a Pinterest board with your magical secondary classroom decorating ideas. Be creative where you shop and open to unique decor ideas.