Making useful bulletin boards for high school students can be challenging.
High school is a different land than lower grades. Students want to be recognized as young adults. Since we teachers want them to behave that way, we should treat them as such. Designing bulletin boards can increase classroom community and reinforce certain concepts.
ELA bulletin boards can help students to understand content and reinforce practice. They can stress your messages, and they can build community. Once, I strove to change bulletin boards monthly, and that did not work.  I don't have time. So, I set out to make English bulletin boards that I can modify easily without completely changing all pieces. 
Here are a few bulletin boards for high school students I've found successful.
Literary Allusions
When I have a literary board, I build a heading and let students do the rest. The heading might be, "I Caught" or "Recently Seen." The purpose of this bulletin board is for students to note references to literature outside of the classroom.
I keep note pieces and markers next to the board, and I encourage students to write what they notice. They often add an idea on a sticky note, and I check the note for clarity. Such a board also keeps be updated with what students watch and find interesting.
Writing Facts
We ELA teachers present writing, grammar, literary, and rhetorical devices to students. Lots of information!
The bulletin board needn't be overwhelmed with decorations! Why not create a simple border, type straight-forward definitions, and print definitions or expectations? Students can read this information as they have time, and this will reinforce your messages.
Vocabulary Word Wall
My favorite bulletin board for high school students is one that students make. When I work on vocabulary and grammar together, we practice words in a variety of ways. Sure, I want students to know the definition and the part of speech, but I also want them to use those words in their own writing, to understand the connotation, and to form varying versions.
With easy word wall pieces, students can add their creations to your vocabulary word wall. Students will interact with a board they created.
Authors
No one can cover every author in class, but we English teachers hope to inspire as many readers as possible. Often, students need to see themselves represented in literature. You can see my design for such as ELA bulletin board that showcases a variety of authors. You can display authors in a variety of ways, some of which might be:
Popular authors
Authors as screenwriters
Classroom library picks
Monthly themes (June for Pride, for example)
NYT Bestseller List
Nobel, Pulitzer winners
Students love to learn about new people and topics, and an ELA bulletin board that showcases your community's interests will be worthwhile.
First Chapter Friday
I adore the community that my students and I build with First Chapter Friday. A fast ELA bulletin board is to display images of your books that you read every Friday. I quick picture or image from the Internet will do.
What I enjoy about this language arts bulletin board is that you can build it every Friday. Plus, you can visually relate to the stories you've covered as topics develop in class.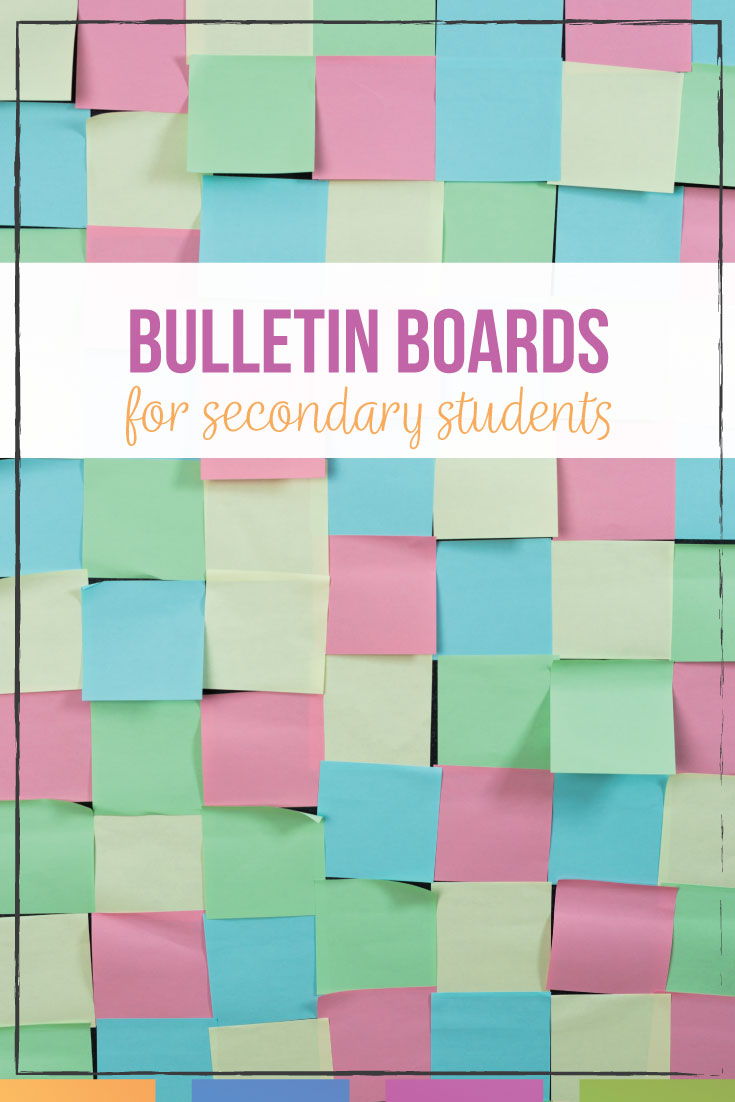 Unsuccessful Bulletin Boards
One time I had a high school bulletin board with a huge crossword puzzle using vocabulary words. It was fun, but my students wanted one for each chapter's vocabulary. Blowing up the puzzle and laminating it (for multiple use) was costly, and since I was paying for it, I only did it once.
Another time, I did a "falling for books" display. I think it was too cutesy for older students. The border was leaves, and I put book images at an angle, like they were falling.
Like so much in teaching, not every effort will succeed. Involving students, showcasing work, and highlighting topics studied works well in my classroom.
Creating effective bulletin boards for high school students is tough. Students do not want to look at babyish images, and they don't care about what interested them a few years ago.
What tips do you have for making an effective bulletin board for high school students?
Bulletin boards for high school students can be attractive and purposeful. With a bit of experimentation, you will find the perfect language arts bulletin boards that fit your community.  
Do you need bulletin board ideas for middle school?