Sixth grade grammar: Are you looking for interesting and engaging grammar activities to add to your sixth grade English classes?
Grammar ideas that are age appropriate and fun are important for middle school. Below, I have provided creative grammar activities for middle schoolers that will get them excited about learning the fundamentals of language mechanics. Many of these ideas will work across middle school, but I wrote these ideas with sixth grade in mind.
Whether you enjoy station work or coloring, there's something here for every sixth grade ELA class. You can provide important lessons that will help students as they continually approach more difficult language standards.
Teaching grammar to 6th graders can be an exciting and oh-so important part of their language development.
Here are some things to consider  and strategies to implement when teaching sixth grade grammar.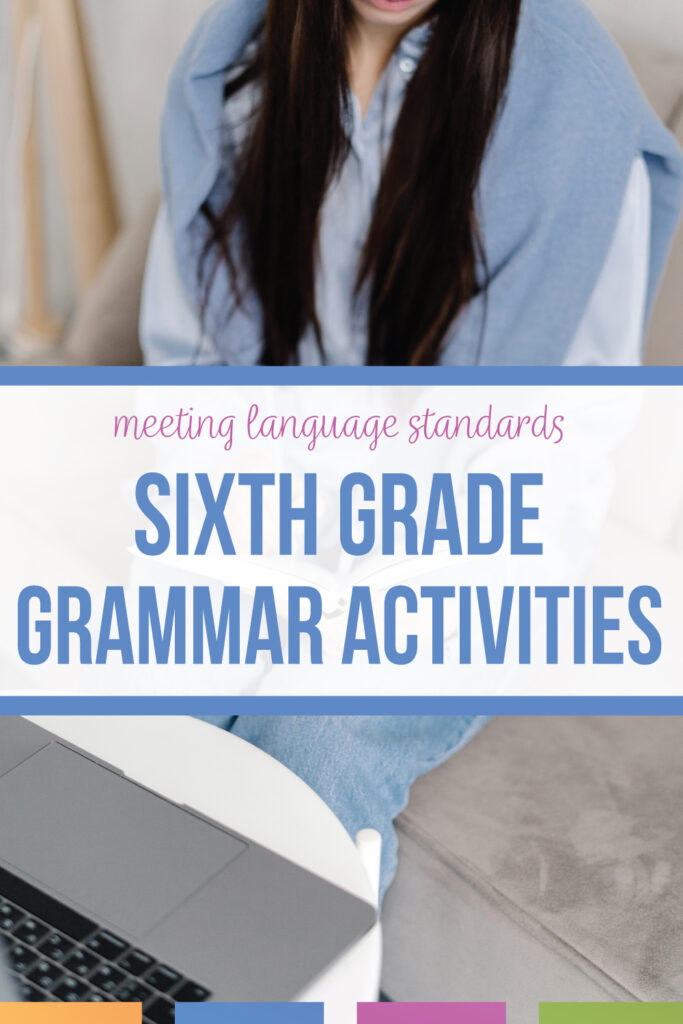 Build a foundation.
Start by reviewing the basic parts of speech (nouns, pronouns, verbs, adjectives, adverbs, prepositions, conjunctions, and interjections) and their functions in sentences. Use examples and provide clear definitions to ensure understanding. The standards focus a lot on pronouns in sixth grade so make sure to come back to that particular part of speech again and again.
Contextualize learning.
Connect grammar lessons to real-life situations and texts that students can relate to. Use age-appropriate literature, online articles, or short stories to illustrate grammar concepts in context. Mentor sentences from picture books and novels are a great way to incorporate this learning.
Part of sixth grade grammar includes "talking through" whatever concepts to students. Students this age challenge why they learn concepts. Embrace those questions! Encourage students to think to their futures, about when they will use language and command the power of language for their benefit.
Engage through activities.
Incorporate hands-on activities and games to make learning grammar interactive and fun. For example, use sentence-building exercises, word sorts, and sentence diagramming to reinforce understanding. The more students move when learning, the more they remember. We all know what it was like to have the "sit-n-get" grammar instruction when we were kids! 
Create visual aids.
Utilize visual aids, such as posters or charts, to illustrate and reinforce grammar rules. Display these visuals in the classroom, so students have a constant reference point. I also like to make sure they create their own visual aids to keep in their binders and/or journals. There are a ton of resources online for grammar visual aids.
Connect grammar in writing.
Emphasize the importance of applying grammar rules in writing. Provide opportunities for students to practice grammar skills through writing exercises, such as creating descriptive paragraphs, writing dialogues, or editing sentences for grammatical errors.
Encourage peer collaboration.
Encourage peer collaboration and group activities that promote discussions and cooperative learning. Assign tasks like peer editing or group projects where students can practice using proper grammar while working together. One fun way to incorporate peer collaboration is to have them write out a conversation (instead of speaking) so they can practice using correct grammar and punctuation. 
Individualize feedback.
Provide specific and constructive feedback on students' written work to address their grammatical errors. Focus on one or two grammar concepts at a time, gradually building their understanding.  When you try to focus on too many concepts at once, everyone just ends up getting frustrated…including YOU!
Use technology.
Incorporate educational technology tools such as grammar-checking software or online quizzes to enhance grammar instruction and provide immediate feedback.
For sixth grade grammar, don't shy away from using "drag and drop" activities. When students separate different components (action and linking verbs, for example), you can advance their thinking skills with well-placed questions. How do they know the difference of verbs? Where is there confusion? What is the purpose of understanding these differences?
Play grammar games and online resources.
Introduce online grammar games, interactive websites, or educational apps that offer engaging grammar practice and reinforcement.
Share continuous assessment.
Regularly assess students' understanding of grammar concepts through quizzes, worksheets, or short assignments. Adjust your instruction based on the results to address any knowledge gaps. One quick way to gather data is with self-grading Google Forms. 
Often times, grammar gets a bad rap. It can be as boring or as fun as you and the students make it! If you search around this website, you'll find many tips for making grammar an enjoyable and fun part of your language arts classroom. 
Remember that grammar instruction should be balanced with other aspects of language arts to ensure a well-rounded language development experience. Sixth grade grammar demands many skills while considering the language standards. With creativity and well-placed tools, you can bring fun grammar to your middle school classroom.