Looking for tips for teaching grammar that won't cause a ton of more work?
Making grammar make sense, connecting grammar to writing, showing students the importance of understanding a language: all ideas we ELA teachers want to succeed at with our grammar lessons.
Plus? When I create my grammar lesson plans, I must factor in starts and stops. I must break down complex topics for students. Teaching grammar while considering best practices can be a heavy load.
When I consider what makes a grammar lesson successful, six ideas come to mind. Over the years, I have experimented (and failed) at teaching grammar, and I am excited to share what works with other teachers.
Hopefully, these grammar ideas will make your job easier because students will experience success in their grammar activities.

Have Fun
Truth: You might have to fake the fun at first. I did.
Once upon a time, I would share with students that we would "get grammar out of the way." Well, that message insults students who enjoy grammar. It also aligns students with the idea that grammar doesn't fit in with the rest of the curriculum—which is untrue.
So, I started being excited about grammar which looked like implementing new activities and talking about grammar outside of "grammar lessons." Once I began mentioning grammar in literature lessons (for example), I realized that we were not only looking at grammar in a new way, but also that we were having fun.

Use Metaphors
Throughout the years, I created a variety of metaphors for explaining grammar concepts. Metaphors helped students, so I continued using them. Then, I began reading that metaphors in learning are connected to brain-based learning. Take for instance what I found from Rose Hendricks in "Do metaphors make learning a piece of cake?"
She acknowledges what we teachers know: "A growing body of research suggests that we don't just use metaphors to talk; we use them to think as well." As we teachers search for explaining concepts to students, we naturally think of analogous language to explain difficult concepts. I use metaphors frequently, not only with grammar, and you probably do too.
Now, metaphors might not always work, and Hendricks suggests we teachers "acknowledge the incorrect inferences that students might make." I have found that overall, students do not confuse the concepts of grammar with the metaphor. My most frequent metaphor is sentence structure and scoops of ice cream (picture above). One scoop = one independent clause, a simple sentence.
Two scoops? A compound sentence. A strawberry or chocolate scoop = a dependent clauses.
Switch and play around, and make them your own, but the scoops of ice cream works well for teaching clauses and sentence structure.
The point of all this silliness? So often, grammar is taught through lectures, only. Research tells teachers not to teach only that way. They stress before they've given themselves an opportunity to succeed. A bit of figurative language, a bit of understanding and compassion helps with grammar lesson plans.

Build Images Together
Similar to metaphors, I use images to explain grammar. Often, I'll ask students to think of an image for grammar (and its concepts). We brainstorm, and often, students develop an image like a fruit salad or pizza. Not every sentence contains every part of speech, similar to a sandwich, fruit bowl, or pizza.
For instance, if all of grammar is a fruit, and there are many kinds of fruit we could continue with this sort of discussion:
A noun could be… an apple. Oranges are common, and so are nouns. We study types of nouns: concrete/abstract, proper/common, and on. We could study types of oranges: Valencia, mandarin, and navel. All of those types are still oranges, just as all nouns are still nouns.
Pronouns—apples?  Granny Smith, McIntosh, and Honeycrisp to name a few. Students often decide the "type" of fruit each part of speech is. Many passionately explain that a chili is indeed a fruit, and it should be an adjective because of its spicy nature.
When I introduce verbals, student sometimes say that they have never heard of a gerund, participle, or infinitive. I ask them if they've heard of a breadfruit or noni. Normally, no, they think I've imagined those fruits. We discuss that simply because a word or concept is new and strange, we can still learn it.
And yes: when we review grammar, I tell my students we are making a fruit salad with sentences.

Connect to Life
Connecting grammar concepts to students lives is easiest (for me) with sentence structure and active and passive voice.
Sentence structure, for instance, allows students to play with their language. In my sentence activities, I made grammar manipulatives or sentence-building pieces. Students can literally hold types of sentences, rearrange them, punctuate them, and change the structure.
I then connect this concept to life. If students understand how to present their arguments, their beliefs, their opinions, they are in a position to get what they want, whatever that is.
Many times as we rearrange and build sentences, I'll ask students: Do you ever see yourself asking for a raise? Applying for a grant? Writing a proposal? Get students thinking ahead of how a strong understanding of language will connect to their lives now and in the future.;

Play Games
Students love games and competing, so I am sure to implement different approaches. Online competitions like Kahoot or GimKit are fun, and once you have the formatting set-up, you should have a tool for multiple uses. Plus, if you have students who cannot physically join the class, you can add them virtually. Finally, you can share a link with students to practice independently.
I also use grammar sorts as a racing game. Students can compete against each other for time, or they can each do a different grammar sort. When they finish, ask them to snap a picture. The group with the most correct answers wins. Since grammar sorts cover many topics, you don't need to give every student the same one.

Show Improvements
One of the best tips for teaching grammar? Show students how they have grown in understanding the English language.
Parallelism is a good area to show students their growth. For instance, during parallelism lessons, you can discuss:
Items in a series: Point out to students how they can recognize all the nouns, predicates, or phrases in a list.
Phrases: Show students that since they understand gerund phrases, they know how to make all phrases in a parallel situation gerund phrases.
Verb voice: Explain that since students can identify active and passive voice, they can then implement parallelism.
Whatever the topic, take 30 seconds and explain to students how their prior knowledge of grammar helped them to understand this current topic. Students who want to become writers or to be involved in the publishing industry should especially find connections from grammar to writing important.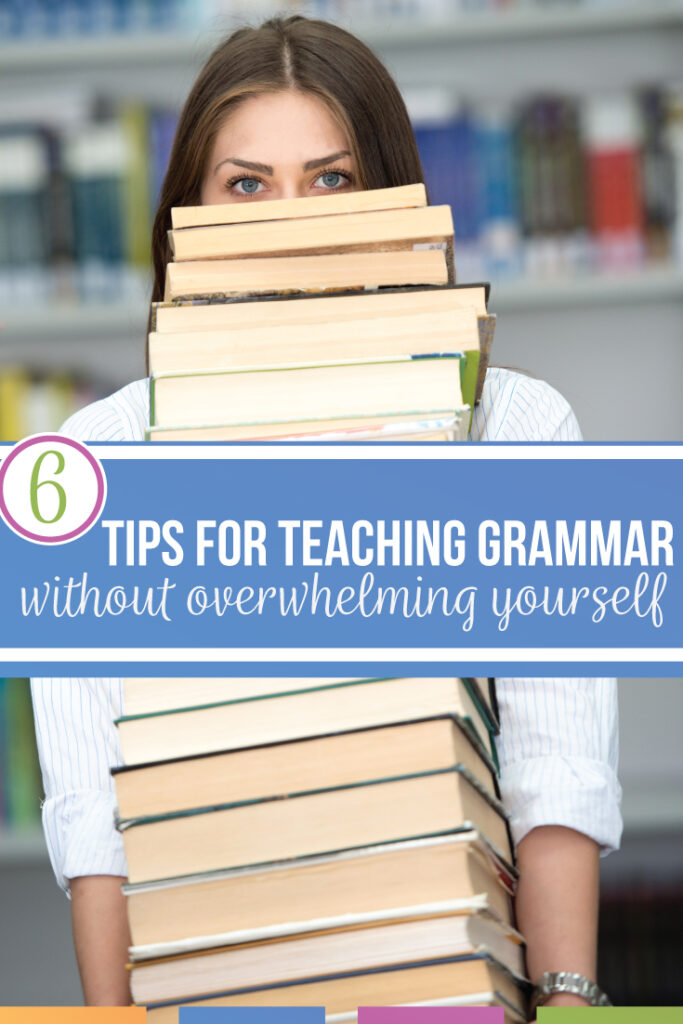 Those are my six quick tips for teaching grammar—concepts often under the "language" section in standards. With a few changes, you should be able to use these across multiple grades.