Teaching new dictionary words can be a quick, easy lesson. Below, I've included a framework for such a lesson.
One of my best lessons of the school year was unplanned. Students and I discussed our changing language & new dictionary words.
When students and I work on grammar, I purposefully use domain-specific vocabulary and move past the bottom of Bloom's. In this instance, students shared how they use words differently than I do (of course), and in an impromptu moment, I shared how the dictionary adds new words every year. We had a rich, meaningful discussion.
One of my main goals with grammar instruction is that students connect to the study of language. English grammar is so diverse and amazing to study, and we ELA teachers really should present it in an exciting manner! Below, I've included how our conversation started and how you can reproduce these ideas in your classroom. You should be able to reproduce this lesson in a quick mini-lesson.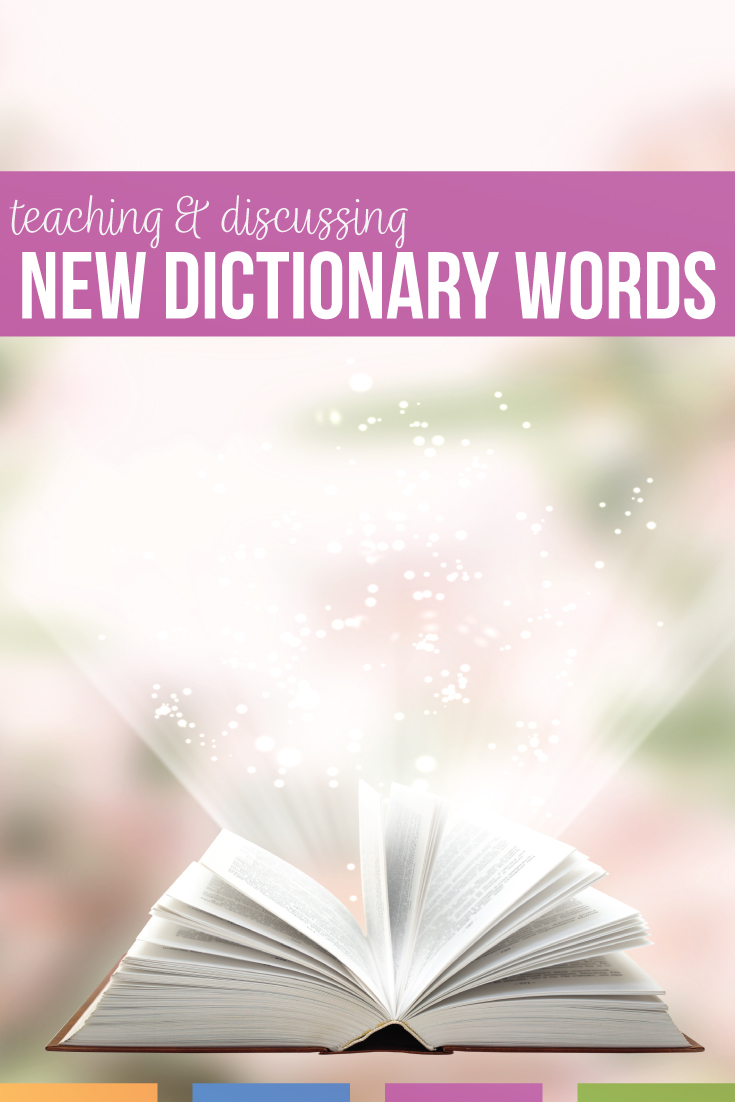 What happened?
Students and I were discussing books and the labels in my classroom. My labels are on simple posters, and the CLASSICS section is followed by "the canon." Someone asked me what "the canon" was (and why I offset it with quotation marks—was a making a joke?), and we discussed who decided the canon, what books are in it, if those books are still worth reading, who is left out of the canon, why some people are left out of the list of "great books," and on. Basically, the conversation was an English teacher's dream. Students were asking questions and thinking critically. They were using domain-specific language.
Many were raising questions that I had not considered, such as if different age groups had a canon and when books were old enough to belong.
Then, a group of students shared that they use the term "canon" with literature, but in a much different way than I do. According to my students, each story can have a "canon." For instance, all of the Harry Potter stories have a canon, and it is comprised of what is in the books and what the author has confirmed. So, since Rowling has contributed to the story after the story was written—but she is the author—that is part of the Harry Potter canon.
We initially began discussing how literature and audiences' interactions with literature was changing because of our access to authors on social media. Then, I wanted to see what the dictionary said about canon, and suddenly I was teaching new dictionary words.
That process was authentic, but since we had great conversations, I wanted to outline how other teachers could introduce new words to their students. Next, I've outlined some ways to discuss these concepts with students.
Build on prior knowledge.
Language always changes. Scrolling through Facebook or Instagram, anyone can notice this change. That's not a negative, and it's worth noting with our students. Students know this: They use social media, and the discussion can fit into an ELA class. Ask students to explain words that they use that their parents, teachers, or other adults probably don't use. They'll be happy to share!
Here are new words or definitions for words that I hear students using, and I expect that when I am teaching new dictionary words, they will be included.
"Verses" as a verb. Chicago vs. St. Louis! As in, our soccer team is verses Washington tonight. 
"Couponing." (My spell check highlighted this.) I've also heard students say "discounting." Before people buy something online, they search for free shipping or discount codes. Couponing is a sport when shopping online.
"Adulting." Students may not use this word often, but their parents might. (And again—spell check highlighted this.) I adulted hard this weekend; I cleaned the house and went grocery shopping. 
"Hashtagging." Formerly known as the pound sign, the hashtag provides categories of messages. Are you hashtagging the awards show tonight? The hashtag often leads to… tags…
"Tagging." Not your clothing, but rather your friends. Will you tag me in your status?
"Fail." Normally present in, #epicfail. "Fail" was once a grade or effort, but now it has replaced "not doing well." I am failing at life today.
"Ship." Used as, these people should date. Students want characters to date, so they ship them. I shipped Tris and Four from the start of the series.
After students explain how out of touch you are new words to you, introduce new words from the dictionary. My initial thought is that this lesson needn't be formal! We can meet standards and discuss our ever-changing language in a casual way.
Meet standards.
Teaching new dictionary words can elevate students' thinking and help you reach more difficult standards These language standards for older students can be difficult to create lessons:
Apply knowledge of language to understand how language functions in different contexts, to make effective choices for meaning or style, and to comprehend more fully when reading or listening.
Apply the understanding that usage is a matter of convention, can change over time, and is sometimes contested.
Language fascinates me, and I share that fascination with students when I work toward meeting those standards. Acknowledge the potential  for confusion; read, walk, and talk can all be nouns and verbs? Bits confuse me too, normally right after I feel that I have a strong understanding of the English language. I've found that once you admit to the confusion, fascination has room.
People stress about the change in words; remember when "phat" was included in the dictionary? Outrage! Languages change because they are adapting to the speakers' needs. Words aren't static; the dictionary changes. Language adapt for their users, changes in our lesson planning and eventually in student writing.
Our language has always evolved and changed with new technology. Let's acknowledge it. At this time, social media has changed our language. And that's ok!
Teaching new dictionary words seems to be the perfect opportunity to connect to students with a familiar topic, and the perfect teaching opportunity to expand students' understanding of language.