Ten! Language arts lesson plans for the end of the school year. Teaching in June? Try a few language arts lesson plans for June.
It is that time, teacher-folk. You've finished May ELA lessons, and the school year is winding down. Sure, the prospect of summer is exciting. But.
We are tired teachers, but we understand that we want to send our students into the summer inspired. Hopefully, they read over summer break, write, maybe research ideas they are passionate about. We are excited that the school year is over, but did I mention that we are tired?
I teach in Illinois, which means that I rarely need language arts lesson plans for June. Sometimes my school year carries into the summer months, and sometimes, I teach ELA summer school.
Students are excited too, which means… we teachers need something that will engage them. I sat down with my friend Melissa, and we each developed ten ideas each to keep students engaged as summer approaches. Because we know all teachers are exhausted, these language arts lesson plans are low- or no-prep. Read on!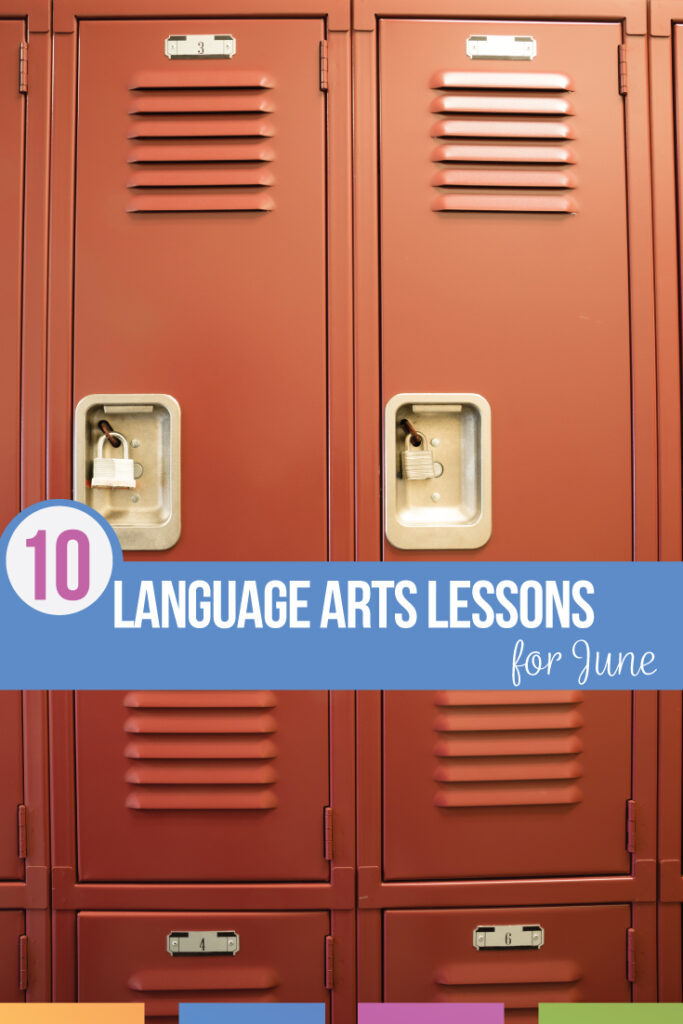 Students can review grammar and color with this pack. Bonus! Students get to choose which skill to practice. Try these sheets with stations. If you are giving finals, coloring is a nice way to review because students enjoy the process, but they are also practicing at the same time.
Especially when review is part of middle school language arts lesson plans
Try your hand at creative writing
.
Unfortunately, creative writing sometimes gets pushed to the back of curriculum. In my post about the first week of creative writing lesson plans, I have ideas for getting students writing, using pictures, and engaging reluctant writers. Emphasize that all students are writers and should share their stories. Send them off to summer with a positive lesson!
Synthesize with a one-pager
.
Ask students to reflect on the novels they have read this year. This activity works especially well with courses that allow for choice reading. Students can create a one pager to reflect their knowledge of their favorite novel – or even a common theme across several books they have read throughout the year. This scaffolded one pager activity helps students to approach a one pager with purpose and meaning.
Alternative: The digital version of this one-pager allows class collaboration.
Build a Playlist of My Year
.
Students LOVE music, and (secretly) so do teachers! I absolutely have a blast with this playlist of my year assignment, which combines so many different writing skills. Students practice writing complete sentences, applying grammar rules, and thinking critically as they complete this thematic paragraph assignment. Playing music as students compose their work and share their answers raises the engagement bar.
Put on a Read-a-thon
.
Grab a book, sit with your students, and read. Seriously. Model reading for them. Encourage them to take one of your classroom library books home for the summer.
Make a TOP TEN list
.
Encourage students to develop their own list about their school year, national happenings, or a topic in your class. Then allow students to take turns presenting their ideas. (Tip: remind students it must be appropriate.) This activity is super easy to turn into a creative writing piece.
I have found that the top ten list works well with high school language arts lesson plans. Students can list what they have learned from the year. 
Experiment with differentiated vocabulary.
Have students select their favorite vocabulary word they used throughout the school year, and then have them complete this in-depth reflection upon the word. As a follow-up activity, students can complete this vocabulary extension assignment. Use their work to decorate your classroom at the end of the year…or save it for the beginning of the next! 
Alternative: Use the digital version to add images and texts.
Head outside
.
Ask permission if necessary, then take your students outside. Assign each student a different area to study, analyze, and write a description about. (You could make slips of paper with objects, people, buildings, and on.)
If students are stuck at the end of the school year, you can make most language arts lesson plans for June outside-friendly.
Watch a documentary.
I rarely show movies or documentaries, but when I do, I am sure to work on media literacy with my students. Show older students a documentary like Poverty Inc., and get them questioning, thinking, and pondering. Students will watch videos, and it is important that they question who makes programs, why they are made, and what their influence on society could be. 
Contact an author.
What was the best book your students read this year? Ask them, and then write a letter to that author with students. Many authors have websites that contain their email addresses. Famous writers often respond to students!

The month of June… can be a challenge. I hope one of these ten language arts lesson for June plans will fit into your final weeks.