Looking for creative writing lesson plans? I am developing creative writing lesson ideas! 
I've written and revamped my creative writing lesson plans. This semester marks the second time I have taught this particular writing class, and I beginning to bump near that tranquility-confidence-spot that teachers crave.
You know what I mean: I'm working the kinks out of these creative writing activities and plans. I am developing a vision for the class and am more confident in teaching it. Since I am happy with the first week of lesson plans, I wanted to share them with you all. These plans require lots of discussion and encouragement. I've found students are shy about writing creatively, about sharing pieces of themselves. A large part of the first week of class is setting the atmosphere, of showing students they are free to create. And! I believe these concepts will apply to most writing lesson plans for secondary students.
Feel free to give me feedback and borrow all that you need! Below, I've detailed my day-by-day progression for creative writing lesson plans for week one.
Creative Writing Lesson Day One: Sharing my vision
When I created my first lesson plan for creative writing, I knew that students had to be comfortable. I'm not a huge "ice breaker" type of teacher—I build relationships slowly. Still, to get student writing, I knew I needed to have them comfortable.
For day one with any lesson plan for creative writing, I think it is important to set the tone, to immediately establish what I want from my creative writing students. And I want…
them not to write for me, but for them. I don't want them writing what they think I want them to write.
Does that make sense? I don't want to place limitations on them. I specifically outline what I believe they can produce in a presentation. (Sometimes I show it to parents, too!) As their writing coach, I plan to provide ideas and tools for use. Their job is to decide what tools work for their creative endeavors.
After covering classroom procedures and rules, I show students a TED Talk. We watch The Danger of a Single Story by Chimamanda Adichie. My goal is to show students that I don't have a predetermined idea concerning what they should write. This discussion takes the rest of the class period.
Establishing comfort and excitement precedents my other creative writing activities. I image you can personalize your "vision" activities for your lessons in creative writing. Honestly, doing this pre-work builds relationships with students and creates a positive classroom atmosphere.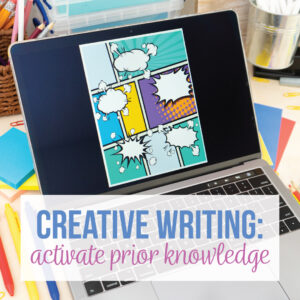 Creative Writing Lesson Day Two: Activating prior knowledge
Students possess prior knowledge concerning creative writing, but they might not consider that. Students should realize that they know what constitutes a great story. They might not realize that yet. An easy lesson plan for creative writing that will pay off later is to activate prior knowledge. Brainstorm creative, memorable, unforgettable stories with students. Share your thoughts too! You will start to build relationships with students who share the same tastes as you (and those that are completely different!).
During this activity, I want to see how students work together, and I want to build a rapport with students. Additionally, activating prior knowledge provides a smooth transition into other creative writing activities.
This creative writing activity is simple:
I ask students to tell me memorable stories—books, play, tv shows, movies—and I write them on the board. I add and veto as appropriate. Normally doing these classroom discussions, we dive deeper into comedies and creative nonfiction. Sometimes as we work, I ask students to research certain stories and definitions. I normally take a picture of our work so that I can build creative writing lessons from students' interests.
This takes longer than you might think, but I like that aspect. This information can help me shape my future lessons.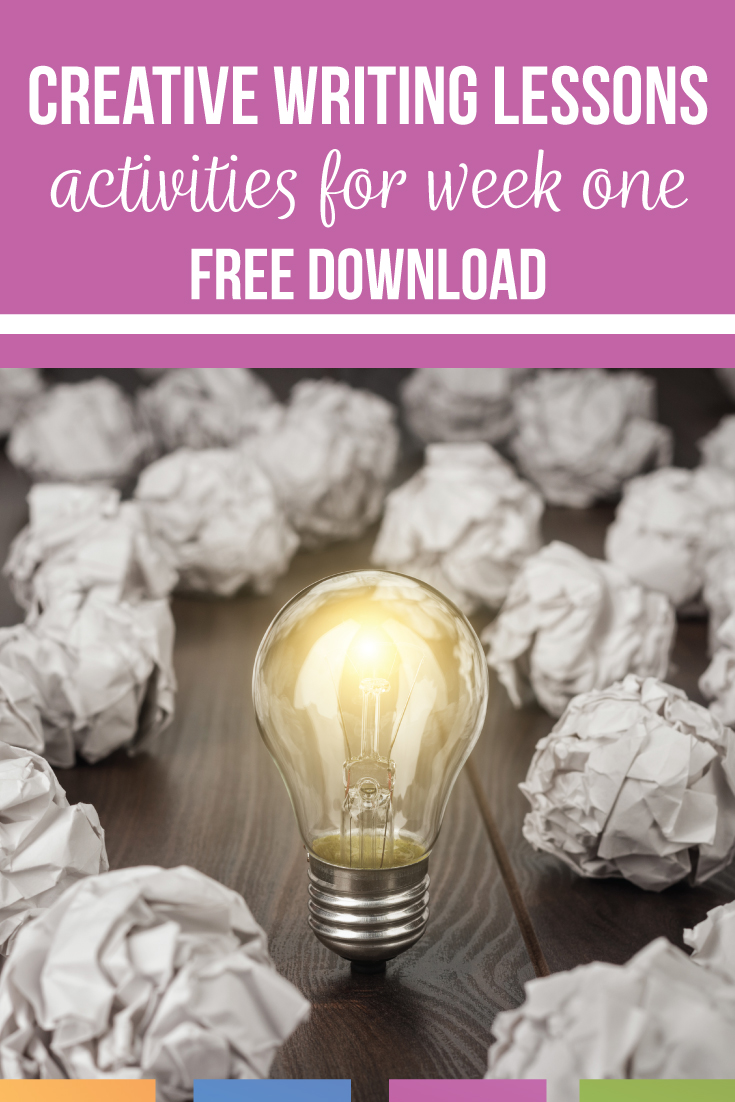 With about twenty minutes left in class, I ask students to form small groups. I want them to derive what makes these stories memorable. Since students complete group and partner activities in this class, I also watch and see how they interact.
Students often draw conclusions about what makes a story memorable:
Realistic or true-to-life characters.
Meaningful themes.
Funny or sad events.
All of this information will be used later as students work on their own writing. Many times, my creative writing lessons overlap, especially the more times that I teach the class.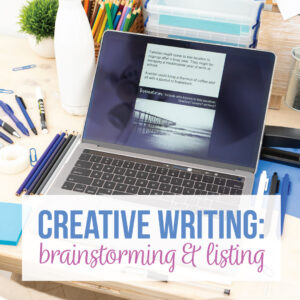 Creative Writing Lesson Day Three: Brainstorming and drafts and lists and more
From building creative writing activities and implementing them for a semester, I now realize that students think they will sit and write. Ta-da! After all, this isn't academic writing. Coaching creative writing students is part of the process.
That is not the writing process I want them to implement. Building a creative project requires thought and mistakes. (Any writing endeavor does, really.) Students hear 'creative writing' and they think… easy. Therefore, a first week lesson plan for creative writing should touch on the writing process.
I've learned to provide students with plenty of opportunities to stretch their imaginations. For instance, one of the first activities we do is analyze a person from class. We do this with characterization questions. (You can download these question for free in my library.) I connect that activity to the list of memorable stories we previously brainstormed. What makes a character memorable? Can we weave together a story that allows characters to shine?
The characterization questions force students to consider people in unique ways. For instance, what can you learn from a person by their ice-cream toppings? At first, that might seem silly. Really though, if a person has a standard order, that reveals a characteristic, as does a person who mixes five flavors. It is fun for students, and they have the tools to create dynamic characters.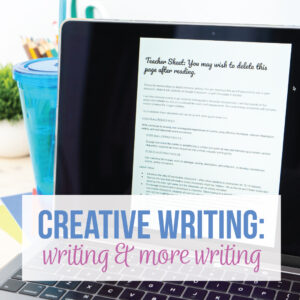 Creative Writing Lesson, Days Four and Five: Writing and more writing
Students need practice writing, and they need to understand that they will not use every word they write. Cutting out lines is painful for them! Often, a lesson plan for creative writing involves providing time for meaningful writing.
For two days, we develop these character sketches. I don't provide a ton of guidelines; I want to see what students create. I spend lots of time writing with them and modeling sentences.
This is our first large project. As we continue, students are responsible for smaller projects as well. This keeps students writing most days.
On Fridays, we are producing "quick writes." Students write about a goofy topic that implements a creative side. For instance, students might write about Batman and character motivation. (You can also download those "quick writes" in my membership library.)
Overall, my students and I work together during the first week of any creative writing class. I encourage students to write, and I cheer on their progress. My message to students is that their writing has value, and I want to read what they create.
And that is my week one! The quick recap:
Week One Creative Writing Lesson Plans
Monday: Rules, procedures, TED Talk, discussion.
Tuesday: Prior knowledge—brainstorm the modeling of memorable stories. Build community through common knowledge.
Wednesday: Review of memorable traits. Characterization activity. Download it for free in my library.
Thursday: Review characterization activity and practice implementing it into a written format.
Friday: Quick writing prompt, character writing continues. (Again, download the writing prompts in my library.)
For the second week of creative writing, I begin with narratives. I outline expectations with a narrative presentation that contains key elements and move onto developing the setting and creating a character. Narratives are perfect for the first assignment because students have typically written these before, and they are willing to share details. We are not out of our comfort zones, and I can build classroom community by encouraging collaborations.
Students do well with this small assignment for the second week, and then we move to longer creative writing assignments. When students experience success with their first assignment, you can start constructive editing and revising with them as the class continues.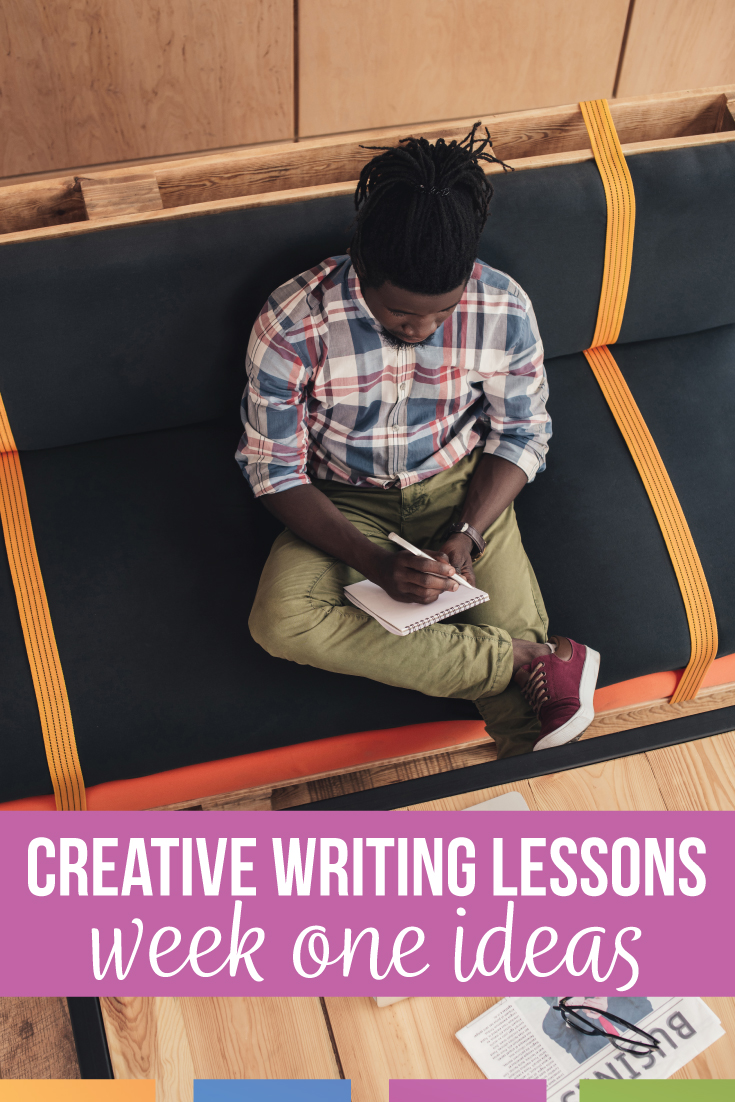 These creative writing activities should be easy implement and personalize for your students. If you want the characterization sheets for your creative writing lesson plans, snag them here:
Are you interested in more creative writing lesson ideas? My Facebook page has interactive educators who love to discuss creative writing for middle school and high school creative writing lesson plans. Join us!