How can grammar coloring pages improve your grammar lessons? Is it possible. . . to have fun grammar?
Previously, I've written about coloring sheets for literature or note taking as well as art in language arts. I experiment with infographics and with hands-on grammar. As I work with students and create new activities, I keep in mind to keep my mind open.
One of my goals as a teacher is to present material in different ways. I am very aware of what I like—lists and flash cards—and I am equally aware those methods will not work for everyone.
Which? Is great! However students learn about language arts, I am wiling to work with them. That willingness leads to success with fun grammar activities.
The more teachers talk about grammar coloring pages, the more fun and engagement I see. Keep reading for teaching methods, grammar games, and domain-specific vocabulary—all with grammar coloring activities.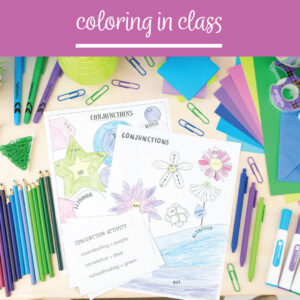 Why should students color in class?
In short: Coloring is fun, and when students have fun, they remember the material.
In a longer analysis, I am incorporating more grammar coloring sheets because my students crave new ways of learning. My classes seem different after COVID—they've changed, and I don't think all of the change is negative. I was a graduate student during the pandemic, and I learned about my learning styles and preferences as I sat at home in class. (And I am old with lots of learning experiences!) I think my students did too.
I see students who experienced learning in new ways. Circumstances forced them to experiment; they presented virtually, read independently (with choice books), and found new study methods.
Of course—not perfectly and not everywhere. With these examples, I am speaking anecdotally. Some of my students found success during lockdown. All students discovered what did not work for them.
But? Across all my classes, all students are asking for different learning methods. Coloring in class makes sense many times.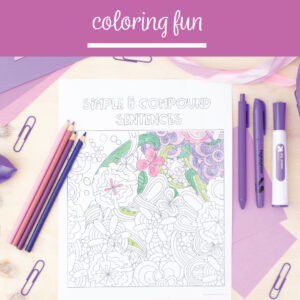 Grammar and coloring fun. . .
I do not color to relax, but I know some adults who do color. Instead, I write and doodle, crotchet, and read. When I need a break, I know what will help me. My students might not know their best relaxation techniques or brain breaks.
Just as I present digital games and graphic organizers to study, I present grammar coloring as another learning method.
When I provide grammar coloring pages, I'm hoping to take an often stressful practice (grammar) and combine it with a relaxing activity (coloring). These learning tools can provide students excitement about new concepts.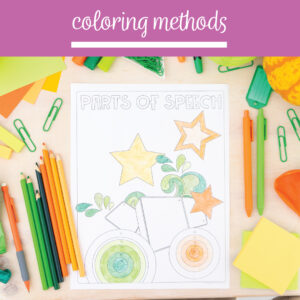 What are methods for grammar coloring activities?
With grammar coloring pages, I have honed a process where students find success:
Review the content, the terms, the concept's use before students begin coloring. For instance, with a parts of speech coloring sheet, I would pull an anchor chart or review concept that defines each  part of speech. We might practice confusing words (like "for") that can be used in different ways. We review before I even hand out the coloring pages.
Ask students to identify the concept in use. Students should work on the sentences before coloring. When students move back and forth (from sentences to coloring), they often switch answers—even if they have the correct answer. The switching from sentences to coloring sheet confuses them. I hand out the sentences before I distribute the grammar coloring pages.
Then! Give students the coloring pages. Ask them to consult the concepts in the practice sentences to be sure they are coloring correctly.
Put the finished grammar coloring activity on display, and let students check their answers.
Consider: After step two, you might ask students to check their answers with you or a peer. This discussion is a brain-based learning approved strategy, and you'll save coloring errors.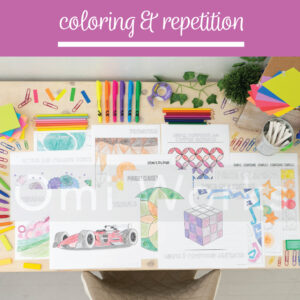 Coloring and repetition. . .
Repetition and domain-specific vocabulary: hmmmm. I believe repetition in a variety of ways helps students. When I began writing this post, I set out to find research.
In my experience, students use terms like setting, theme, argument, and claim—often easily! Most older students use some ELA domain-specific language.
(I've written before about the trouble this set of language arts teachers face concerning grammar: Many teachers received little or no or poor grammar instruction, but today's standards dictate that teachers cover complex language concepts. If you are concerned about "talking about grammar," you are not alone.)
If learning domain-specific language requires repetition, what does the research say about repetition?
In the paper, "Repetition is the First Principle of All Learning" by Robert F. Bruner, he emphasizes not only the importance of repetition, but also provides five opportunities to repeat ideas. He states:
Create many small opportunities to reinforce, revisit, and repeat ideas.
Bruner's entire paper is only three pages, and all of it provides worthwhile ideas concerning time frames, delivery methods, and opportunities.
In grammar, coloring allows for a small opportunity to reinforce, revisit, and repeat ideas. For instance, if we take that parts of speech coloring sheet from above, we might use the process as part of the repetition. Incorporate the recall of definitions, the identification of terms in sentences, and the answer-check of coloring with the terms.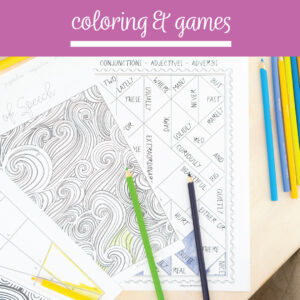 Can grammar coloring activities be a game?
Yes! Grammar coloring sheets provide opportunities for grammar games.  If you want to turn the grammar coloring pages into a game, have students race, complete the most correct questions, or "switch and pass" around the room.
Most often, I use coloring sheets as a station with grammar stations. A designated spot (complete with colored pencils) is part of the station rotations. Students can color two or three parts, and then the next group will color another two or three spots. The finished coloring sheet is a classroom decoration.
Overall, grammar fun can work. . .
If you think "grammar fun" is an oxymoronic expression, I know. I once thought that too.
Consider:
When we open a story, we ask students to "think about a time that they. . ." We read informational texts that present engaging and high-interest topics that relate to their lives. Finally, we give students choice in their independent reading material.
We ELA teachers meet students where they are in their understanding for other parts of class. With grammar coloring activities, we just have another tool for reaching students.