Are you trying to encourage teenagers to read? I am too. As a high school English teacher, here is how I get high school students to read.
Part of my job as a high school English teacher is talking to young adults about books. Sure, we work on literary standards and write analytical essays. Overall, concerning reading and building reading stamina, I stress the importance of reading and the role stories play in our culture.
Older students don't want forced conversations or inauthentic activities with books. Over the years, I have struggled to convey the importance of reading without preaching, to discuss literature in a way the showcases the fun of reading, and to get students to attempt new books, specifically nonfiction.
As I reflect on successes and failures, here are five ideas to encourage teenagers to read.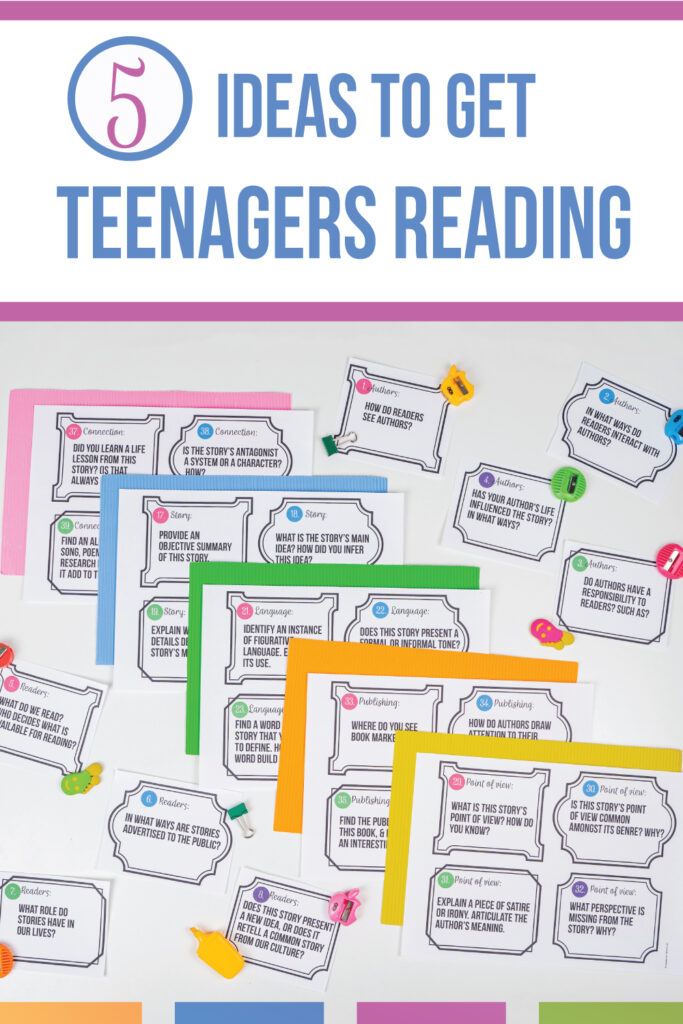 Provide choice in discussions.
I do NOT want to dissect every part of a book when I gather with friends. If a book has book club questions in the back of the book, we do not cover all of them. We cover what interests us.
I keep this idea in mind when I discuss books with students. Instead of providing a list of questions and mandate they answer them all, I let students choose from literature cards with pressing questions. Those questions are intended for modern books (which is why I have them labeled as "postmodernism") so that students can see identities, realities, and psychological situations from their modern lives in them—and then relate to the literature.
With older students, I want students prepped for reading outside the classroom. Sure, some students will read in college, but I want young adults to experience the authenticity of discussing books in regards to what matters to them. These cards allow students to discover how they relate to literature and then encourage deep discussions with peers.
Recommend books.
Not only do I recommend books based on other books, but I also recommend books based on students' interests. If I want to encourage teenagers to read, I should provide ideas that interest students. As I build relationships with students, book recommendations come easier to me. Then, as I recommend books, relationships with students grow.
I have several methods for recommending books, but my most common opening is to inquire about genres. If a student doesn't have a favorite genre of book, I ask about beloved movies or shows. For instance if a student enjoys dystopian or science fiction stories, I'll start with a common winner. Depending on the age, I might recommend The Hunger Games or The Fifth Wave.
When I cannot decide between two stories, I ask the student to read the first few pages of each book and to choose the one to which they relate best.
Another bonus? By recommending books to students, they will start recommending books to you. . .
Ask students what to read.
Quite honestly, I cannot keep up with young adult recommendations without lots of help. The help also comes from my students. As I recommend books to them, they reciprocate.
I keep sheets readily available for students to grab and jot down ideas. Typically, I remind students to grab a sheet and recommend a book for me. You can grab the free download. Sometimes, I dedicate an entire bulletin board to student recommendations.
Give journaling options.
Similar to my discussion questions from #1, I provide journaling options for students. The options are more simplistic than the cards (pictured above) and allow students to freedom in their approaches.
Simple journaling questions could be:
Who is your favorite character and why?
Where is the storying taking place? Is the setting significant?
What would you ask the author about writing this book?
Journaling questions allow teenagers to explore the literature how they would like. When I provide options for interaction I get high school students to read easier than if I provide no choice.
Put the books in their hands.
Sounds like a no-brainer, right? Well, when I first had my classroom library, I had shelves of pretty books and not much interaction.
I had the entire situation backward. No matter how I get students looking at the books, they are looking at the books.
My favorite (and probably easiest) method for boosting book engagement is with book spine poetry. If you are not familiar with book spine poetry, the process is simple. Students build a poem by stacking books, and the formation of titles on the spine becomes the poem. Ask students to take a picture or to draw the poem.
Since I don't want students to stack books, take a picture, and call it a day, I built activities to engage students in the process. My favorite involves tone. Students draw from tone cards and then discover books that will build a poem to match their tone. Their creations require sorting through books (yay!), so I know they are utilizing their time in the classroom library.
As a bonus, I keep the images of book spine poetry to use as recommendations for future classes. A spooky tone? Those book spine poems are displayed during October. An excited tone? May, toward the end of the school year.
Pep to get high school students to read:
Finally, if you are looking ways to encourage teenagers to read, experiment and play with the books. Put books in their hands, and ask them to do something. Ask them to find an interesting character name, a unique piece of dialogue, or an intriguing author bio. They will be handling books, looking, playing with them.
Your first attempts might now work at first, but with a few switches and reflections, you will have students reading and experimenting with books.