Reviewing modifiers? Here are ideas for using adjectives and adverbs worksheets, task cards, and more. 
Even I think reviewing basic grammar is not jazzy fun; I enjoy diving into a sentence and seeing how to make it stronger, better, more persuasive. I prefer to ponder why an author used a certain modifier. Therefore, when using an identifying adjectives or adverbs worksheet, I work to apply the ideas to student writing. Plus, I look for other ways to work on modifiers, especially as we advance to misplaced and dangling modifiers. 
One goal in my teaching grammar to students is so that we all have domain-specific language. When my students and I get to the point where I give them the writing feedback, "weak modifiers" or "misplaced modifiers" or "confused modifiers," I want them to know what I am referencing. Plus when students look up a word in a dictionary, I want them to have confidence in knowing the terminology. I want them to question the adjectives and adverbs marketers and politicians use.
Also? I provide feedback about adjectives and adverbs with student writing. . . often! Using too many modifiers with weak verbs is a common area for improving writing. With writing feedback, your students should understand the eight parts of speech. Sometimes a quick adjective or adverb worksheet provides a refresher for older students. 
Finally, teaching the basics is part of Bloom's Taxonomy: Students must understand the basics before they can manipulate and analyze.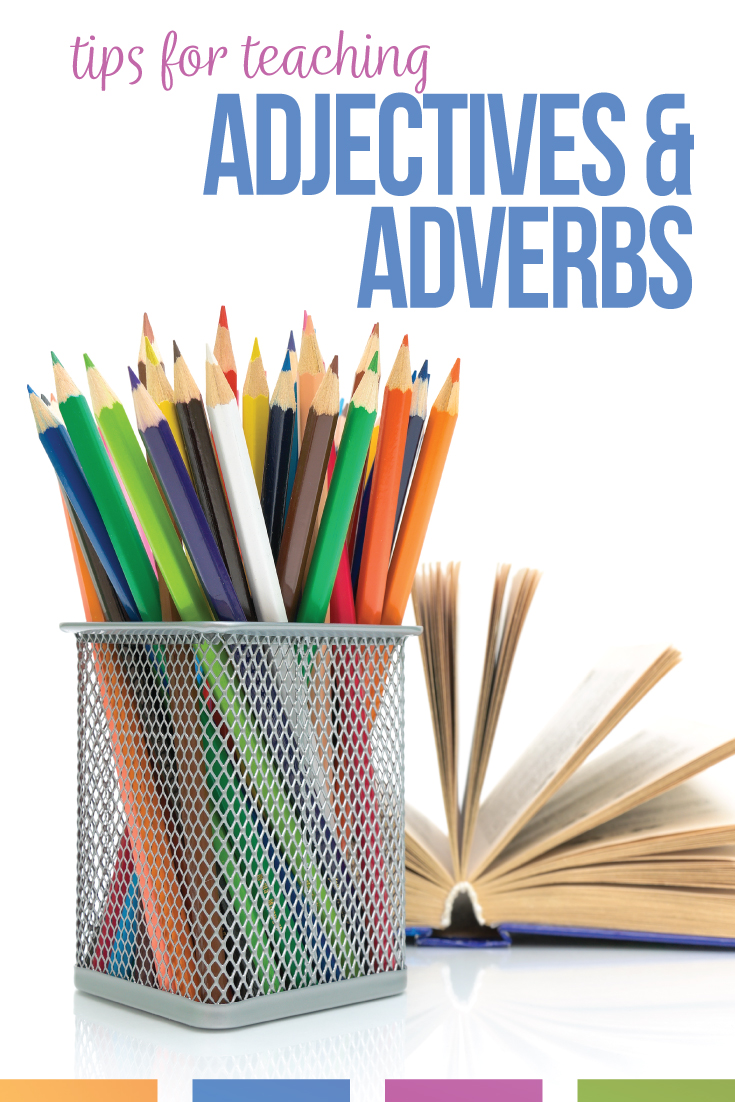 Without a strong grammar foundation, fun and analytical activities won't make sense. Using adjectives and adverbs worksheets with direct instruction is part of the formula. To help students with modifiers, I follow these guidelines.
Eight parts of speech
To begin, I do tell students that adjectives and adverbs are both modifiers, but I don't stress students with the idea that they can be confused. Overall, students might need a few reminders concerning the differences, but numerous times, I simply teach adjectives and adverbs with the eight parts of speech.
When teaching the eight parts of speech, I use a pre-test to help me identify where I might need to focus. We review where necessary, and sometimes, I luck out! I don't need to stress the differences of adjectives and adverbs.
Basically, I don't invent problems my students don't have. When students understand modifiers, we continue without the discussion surrounding confused modifiers.
Adjectives and adverbs
However, sometimes students find all modifiers confusing, especially in later lessons when studying verbals. At this point, I will circle back to the differences between adjectives and adverbs.
To begin specifying, students create anchor charts. We start with definitions and questions that each modifier answers. If those work well, I might ask students to invent samples to "teach" their classmates.
With middle school students, I do provide direct instruction and yes, adjectives and adverbs worksheets. As a class, we work through guided notes that students can reference. I've found that the key to getting students to remember those rules in their writing it to reference the guided note sheets. (Ask students to keep those notes in their binders.)
With high school students, a few examples together as a class will probably remind students of adjectives and adverbs. I will be sure to emphasize adjectives and adverbs with our vocabulary to strengthen this review. Typically, I review coordinate adjectives with high school students as they do have prior knowledge of adjectives and adverbs. Comma placement is often difficult for older students.
Connecting grammar
After focusing on modifiers, I give students a break. I return to the eight parts of speech or verbals… whatever lesson inspired me to focus specifically on adjectives and adverbs. Next, I tie them to verbals or the other parts of speech. I might do a fun activity like eight parts of speech coloring sheets. After studying them separately, I want students to see that the modifiers fit into other grammatical concepts.
Another time I circle back to modifiers is with misplaced and dangling modifiers. Those errors crop up in student writing when students expand their sentences. Longer and complex sentence construction can cause errors with modifiers. We might work on modifiers with writing errors.
As always, I review as necessary, and I keep the anchor charts visible. We reference those as necessary, especially with a fast adjective or adverb worksheet.
This advice varies, as I have taught in schools where students do not study grammar until they reach my class. Every particular class has various needs, and you as their teacher knows best what your students need. Adjectives and adverbs worksheets will be part of the answer, but using various other activities as well as highlighting modifiers with vocabulary and during reading will improve your lessons as well.