Are you looking for where to publish student writing? I have ideas for the publishing step in the writing process.
Publishing is the final step in the writing process. I try to make publishing a finale, a celebrated event. Taking the time to shape and cultivate a piece of writing should be celebrated!
However, publishing a paper to the class, to a teacher, or to a school is enough. I never believe in heaping more work on teachers. Celebrate with your students and ask them to discuss what makes them happy about their finished work. Your attitude toward the finished product can make a huge difference to students.
Still, if you can healthily get student writing in front of an authentic audience, I have ideas. These five ideas will give you a jumping off point for where to publish student writing.
Wix.
Wix is free. You will have ads with the free plan which does not bother my older students, but I think middle school kiddos might dislike the ads.
Many people like Wix because of the drag and drop features. Students can create their own website where they publish their writing throughout the school year. You could also have a class Wix page and add student material as they write.
WordPress Blog.
A WordPress blog is simple to create. My blog runs on WordPress and maybe because of that, I prefer WordPress over Wix. Still, everyone is different, so you might want to experiment between the two platforms.
Again, students can have their own website or you can have a class one.
Learning Platforms.
Canvas, Seesaw, and Schoology have options for publishing student portfolios. When deciding where to publish student writing, you might need to take into account ease and community readiness. Some school communities might now want students to publish on the web where the general public can interact with minors. I totally get this!
Look into some learning platforms that provide a more sheltered approach to student publications. Parents and members of the school can still see student work.
Meet the Author.
When I taught at a community college, I ran a writing class for middle school students over the summer. We would write narratives and focus on character development, implementation of theme, and other elements of a narrative. We worked through the writing process and worked on peer involvement. At the end of the week, we would host an open house of sort which I called "meet the author."
I set up a background and put a table and chair at the front of the room. I think one year I had refreshments, but that is not necessary! Then, we would invite other teachers, administrators, parents. . .  anyone the young writers wanted for a reading.
Students understood they should read a portion of their narrative that would entice others to want to "buy" their writing. They took time to decide what to read and what would hook potential readers. Students would then take turns reading their work as professional authors.
Since I was very fortunate, my community college printed and bound the final writing. Students would autograph a copy and often presented it to their parents.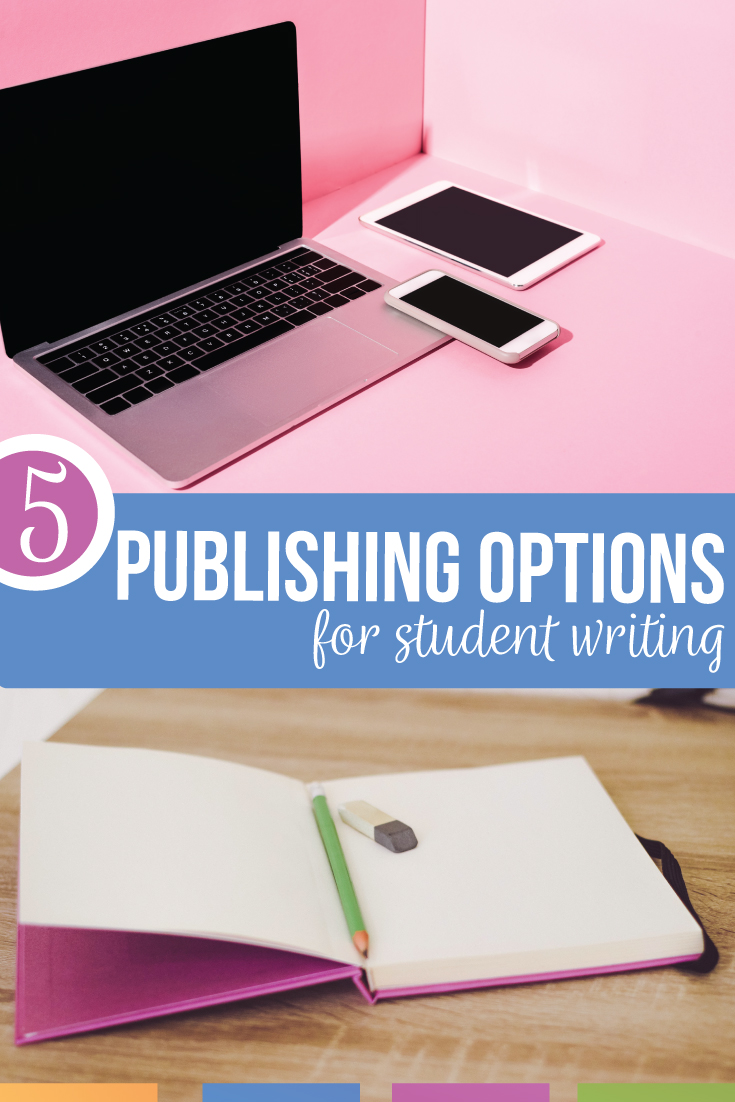 Teen Ink.
I LOVE Teen Inc. One of my first grants was for a yearly subscription to the journal. That was years ago, and the platform has evolved. Now, the options are primarily digital.
Students can submit their work easily. Plus, Teen Ink takes a variety of student work, from pictures to fan fiction to poetry to more traditional stories. Once you and your classes play around with the website, you'll see plenty of publishing opportunities for your students. Teen Ink is a great opportunity for creative endeavors.
Extra Ideas.
Those are five places for where to publish student writing. If you're looking to give students a bit more oomph, a bit more of an authentic feeling with publishing their work, you might consider one of these options:
Allow students to use a pen name. I often use this option when publishing online for the general public. Students don't use their real names which provides some anonymity.
Encourage artistry. Ask students to pose their writing with books, flowers, paper, pencils, memorabilia, or more. Did students write about sports? Provide an image with a football helmet or track baton. Students can create an image for their blog post or portfolio.
Create a social media post. If you're not officially publishing, you can ask students to create a social media post for their writing. How would they target an audience to get a reader to pick up their writing?
If you are looking for an authentic audience for student writing, I hope these ideas for where to publish student writing gave you a starting point.
Published? Don't forget to have students reflect on their writing.