Are you intentionally modeling behavior for older students? Modeling positive behavior can be an important piece of classroom management. 
Multifaceted. Layered. Complex. When I think of memorable teachers, of teachers who changed my life for the better, I now realized that they wielded a variety of approaches in the classroom. They simply did not teach content.
I was not a perfect student, a straight-A student. In fact, I was probably challenging many years of school. I did not have a great home life. Sometimes when we teachers have meetings with administrators and counselors to discuss concerns, I wonder if my name was mentioned in similar meetings many years ago.
I acted out at school because it was a safe place, and home was not.
So while I am empathetic toward the lashing out or general misbehavior of students, my overall desire is to prepare them for life after school. Teacher modeling for students has become a key part of my building relationships with students, which then of course betters classroom management. I remain cognizant that I can help by modeling behavior for older students.
Here are a few ways I attempt to do so.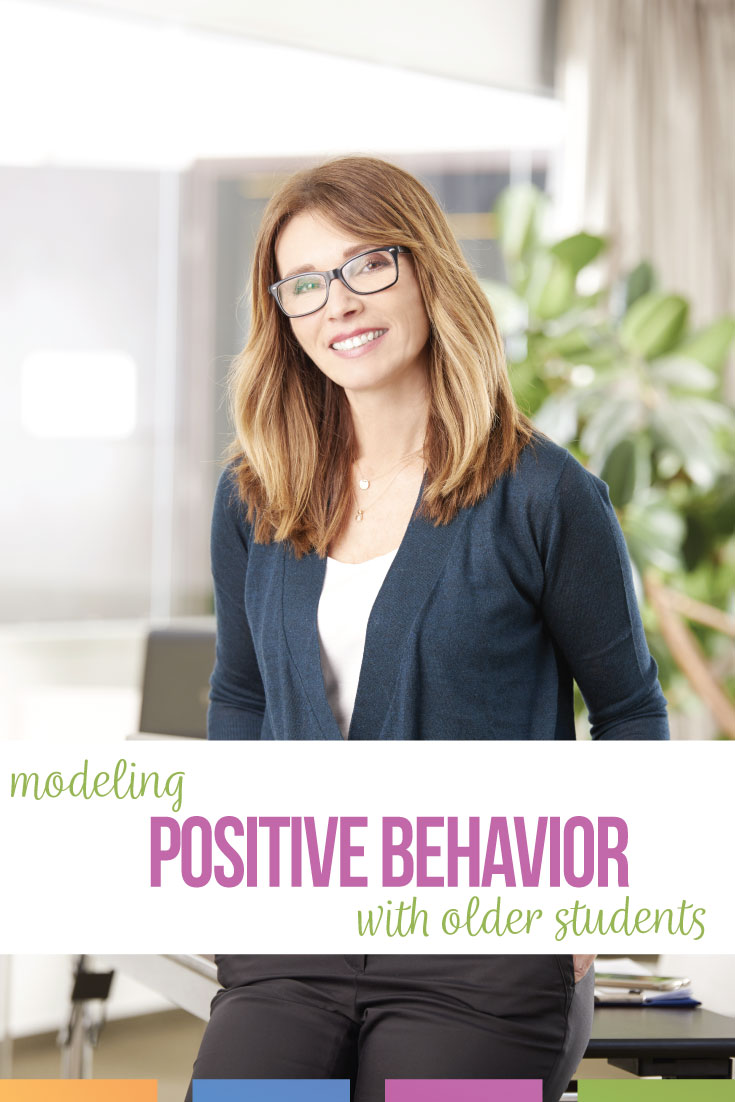 Healthy attitudes.
Some students simply don't own basic healthy attitudes like "hitting is wrong" and "people shouldn't call you names." As a teacher, we can often express these nonnegotiables through literature. Modeling positive behavior can be started through stories. 
When teaching Of Mice and Men, a discussion about Curly and his wife often pops up. Students question if she is safe, how Curly treats her, if she is honestly hitting on all of those men… (I think she is probably not). The questions provide an opening to discuss healthy attitudes about life. We teachers can model the attitude that every person deserves a safe living environment.
Some students might not realize that. Literature discussions provide an opening to teach students about healthy attitudes.
Bigger pictures.
When you are stuck in an unsafe or unpleasant living environment, seeing past that situation… is impossible? Children don't even realize that a larger or safer life is possible.
I am intentional in talking about success past high school. And no, I don't simply talk about college. A bigger picture can include a safe and clean house, ample food. So often teenagers think that the bigger picture in life is what they see on Instagram with flashy clothes and makeup and shoes. If a student has a dangerous home life, this glitter naturally appeals to them.
That isn't the bigger picture I want older students to see as a goal. Very few people live like that, but many people suffer trying to live that style. When we discuss life as an adult, I am careful to praise positive human traits and attainable goals.
Of course I don't want to dash anyone's dreams, but setting students up with a belief in hard work is a gift I can give them. A bigger picture of life can be a simple, clean, and safe life.
Kindness.
Growing up is often a painful experience. Some of my students will lament that they despised junior high while others wonder why high school's moniker is "the best years of your life." Especially as seniors graduate, they reminisce about the end of formal schooling and the pain it caused.
I understand. Junior high tortured me, and I entered high school ready to fight anyone who dared to bully me. As an adult, I realize that was a coping mechanism, but no one could have convinced me of that then.
My greatest effort in modeling behavior for older students is to show kindness. Students who are struggling, who in the mess of the moment might be sent to the hall, I fight back the stress and extend kindness. Not only does this often diffuse the situation, but it also models for the struggling student (and their peers) how compassion and kindness can aid in positive resolution.
Of course, I would never advocate accepting dangerous behavior. With disagreements or squabbles, modeling kindness has been effective in my classroom management.

Reading.
A lack of literacy is tied to incarceration, lower earnings, and other societal problems. I always have papers to grade, and I know that our standards are tough. I am overwhelmed, but I feel that modeling reading for students must be done.
Sometimes, I grab a book and sit amongst my students and model reading. I share with them a funny piece of a book. Modeling behavior in the classroom includes making reading enjoyable, and I encourage them to read. I stress that reading anything benefits them, and I share that knowledge with parents too.
Years ago when I reflected on the importance of modeling behavior for older students, I started with intentional efforts. I knew that as adults, showing kindness to others would help them, sometimes more than content knowledge. Furthermore, I wanted them to own a bigger picture for life, one that was safe and healthy. I sought ways to incorporate discussions and modeled behavior into my everyday teaching.
Education.
Society might not always encourage a positive view of education, but classroom leaders should. Lately, I've switched "today we have to ___" to "today we get to ___." The change in my verbs is slight, but it matters. Students don't always realize that education is not a given everywhere in the world. Some children pass through danger to arrive at school. Some societies forbid girls from gaining an education.
The truth? Our students do "get" to read, learn, interact, write, experiment. They are lucky! Challenged? Sure. When I speak of our activities for the day, I emphasize in my word choice and manners that students are fortunate to receive an education.
As teachers, we know that modeling is important, and we want to do it. The struggle (for me, at least) is that "being on" makes you tired. I'm convinced this contributes to teachers leaving the classroom and why others are perpetually tired.
Being a role model is hard. Sometimes, sixty eyes watching your every movement weighs on you.
We still must be cognizant of our modeling responsibilities. Over the years, I've realized that when I model behaviors, my classroom management and relationships with students improve, thus making my life easier.