Download the complete language arts freshmen curriculum. Then… read below to understand the process behind the lesson plans.
When I created this language arts freshmen curriculum, I started with the big picture. I asked myself, "at the end of the course, what do I want students to understand?" I thought about essential questions, about objectives. Plus, I considered the transition to high school. Many ideas… the top:
I want students to see the common themes of literature across centuries and the connection to modern life.
I want students to identify and analyze the manipulation of grammar and language within nonfiction and media.
I want students to incorporate a variety of sentence types into their writing, to express their unique voice through writing in a mature manner.
I want students to reflect after reading literature and nonfiction and create a speech or digital production that reflects their learning.
And on. Basically, I want to increase passion and reading and connections and… We all want our students to love this content as we do.
This language arts freshmen curriculum is how I hope to accomplish my lofty goals. I've divided the methods, but I try to crossover and connect all parts of an ELA class whenever I can.
Plus, I wanted to provide for this community. Everyone who interacts with me shapes me as a teacher, and leaving these plans editable – well, my intentions are that you can use what will help! My reasoning for forming these lesson plans for freshmen are below.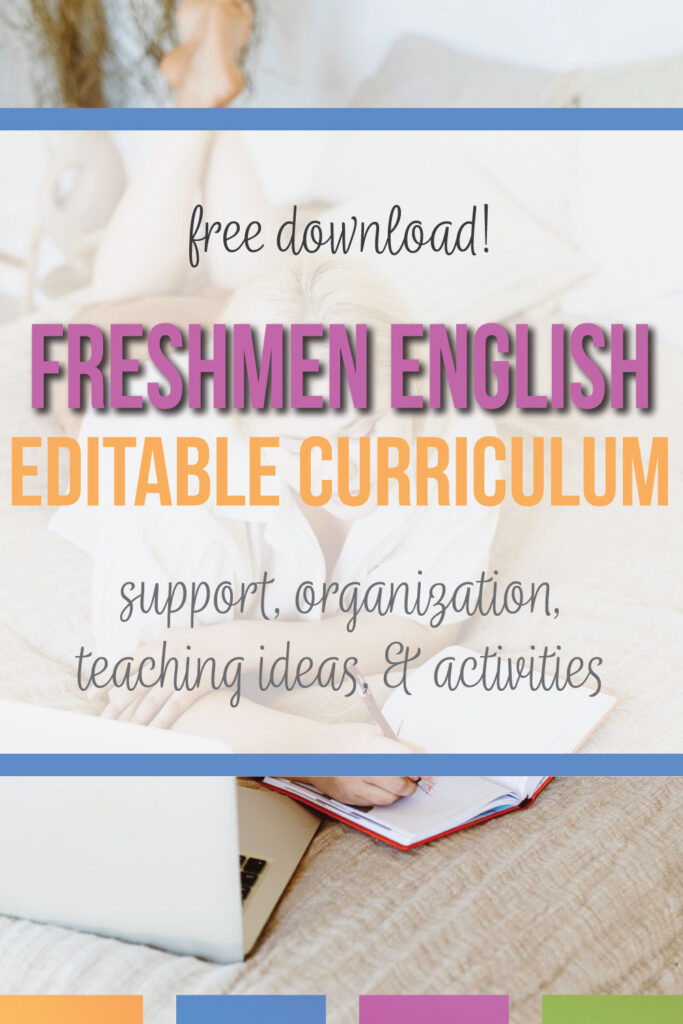 Writing
Start at the end.
At the end of the year, I want my students to write an organized paper that includes research (correctly cited research). The paper should be focused, grammatically correct, and supported with strong ideas and words. Students should also be able to write for different occasions with various length requirements.
How to get students there.
First, that above goal is tall order. (Cliche! I know!) I've read papers from college freshmen who would struggle to meet that gaol.
I don't assume anything, so I ask students to write a paragraph. These paragraphs provide me with a starting point. I keep a checklist beside me as I read the paragraphs. I do not show this to students. I discuss goals and expectations with students, but that checklist is for me. It lists my expectations for the end of the year, and I don't want students to shut down because they see the "to do" list.
I establish expectations, which honestly, change every year because the needs are never the same. I share those expectations with students, and I provide rubrics so that students can see how I will grade them. Together, we will work toward improvement in a variety of ways with graphic organizers, station work, and checklists.
Looking for more writing ideas?
You can read specifics about my methods for teaching writing, and if you want the tools I use with my freshmen, you can find them here.
Grammar/Language
Start at the end.
At the end of the year, I want students to identify basic grammar components (phrases, clauses, punctuation) and understand the rules in their writing. Students should analyze the use of language in visual media, speeches, literature, and nonfiction and understand the creator's intent. They should leave my room empowered by their language, not feeling as though they have memorized useless rules and lists.
How to get students there.
I start by giving a pretest and reviewing the eight parts of speech: very scaffolded! Some students know these concepts, and I don't want to bore them. Others may not have experienced direct grammar instruction. The second quarter, I cover parts of a sentence; the third quarter, I cover verbals and phrases; the fourth quarter, I teach commas and types of sentences.
Sometimes, we can move in a faster direction. We work on parallelism, different phrases and clauses, and tone/mood. Basically, grammar lessons start with the pretest and then move as students grasp concepts.
Looking for more grammar ideas?
I talk about grammar… every day. You can read very specific details for high school grammar lessons. If you need to review or are not ready to teach grammar to high school standards, read how I built a scaffolded and diverse grammar curriculum, and you can look at the entire grammar curriculum here.
Literature
Start at the end.
At the end of the year, I want students to hug a piece of literature that they fall in love with. I want students to see that literature speaks truths and questions stereotypes and begs for fresh eyes.
That is my end goal, and when I choose literature, my goal is for each student to experience the power of literature.
How to get students there.
My best literature instruction includes student choice. With short stories, novels, and independent reading, I try to provide student choice when possible.
Looking for more literature ideas?
Short stories provide me with a way to build relationships and learn what my students need from literature. I wrote about common short stories, and again about ways to teach short stories.
Informational Texts
Start at the end.
Teaching nonfiction is a humbling responsibility. I want students to understand that the language an author uses, the motivation an author has, and the research an author completes – matter. Nonfiction can be manipulative.
At the end of the year, I want  students to grasp the information from an article. They also need to possess a healthy skepticism – be aware of possible manipulations.
How to get students there.
Practice and modeling. I actively model my questions and research that I have about an article as I read it. I show students how I research the author: where they went to college, whom they work for, who owns their company, if they are part of any think-tanks… Students don't know that all of these levels contribute to the slant of an article. We practice together, and students practice writing and reflecting.
Looking for more nonfiction ideas?
I organize my nonfiction unit, and then I pair nonfiction with literature. I also have questions, writing prompts, and analytical questions for nonfiction prepared.
Public Speaking
Start at the end.
At the end of the year, I want my freshmen to have confidence when speaking.
How to get students there.
Freshmen year… is difficult. Students meet new friends, and many struggle to acclimate. We do a mix of public speaking. I start small, with presentations from research tied to short stories or novels. We move onto book talks with independent reading. Students present in groups. Individuals publicly speak with gallery walks and graffiti activities.
Looking for more public speaking ideas?
Every school that I've taught in, students have an actual speech class sophomore year, so freshmen year does not have a large public speaking focus. (Maybe that only happens in my state.) You can ready my outline for teaching public speaking.
The language arts freshmen curriculum is intended to help teachers. Many times, we are handed a new prep, or we are at a new school, or we just crave fresh ideas. I left these plans editable so that you can make them yours. I hope they help you!