'10 Alternatives to the Grammar Worksheet' is part four of a ten-part series covering grammar in middle school and high school English classes. Read part one, part two and part three.
Update, 2022: After years of experimenting, I have created more alternatives to the grammar worksheet. You can see new additions to alternatives to the grammar worksheet at the end of this list.
Ah, grammar worksheets for high school, the middle school grammar worksheets. Maybe even color coded grammar worksheets. Worksheets have a time; straight-forward, no frills direction works with some students. Direct instruction is necessary.
Plus, I've argued before that it's what teachers do with the worksheet. No interaction, sitting in desks—or—working with a partner and then presenting "mini-lessons" to the class? Those two examples can both use a grammar worksheet, but the student interaction varies greatly. Grammar worksheets have a bad name because they can discourage a connection to other parts of class. Day after day, students will find grammar worksheets boring.
We ELA teachers can make grammar worksheets into fun activities! Fun grammar activities exist! (Read below for details about my color coded grammar worksheets.) Our attitudes toward grammar instruction greatly matters. When we marry a positive attitude with an engaging activity, you will see success with your students. Just as we present literature and writing concepts in a variety of ways, we can do the same with grammar. We ELA teachers can meet language standards in engaging ways.
However, we still have middle school grammar worksheets or grammar worksheets for high school students, you can download my higher order thinking download. It contains ten ways to turn any grammar worksheet into a higher order activity, making for fun grammar worksheets.

If you're wanting to elevate your grammar instruction, download my free sheet that provides ten ways to employ higher order thinking and grammar. To reach those more difficult standards, you can use inspiration from this download.
Then, look at these alternatives to grammar worksheets. Fun grammar worksheets don't always exist, so teachers and students want alternatives! Below, I've provided ten a dozen ways to teach grammar without a worksheet. I've provided links for you to my alternatives; however, you should be able to duplicate these on your own. Enjoy!

One: Pretests
Students may understand more than you think, or less than you think. A quick pretest will alleviate this problem. Completing answers digitally (if Google forms are on option for you) will cut down on grading. Don't make it long; a few questions should give you a picture.
For instance, my grammar for high school starts with a pretest. Doing this establishes trust with teenagers. Sometimes, students come to you with bad feelings concerning grammar. Once you give a pretest, explain how you will help students grow, not repeat concepts, and connect grammatical tools to their other skills. Since a pretest is not really a fun grammar activity, be honest with students. You want to provide the best lessons possible, and a quick pretest will show you where to start. You'll be building rapport with students that you want to present the best lessons possible.
Finally, use the data from the pretest to differentiate future activities.

Two: Videos
Modern students tell us they are visual learners. Have students make videos or show ones. The preposition one about the cat cracks up my students. (Think of freshmen singing it.) Grammar for high school students can be a bit goofy! If students don't like the videos you find, ask them to make a few of their own. If your students have their own devices, ask them to create skits or to act out certain concepts.
After you cover a variety of topics, you'll have a list of videos to support various lessons. You can also make your own videos with screen recording videos. I often make a quick video when students struggle with a particular concept. I'll run through examples, definitions, and key concepts with a presentation and my elaborations. I find that students appreciate being able to hear my explanations more than once.

Three: Interactive Notebooks
Interactive notebooks can be a ton of work, and you may not have time to create notebooks with all students. Luckily, students can experience the engaging part with the pieces —either alone or on colored/construction paper. A notebook may be ideal, but with students interacting, you're still winning. Additionally, I've used the pieces to create bulletin boards. Displaying grammar worksheets probably won't attract parents during conferences or help students review, but colorful, interactive pieces do.
Plus, using an interactive notebook can be what your class needs it to be. When I worked with middle school students, I dreamed of picturesque notebooks that I saw online. I learned that authentic learning might appear messy in a notebooks, and for that, I am happy. The messiness, the process of creating, helps students understand the grammar concept.

Four: Grammar Sorts
I discovered grammar sorts on accident. Take a worksheet, a group of sentences, mentor sentences (whatever you have), and ask students to cut the sentences apart. Then have them make headings for the different components they will "sort." (For instance, students make make a header of "subject" and another of "predicate.") Glue or tape the pieces in the correct categories.
Before you finish the activity, draw conclusions on the patterns that you see. What do you notice about punctuation placement? Are you seeing arrangements in sentence constructions?
If you would prefer a pre-made grammar sort, I have several, including active and passive voice.
Finally, you and students can make digital grammar sorts instead of grammar worksheets. Ask students to create sentences in text boxes on a Google Slides presentation. Compile the slides and share with your students. You and students can sort whatever concept you're studying.

Five: Infographics
A fun alternative to digital grammar worksheets is to make infographics. You can use Canva, Google Slides, or Powerpoint to build pieces. Then when students complete their grammar infographics, you can compile a few into a PDF or presentation to share with the rest of class. I've had some creations that are so beautiful that I print them and use them as classroom decor.
Grammar infographics spruce up the way students take notes, make lists, and explore examples. Students can personalize infographics, organize information, and add helpful hints. Keep the infographics all year and reference them.

Six: Grammar Stations
I recently used stations with my freshmen, and they enjoyed it. Older students dislike sitting and can appreciate working with a partner. Cut apart different sections of a worksheet or activity and "station" them around the room. Divide students into groups, set a timer, and then switch them! Check out verb stations or subject and predicate stations. Grammar stations are the perfect alternative to the grammar worksheet because students can collaborate. Plus, as the teacher, I can rotate and correct misconceptions or confusions.
With grammar for high school students, don't be afraid to borrow activities from other grades. Students enjoy fun grammar activities, no matter their age.

Seven: Coloring Sheets
Color by grammar or color coded grammar worksheets? Yes, please. Here's how I do mine:
Find a black and white picture and add numbers to different sections. Create a list of sentences or words (depending on how you need to differentiate). Now create a coloring key (for instance, nouns black, pronouns blue). Students can color the correct number on the coloring sheet.
Don't feel like making your own? Start with the grammar coloring sheet starter pack. A "take" on fun grammar worksheets includes creativity with color coded grammar worksheets. 

Eight: Informational Texts
Not all students enjoy literature, which many times means they dislike the "made up" sentences for grammar practice. Find a piece of nonfiction or ask students to find one. Then give them the assignment: highlight phrases with a pink marker, dependent clauses with a yellow one, and so on.
Not only will students be analyzing informational texts through language, but they also will be identifying proper punctuation use, parallelism, and unique structure. Plus, you can encourage students to find bias in the author's writing. For instance, ask students to look at verbs. How would students describe those verbs? What elements are revealing sneaky biasses?

Nine: Google Activities
Digital tools provide a great alternative to grammar practice worksheets. With Google, you can make digital grammar sorts, self-grading quizzes, and task cards.
Additionally, what is great about digital grammar is how you can differentiate for every student. Each student gets a different assignment if necessary. If you need self-grading Google quizzes, try these for verbals or sentence structure. Especially with grammar for high school, you'll need fast data for planning future lessons. Students appreciate that their grammar activity is specific for their understanding.
Another simple grammar activity using Google is to create a presentation with headings of the grammar concepts to review. Instruct students to think of examples to demonstrate their understanding of the concept and then share the presentation with students. My most successful grammar activities with the shared presentation is sentence structure. Students can add sentences for different sentence structures.

Ten: Mentor Sentences
Sentences from nonfiction and literature show students the depth of meaning while providing a reason for understanding language. Pull sentences from your current reading assignments and look at different language components. Don't know what I mean? I have these for The Fault in our Stars, for free.
Mentor sentences allow you to reach those higher standards, such as ones that deal with how language functions in different contexts. Because your mentor sentences can come from literature not in class, you can provide great examples.

Eleven: One Pagers
One pagers allow students to discover grammar in many contexts. My favorite one involves food and food packaging. I bring in a variety of snacks (cookies, crackers, cereal), and we look at the concepts on the packaging.
For instance, what adjectives do different packaging proclaim? If one package has "natural" and "healthy," is the product really natural and healthy? What about "stuffed" and "improved"? Do those participles provide a different message to the food product? Students do not always connect grammar lessons to their everyday life, but when I show them how language is used in advertising, they engage in honest conversations.
Then, of course, we eat.

Twelve: Word Walls
Word walls work so well with older students. The first time I made a word wall, students simply drew the words and the definitions. Then, we divided the words into different parts of speech. Now, I hand students a frame, and they doodle the word, identify the part of speech, and then practice an advanced grammar concept. For instance, they might use the word in a complex sentence. They might change the word from an adjective to a verb. We put whatever grammatical concept we are learning about into practice.
I find myself reviewing terms, creating goofy sentences, and practicing different forms of words when students make word walls. We use the walls for more than decoration.
There you have it! Ten Twelve alternatives to the grammar worksheet. What alternatives do you provide for grammar practice worksheets?
Part five of this grammar series covers how to connect grammar and writing.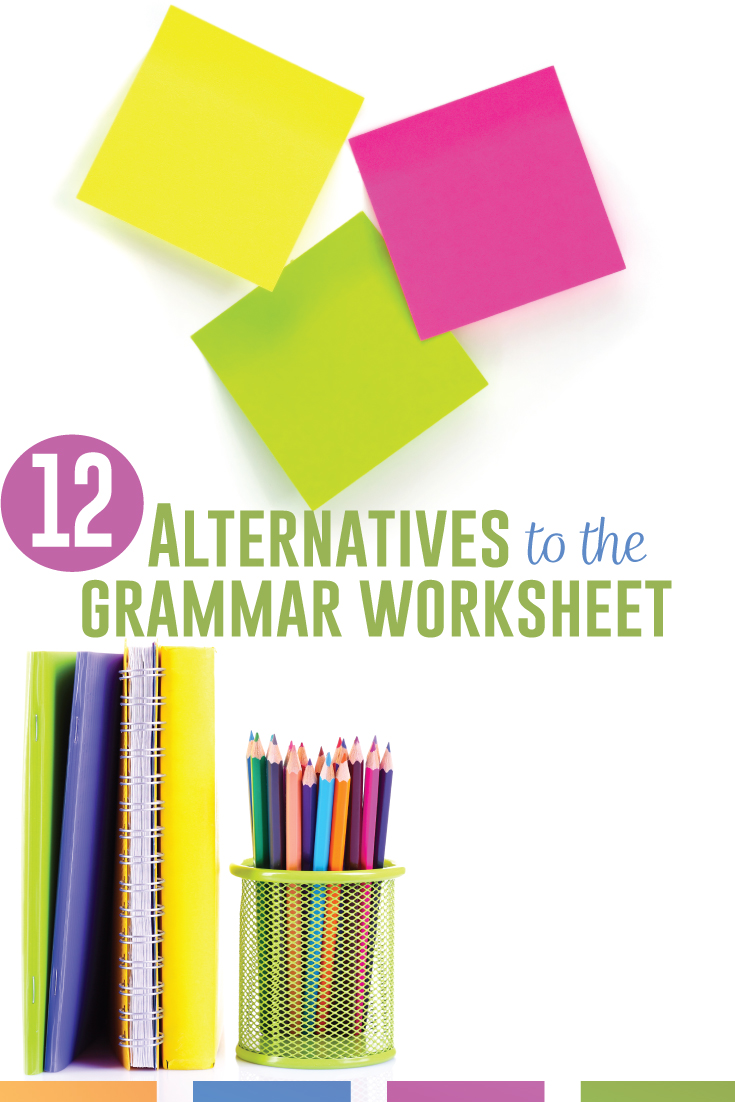 Do you need more grammar practice worksheets and fun grammar activities? Check out Grammar Gurus, a Facebook group where teachers can discuss grammar activities for high school students and grammar activities for middle school.