Looking to benefit from mentor sentences and interactive notebook activities, perhaps together?
My students and I discuss grammar as a natural extension with literature and nonfiction, normally by pulling sentences from stories, or mentor sentences. Dependent on your classroom community and your student's needs, you might find mentor sentences in a variety of ways:
Students can find the mentor sentences. They see more value in choosing what to study, and this provides a fast way for differentiation.
The teacher can suggest mentor sentences or start the conversation with one or two sentences. For instance, when I taught middle school, I gave more guidance when choosing mentor sentences but still encouraged students to help in choosing.
The teacher chooses sentences for study. Doing that allows the teacher to choose sentences that cover specific concepts. Also, the teacher can provide examples and ideas before the lesson begins. When I was a new teacher and when I first worked with mentor sentences, I absolutely chose sentences before class!
No matter how mentor sentences are chosen, using interactive pieces for studying mentor sentences has proven effective for me.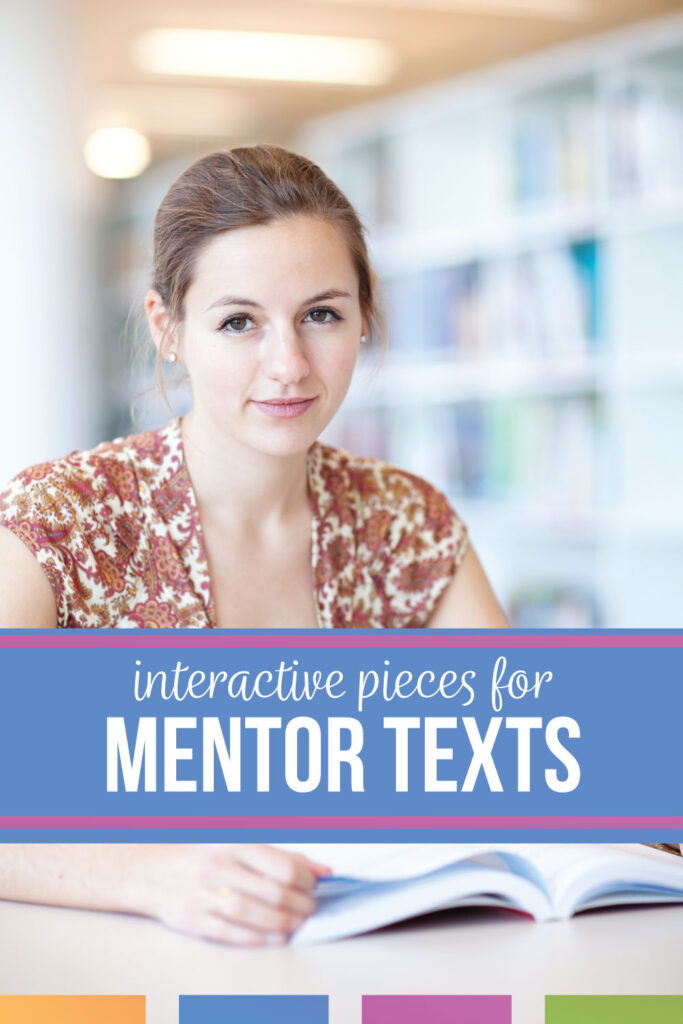 For reference, my son is in fourth grade, and he is fanatical about the Percy Jackson series. We modeled these interactive notebook pieces together using mentor sentences that we pulled from the first book. His teachers do a fabulous job teaching grammar. When we reviewed concepts at home, I thought about using mentor sentences and developed a hands-on piece for him.
These interactive notebook pieces will work for any novel or short story, though. Whenever I use mentor sentences with interactive notebooks (at home or in my classroom), I see huge engagement.
When using mentor sentences with interactive notebook pieces, I have observed the following benefits:

Provide Student Choice
You can provide student choice several ways.
Students can choose the sentence.
I can choose a general topic, such as verb voice, and then students can decide where to find examples; I specifically do this at the end of a short story unit. Students have plenty of short stories to examine, and in the process, they are reviewing the stories while examining the author's language.
Another approach is to ask students to find power sentences from literature or informational texts. Students appreciate when I say, "tell me your favorite part." Then, students can find a sentence and I can help them break down what makes that sentences interesting.
Students can choose the grammar concept.
Another way it provide student choice is to ask them what they would like to review. I'll write a list of grammatical concepts and students will choose their concept.
When students do this, I typically break them into groups. For instance, I might have a "verb voice group" and a "compound sentence group." Students have power over what mentor sentences they are finding.
I can either provide the sentences or ask students to choose the sentences. As you become more comfortable with mentor sentences, you'll provide find yourself gravitating toward students finding the sentences.
Students choose between options.
Another approach is to ask students what to review. Grammar sorts are fabulous pieces to include in interactive notebooks. When we study verbals, we work on differentiating between verbals. We discuss each verbal's use and examine its function. An option is to ask students to work on all verbals or a certain one (and look at the function). This practice allows for me to see where students are in their understanding and to scaffold the practice.
No matter your approach, the students provide a choice in choosing what to study.

Easily Differentiate
As you continue grammar lessons, you'll find (like anything in our classes!) that students' understanding varies. Interactive notebooks should be "true" to students. Each notebook should support that specific students' understanding.
With my interactive notebook pieces, I provide room for differentiation. Take for example one interactive piece that says "sentence" and "page number." Teachers may choose a host of possibilities: ask students to find action or linking verbs, simple sentences, or subjects and verbs. Study any grammar concept that certain student needs to practice.
Right now when I study with son (he is ten), I work on parts of speech. As we continue studying grammar together, we can use the same pieces to study verbals, sentence structure, and more.

Study Any Story
Currently, my son studies grammar with me as after-school practice. Percy Jackson, perfect!
All of the sentences spark interesting discussions because he obsesses over this series. Most recently, he debated that the term "half-blood" should be a proper noun because it is frequently used as a name. I showed him that the author chose not to capitalize it. I appreciate that he sees fascinating characters and thrilling plots from a different perspective by studying the language.
If a student needs concentrated practice on a concept, you can practice any time, with whatever story you are covering.

Study Any Grammatical Concept
Just as these interactive notebook pieces will work with any story, feel free to use these to study any grammatical concept. The pieces have pre-made labels for parts of speech, parts of a sentence, verbals, phrases, verb voice, clauses, and types of sentences.
I know that teachers need diversity, and blank ones are included. You can also add them to any interactive notebook system. (Click on the above image to download my free interactive notebook pieces.)

Use Without Notebooks
Some classes do not use interactive notebooks, but students would benefit from interactive pieces. I've used interactive pieces without notebooks and pinned the pieces to a bulletin board. Showcasing student work is always a success!
The pieces of this are large. With the exception of making small cuts on the flaps, students could use these pieces without inserting them into a notebook. Sometimes, I ask my older students to use these as a quick extension activity to close a story— no notebook required.
Interactive notebook pieces with mentor sentences provide engagement in my classroom. Any time I can give my students choice, I try to do so because they are happier.
Any time I can differentiate grammar, I am happy.
These activities blend those two goals into meaningful mentor sentence activities.
Mentor sentences and interactive notebook pieces together, please?! The possibilities are endless, and they work well for both students and teachers.