Spring language arts lesson plans: what I teach in April. 
Spring break is over, and the countdowns are on for the end of the school year. This can only mean one thing: spring language arts lesson plans. We still have standards, we still have students, and we still want to engage our kiddos.
May brings its own unique set of circumstances. Seniors leave early, finals begin, and classrooms close down. April is sometimes the wrap-up of material before you review for finals. (I know this all depends on when your break starts.)
Still, students desire structure, and we still have standards. When I'm planning in April, I add a few of these to my classes. My spring activities for language arts are below.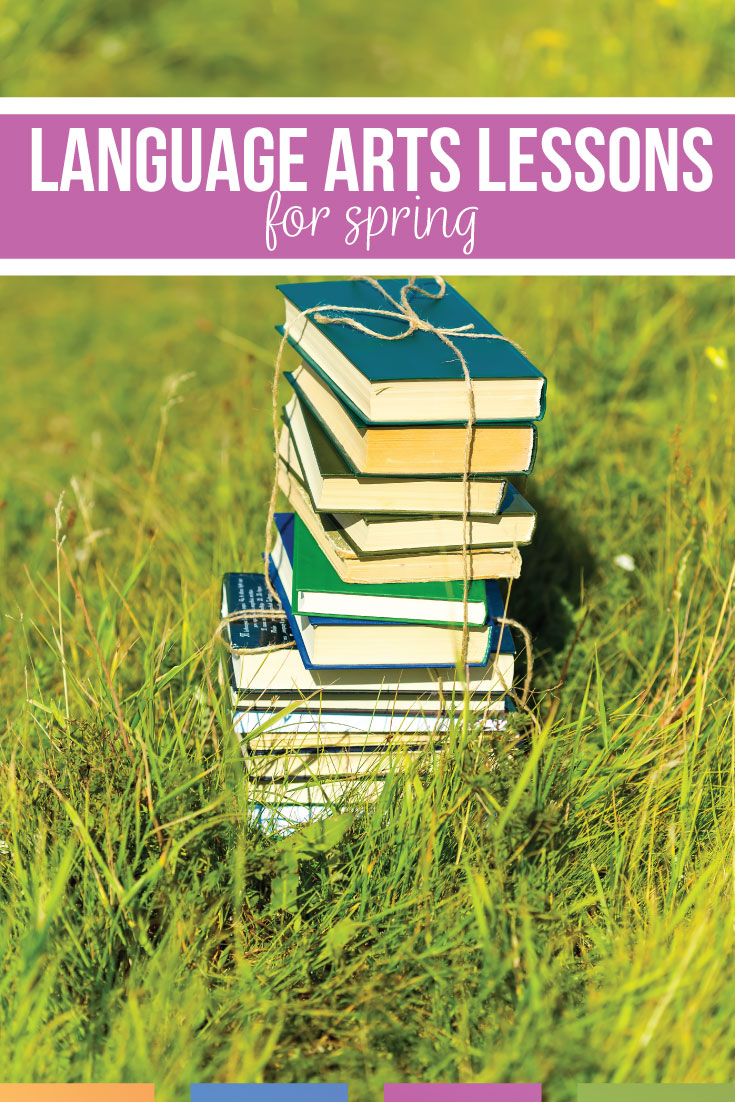 Celebrate National Poetry Month.
Engage students with a variety of poems. I included a list in this free download, and you can connect many of them to your current study. The graphic organizer also allows you or students to choose any poem!
Take students outside.
If possible, take students outside for poetry, writing activities, or a change of scenery. Students can brainstorm with sidewalk chalk, write about nature, or read under a tree. Sometimes, an easy switch can inspire students.
Write about Earth Day.
I LOVE Earth Day and have since I was in middle school. To start students with the importance of taking care of the Earth, they complete a web search and learn facts about pollution, trash, acid rain, and more.
Then! Students write about the experience of pollution from that waste's point of view. The Earth Day writing activity builds empathy as students explore facts and the personal connection to our planet.
Move with task cards.
Grammar task cards are a solid start to the class period and review important writing and grammar skills. At the end of the semester, students probably can find and correct most of the errors in those task cards.
Review punctuation.
Semicolons, commas, dashes: typically, students know these punctuation marks by the end of the year. To emphasize and practice, we use grammar manipulations to practice. The sentences are memorable and silly and meaningful. Plus, by the end of the semester, we have built a classroom community where we can build sentences about inside jokes.
Read. All. The. Books.
Back in August, we ELA teachers had all the ideas, all the inspiration. We were going to teach our students to be life-long learners and readers.
Don't stop now! Encourage your students to read, either independently or with a small group.
Write short pieces.
Typically, I create larger writing assignments early in the semester. High school students (especially) get distracted the closer we get to summer, and I don't get good results with huge assignments in April and May. Plus, many of my students begin their summer jobs at the end of the school year, and I want to be cognizant of that.
To reinforce standards, I give students a variety of writing prompts that cover expository, narrative, and argumentative writing. I don't grade all of these prompts! Instead, at the end of the week (or every few days), I ask students to choose their best writing, revise and edit it, and submit that for a grade. This method allows for student choice and gives me a manageable pile to grade.
Actually, I think any season is appropriate for coloring. Activities for middle school language arts. . . can stink. When I taught middle school ELA, I found two conflicting issues: 1) Many of the assignments look babyish. 2) The standards are tough. That combination is problematic. Tweens are sensitive to how others perceive them, and they don't want their teachers to "talk down to them" with babyish materials. Plus, the material is difficult, and middle schoolers know that. The message doesn't fit with the delivery.
Color by grammar helped me meet standards while engaging older students. They reviewed grammar and relaxed.
Speak!
If you still need to meet research and speech standards, a quick narrative speech can work. Students know each other by the end of the year, and they are comfortable presenting to each other.
Celebrate World Book Day.
USA's World Book Day is at the end of April. (I did include reading on this list twice. Yes.) If you work toward implementing choice reading, don't forget to celebrate reading along the way. Provide students with a chance to read and celebrate books.
If you can, include information about local reading programs for the summer
And that is my list of spring language arts lessons! Teachers and students still need structure (I really do!), but we all desire creativity and acknowledgement of a busy school year. Hopefully, these lessons spark interest in your classroom.
Planning ahead? Read about my May language arts activities.