Are you looking for ideas for speech class?  Today, I'm covering ways to incorporate simulations in speech class.
Classroom simulations are popular in education because they accomplish many tasks. Students experience an activity that connects to their lives, students experience a new concept, and student motivation increases. Speech class activities can easily include simulations. I've used these simulations with both a speech class and a speech unit. 
I've discovered that simulations in speech class encourage student involvement. When students don't care about their speeches, a large chunk of class doesn't flow. Students appreciate the connection to their futures, and the simulations are fun.
Here are ideas for incorporating simulations in speech class.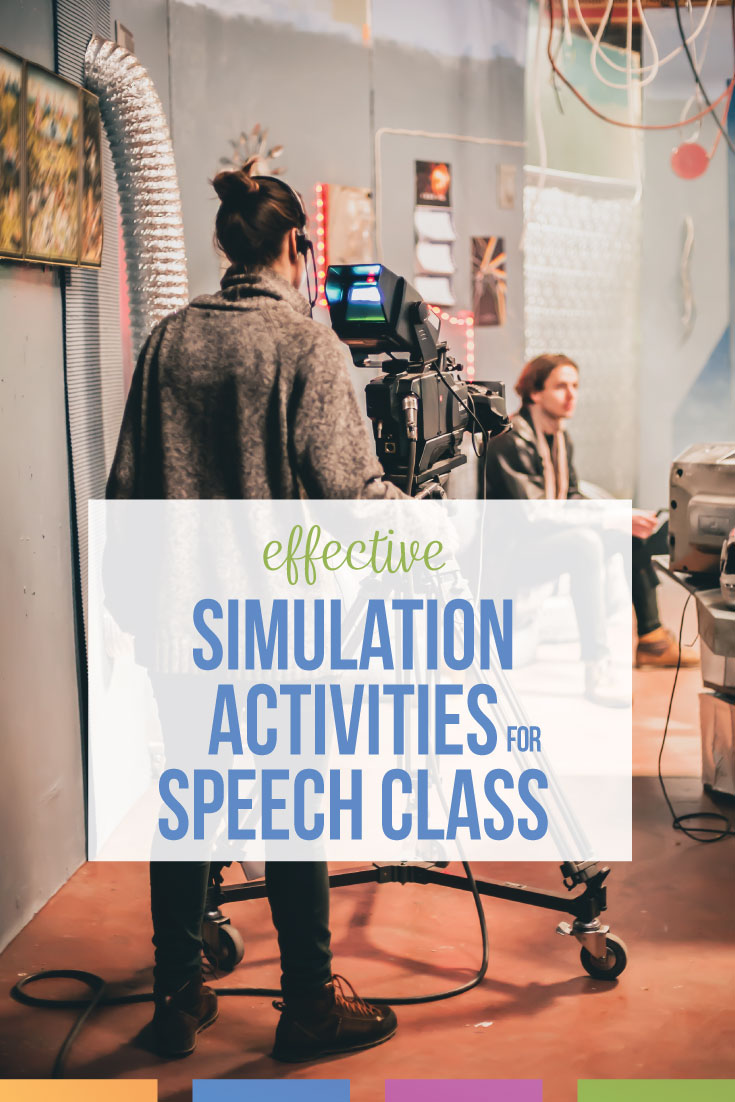 Practice famous speeches.
Famous speeches encourage research into the speaker and time period. This activity also allows for student choice and differentiation because students can choose the difficulty of the speech. You can even add a research component if you desire.
Ask students to find a speech from a time period and prepare a minute of it. They should "simulate" the actions, mannerisms, and clothes of the speaker. (As long as a student shows effort, I personally give full credit. A top-hat made from construction paper? It counts!)
As an extension activity, have students prepare a quick overview of the context, the history, or the speaker and present that information.
Step out of the comfort-zone.
Many students (and adults) find public speaking unnerving. Frightening. Panic-inducing. Ideas for speech class often address the uncomfortable fears students have.
A goal of mine in any speech class is to help students find a level of comfort and to grow in their abilities as a speaker.
To do that, I engage students in a variety of public speaking activities. For instance, I will ask students to present a speech as a robot or a basketball coach. The best part of this activity is that everyone gives the same speech. Students will present their speech as a character, and the audience will guess the role.
A similar speech activity is to practice tone… while the audience does not know what "tone" the speaker is using. Silly? Maybe. These over-the-top simulations work because once students complete such silliness, regular speeches are less nerve-wracking.
Plus, some students take a speech course because they want to be actors or comedians. These activities reach those students.
Encourage student choice.
When will students give speeches in the upcoming years? Ideas for speech class should prepare students for their futures. Brainstorm a list, and ask students to vote on the type of speech the class should present. Possibilities include:
Graduation speech.
Introduction to the company.
Best man/maid of honor speech.
Congratulatory introduction.
Promotion acceptance.
And on! You might have students with very specific examples due to your region, so allow students to add their ideas. Create a poll in Google, and have students vote. Then, use these rubrics and goal-setting sheets for the simulation. If you want extra depth, you can add some inexpensive decor to your classroom the day of their speeches.
If you are looking to incorporate simulations, start small with an activity, reflect, and try a new one. Simulations in speech class engage students and build classroom community.
For the downloads mentioned in this post, see my Public Speaking Unit.