Quotes as classroom decor make inexpensive yet meaningful displays. Quotes for classroom decoration can also be easily rotated. 
Classroom decor is tricky for older students. Secondary students do not want to see the same posters they saw a few years ago. Plus, "fads" that appeal to older students change frequently.
My first year teaching, I was low on money, but I wanted to decorate my classroom. I made quote sheets on my PC (with word art!) and printed them on standard paper. I figured that I would ditch the quotes as I acquired better classroom decor.
Instead, I still use quotes as classroom decor in any classroom I've ever had. Here are reasons why.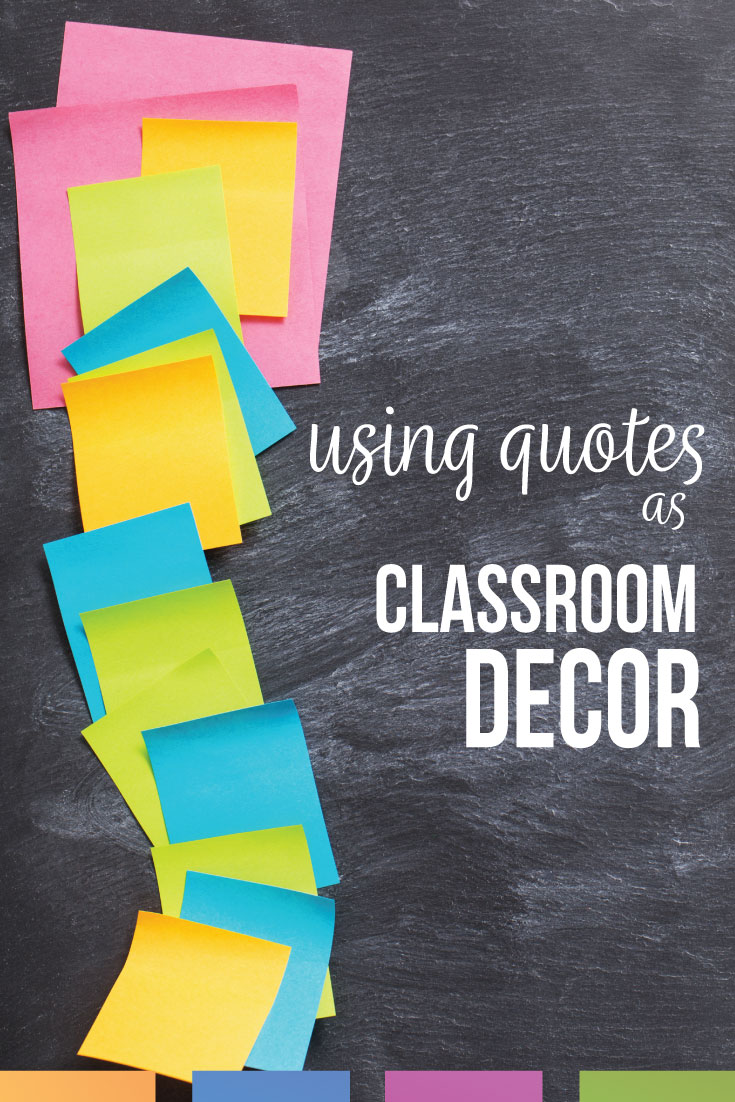 Inspiration.
Hopefully the quotes mean something. I know that Strive not to be a success, but rather to be of value by Albert Einstein inspires me. Countless students have said that they found meaning in it too. Plus, if students are wondering why you stress independent reading, show them the massive amounts of research about the benefits of reading. (I normally show parents that information, but my high school students have studied the same material in our health and childcare classes.)
Quotes for classroom decoration provide inspiration for reading, writing, and thinking. Plus, you don't even need to mention them to students! They are subtle ways of communicating important values to your classroom community.
Analysis.
Quotes (as classroom decor or not) provide an opportunity for quick and easy modeling of analysis. Tie in psychology, justice, economics—any "big picture" idea into a quote. Another student favorite —Life is what happens to you while you're busy making other plans —provides amply opportunity for analysis. Why would John Lennon say that? Is it true – or are the best events planned?
Interest in new people.
Who said the quote? A quick Internet search can provide background. Another option is to change quotes dependent upon the current unit. Whatever time period or novel you are covering should have plenty of quotes from speeches, plays, movies, and such. As a quick extension activity, you can ask students what color of paper reflects the story's quote.
Quotes for the classroom wall can serve many purposes. For one, I want to introduce students to authors that they might not normally notice. Second, I want to provide historical background to what we are reading, and quotes from non-literary people provides that. 
Relationships with students.
Without saying anything, you are showing students what you believe. Quotes allow you to address "elephants in the room" such as bullying, body images, and equality.
Provide quotes that emphasize important life lessons you want students to leave your classroom with. Additionally, you can add posters that will appeal to students you specifically need to reach. Quotes can help to build relationships. Having trouble with an athlete? Find a meaningful quote by a coach or star. My favorite: I can accept failure, everyone fails at something. But I can't accept not trying. (Michael Jordan)
Decoration.
Yes, quotes can be inexpensive classroom decor. Backgrounds, fun prints, multiple colors, and fun fonts are easy ways to make quotes classroom decorations. I like that quotes are easy to print and find. I can switch them throughout the year without having to change my entire classroom. Their diversity is abundant. The above prints are in my classroom, and you can see more of them here.
I may make quotes on a MAC now with purchased backgrounds and fonts, but I always use quotes as classroom decor. They prove too many opportunities to chat with students, to enhance lessons. Quotes for the classroom wall can inspire, serve as writing prompts, and encourage discussion.
Are you a 'famous quotes' type of teacher? I'd love to read the benefits you see with your students.
Subscribe to our mailing list to receive updates about new blog posts, freebies, and teaching resources!
We will send you emails, but we will never sell your address.
You can change your mind at any time by clicking the unsubscribe link in the footer of any email you receive from us, or by contacting us at [email protected]. We will treat your information with respect. For more information about our privacy practices please visit our website. By clicking below, you agree that we may process your information in accordance with these terms.