Years ago, I set out to make a grammar curriculum built for all students. I knew that a curriculum of this magnitude would take time, and it took years to develop. I never wanted our students to dread grammar! Plus, I wanted to provide teachers with support for making sense of grammar.
I created that large bundle after Callisto Media published my first book, The English Grammar Workbook. Teachers and parents wanted grammar activities to supplement the book but with hands-on activities they could use with or without the book.
All I can say is, wow! I wish I had bought this much sooner rather than wasting my money on all the other grammar resources I have purchased. Thank you that I can finally say I have a complete grammar resource with nothing else necessary!
I update my Grammar Curriculum multiple times a year because I believe in lifetime updates. That's why I am not creating my digital products separately from my printable products. Once you buy a product, I will always update it and provide free updates.
Commonly Asked Questions
With that being said, here are the most common questions people ask about the curriculum, along with some details.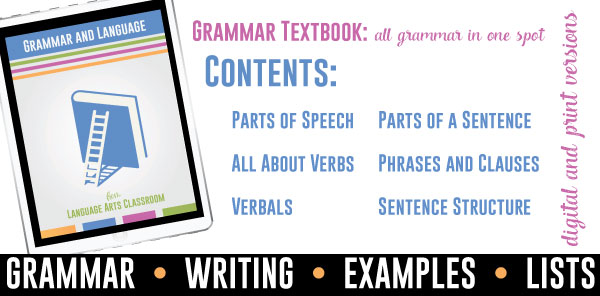 Refund? What refund?
If you purchase the Grammar Curriculum Bundle, you might be entitled to refunds.
Many teachers purchase a smaller item like my grammar textbook, worksheet bundle, self-grading bundle, or coloring bundle. Those items are part of the Grammar Curriculum.
If you've purchased a bundle that is included in the Grammar Curriculum and THEN purchase the Grammar Curriculum, you may ask TpT for a refund. (I will grant the refund!) You simply complete this form.
How do I share?
You may share my products with students on Google Classroom, Schoology, or whatever format your school uses.
You may not share my activities on the web for anyone to access. Please do not upload my products and share them with multiple teachers. My license is for one teacher or homeschool. TpT can help you with additional licenses (at a discounted price) from the same form above.
Editors. Errors. Grammar?
Yep, I understand. My Grammar Curriculum is over two thousand pages. My goal is for it to be the most comprehensive grammar bundle on the market.
The entire bundle has gone through two editors in addition to myself. If you have a question about the material, please email me. I answer my own email, and I take every question seriously. I'll consult with my hired experts and get back to you.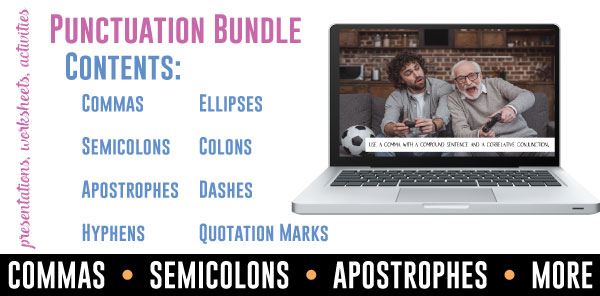 It's a ton of material. How do I use it?
Tons of activities, yep! Here is a little known secret: You won't use all of the material in one school year for one class.
At least, I have never used all of the pieces every single school year for one class. What I do, however, is pull from the resources when students need extra support. I scaffold where appropriate and differentiate as much as I can. Plus, some classes enjoy grammar sorts while others prefer station work. You can find what works for you and your community of learners.
Finally, every topic in the curriculum has a blog post to support your use of the material, from the simplest concept the most difficult. Nouns? Support. Sentence structure? More support. Clauses? You get the idea. Plus, I've included editable lesson plans so that you may add and subtract for your personal needs.
This curriculum should last your entire teaching career.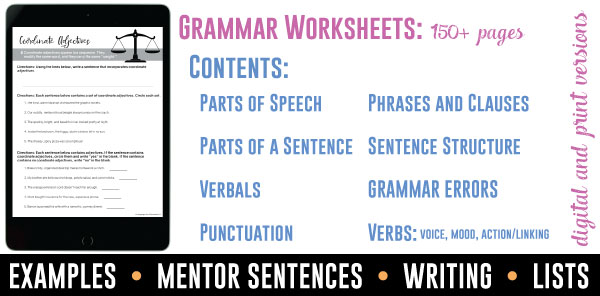 Finally. . .
Since you subscribe to my blog and newsletter, you hopefully know that I'm sincere when I talk about lifetime updates. When COVID hit in 2019, I began updating products with digital pieces. I didn't raise the prices, and I didn't create a digital format and ask you to pay again.
I appreciate all the questions about digital grammar lessons.. If you have more, feel free to email me (laur[email protected]), and I'll get back to you.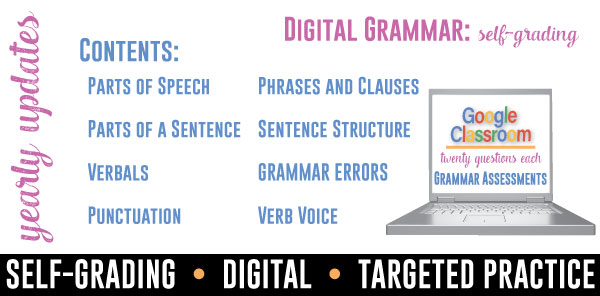 Specifically, this grammar curriculum contains:
A variety of retrieval practices.
Research into brain-based learning tells teachers that a variety of retrieval practices leads to long-term learning. Low-stakes practice is included.
Connections to writing, nonfiction, and literature.
Students value material that connects to their lives within and outside of class. Don't simply practice grammar in a worksheet, but rather with the written word. The curriculum contains a variety concepts within writing from famous literature to nonfiction. A "Why Am I Learning This" section is included for every grammar concepts.
Physical manipulatives.
Students enjoy holding and manipulating their language. When students see how they can maneuver phrases, clauses, modifiers, and punctuation to convey their messages, they understand the power of language.
Alternatives to a worksheet.
What a teacher does with a worksheet matters, sure! Group work, partner help, and review all have their place in the classroom. Activities such as Color by Grammar, interactive notebook pieces, task cards, and flipping books move students past the worksheet. Most of the material in the curriculum is perfect for station activities.
An age-appropriate appearance.
Older students don't always know the basics of grammar. That should not mean that they study from elementary-aged materials. I selected the images, fonts, and colors with middle and high school students in mind.
For teachers, I created a curriculum that spans multiple grade levels to reach students where they are. I believe teachers understand the students in front of them better than I do, so I designed enough materials for choice, differentiation, and scaffolding.
Every topic in the grammar curriculum includes a pre-test and a post-test. The presentations are editable, and the topics are diverse.
One of the greatest parts of purchasing this product through TeachersPayTeachers.com is that you're getting peer reviewed classroom materials. These peer reviews are clearly displayed for you to consider when making a purchase. Feel free to jump over to the product listing and take a look for yourself. In the meantime, I'll share a bit of feedback from users of this curriculum:
The GREATEST grammar product ever. There is so much it takes days to absorb it all. Very well structured with so many variables. Can be used with multiple grades. Will enhance the coming year with a lot more valuable learning.
I have used it across 6 different grades this school year and a bunch of ability levels. If you buy this, you don't need any other grammar program. That's how good it is.
This is a fantastic resource! I will be using across three grade levels with multiple abilities within each grade!!! Great, great resource! Definitely worth the price!