Differentiation in the secondary classroom? It is expected, required. Students benefit from it, and overall, differentiation improves classroom management.
Still, differentiation is a juggling act for teachers especially with difficult concepts like research or test review. Building differentiation into my lesson plans takes time and twists on standard tools.
Differentiation is the act of making something different. (Duh.) In education, differentiation can take on several approaches:
Considering learning styles. Some students prefer listening to a story, others prefer reading it, and others would enjoy acting out the story.
Moving at varying speeds. Once upon a time, a teacher gave every student the same worksheet, and all students moved through the worksheet. Some students understood the concept, some students were bored with the concept, and some were left behind. The teacher forged ahead, more than likely teaching to the middle.
Adjusting questions/groups. This involves accounting for student interest and abilities. In the ELA classroom, it may involve stations: some students will identify verbs in simple sentence, some will identify verbs in complex or compound-complex sentences, some will identify verbs in sentences that contain verbals, and others will identify the verb and mark its mood and voice.
Educators can break down differentiation numerous ways, and those listed above are broad concepts.
Differentiation in the secondary classroom is wonderful, from all sides. As a parent, my children have had teachers who are dedicated to differentiation, and our children have moved along a different speeds. They learned more because of differentiation.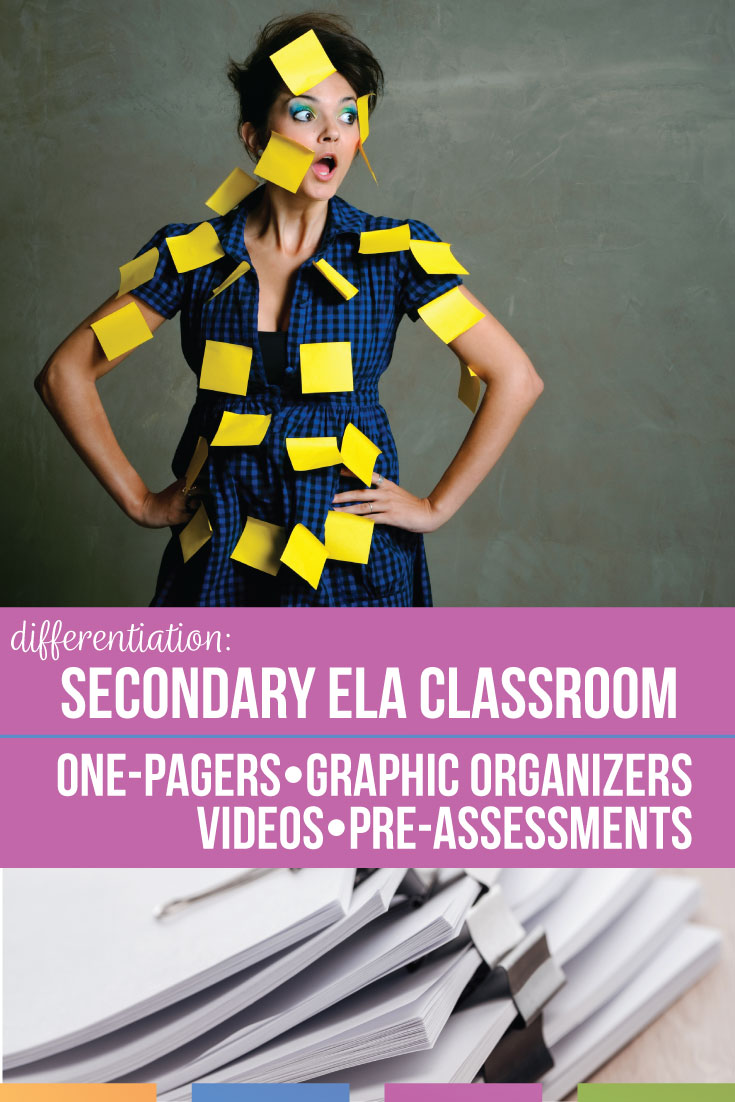 Teachers want to differentiate. 
Differentiation in English classroom is impossible without help, though.
A teacher who differentiates by going alone—creating materials (and imagining and researching) will face burnout. Other teachers need implementation help. Some teachers are unsure of what differentiation involves. Twenty years ago (yes, I typed that), differentiation was not part my teacher training. So…
Implementing differentiation into the secondary classroom presents several problems for the teacher. It may seem unnatural, may seem overwhelming, and may be unknown.
Thankfully, I've made mistakes for you. When I began the process of differentiation, I was scared of asking for help. Now, I ask my real-life colleagues and online groups for help. For differentiation, I've discovered these tips: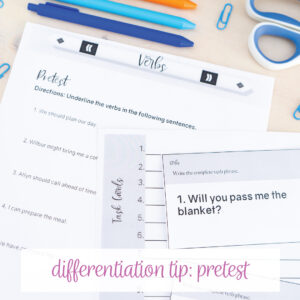 Pre-assessment. 
Dividing students into groups is great, but unless you know what students know, groups won't make much sense. Many publishers will give pre-assessment tools away for free, giving teachers a 'taste' of the big unit. Start with those, and then branch out.
If you discover that students excel in some areas but seem behind in others, you might give a targeted pre-test to decide. You can be as narrow as you like, such as giving an overall grammar pre-test or a targeted pre-test for verbs. The fabulous fact about pre-tests? Students don't mind them! Frame the pre-test as your getting to know their strengths and areas for improvement (because that is totally true!), and students happily give you information. They don't want to review areas they already know, and I've found that when I am upfront with them that I don't want to bore them, they appreciate it.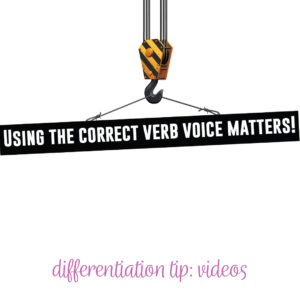 Fun, attention-grabbing messages.
Youtube and Pinterest give me tons of introductory materials. Sometimes, students upload their final products from other teachers! These can serve as examples or as review material. Using images of plays (in production), art from a story's time period, or advertisements related to a theme provide differentiated learning, too.
Plus, videos are great for differentiation in the secondary classroom because students can review the material multiple times—alone, not in front of classmates. Students, for instance, can review active and passive voice at their own pace.
Videos can bring different meanings to students. I know when I teach Romeo and Juliet, students latch onto different pieces of the videos. Some look at the scenery, some at the costumes, and others at the acting. Discussing literature in many ways is differentiating through learning styles.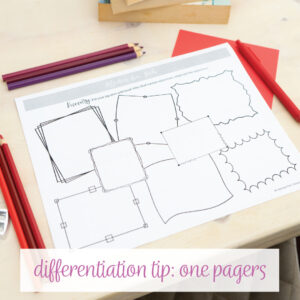 One-pagers.
The beauty of one-pagers is that they encourage student choice. Does a student find symbolic meaning with color? What about a specific theme they want to illustrate from the lesson? Write a paragraph? Students have a choice in how they display their knowledge. You can also use one-pagers across the ELA classroom, with grammar, literature, writing, and public speaking.
Finally, one-pagers are easy for extension activities. Students can easily create a 30-second impromptu speech about their one-pager or write a few sentences. For instance, since the research on differentiating choice reading is great, I get students tasting different books by providing this adjective one-pager for young adult literature. Because that one-pager asks students to consider titles, students will hunt through many books searching.
Graphic organizers. 
With lit circles, independent reading, and book clubs, graphic organizers allow for differentiation. Sure, you can ask basic questions, and those are great starting points. To really delve into literature and explore how other people see the material, provide a variety of literature graphic organizers.
For example, when I move students into literature circles for discussion, I will have three or four graphic organizers ready for students to choose. Sometimes, I provide extras so that students can work on the same one with a friend. With choice, students might be answering the same questions, but in different ways. If students are looking at theme development over the course of a story, one student might be looking at characters and their influence while another student focuses on conflicts. The graphic organizers become the vehicle for reaching complex standards.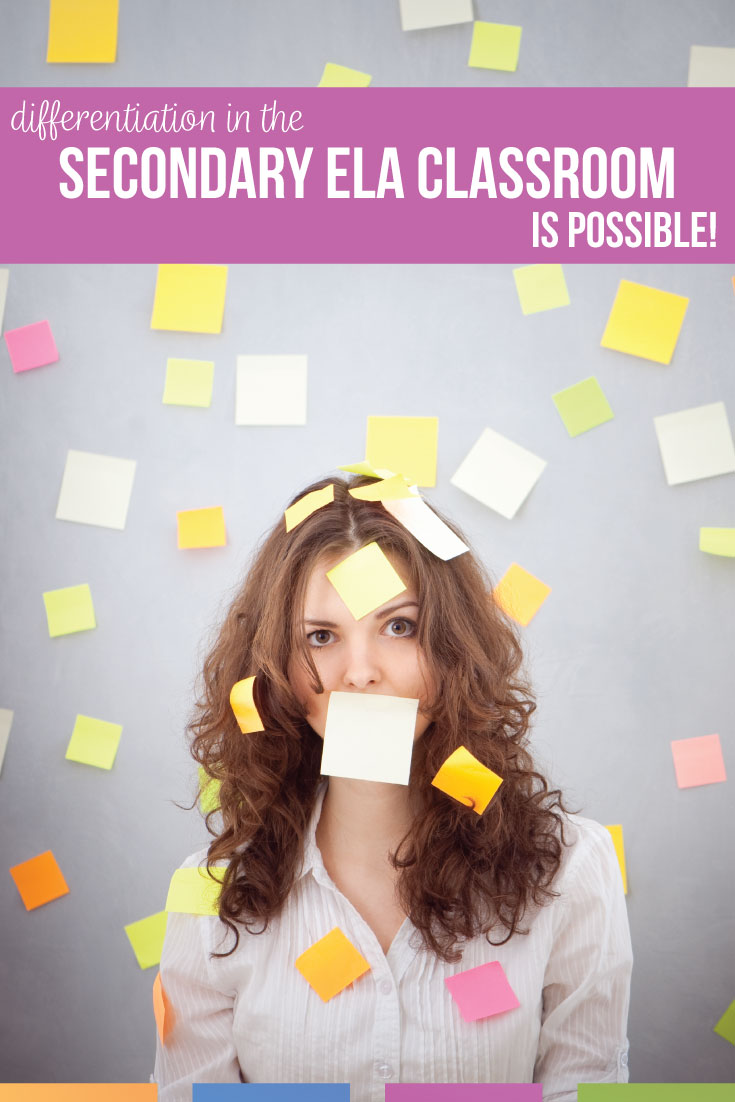 Differentiating involves maneuvering lesson plans and collaborating with other teachers, but the finished product is beautiful. Students express themselves and understand the material. Sometimes, teaching is beautiful and always, difficult. You've reached more students than if you had ignored differentiation in the secondary classroom, and you should be proud.