Types of sentences worksheets, activities, lessons, tricks, and more!
Simple, compound, complex, and compound-complex sentences: these sentences are tough to recognize. You might be intimidated to teach them. This post aims to help you.
I'm going to walk you through my process and give you suggestions. Just like anything in teaching, the first time through a lesson, you might stumble. You will be able to still meet the standards and teach students about types of sentences.
Start at the beginning. This infographic is for you and your students. Please right click on the picture, save it, and show it to your students. Doing so firstly shows students that you have a plan for them. Secondly, students will know what to expect and understand that some concepts are requirements for understanding types of sentences. Finally, you will have all of the definitions and expectations in one spot. Parents and students alike appreciate this.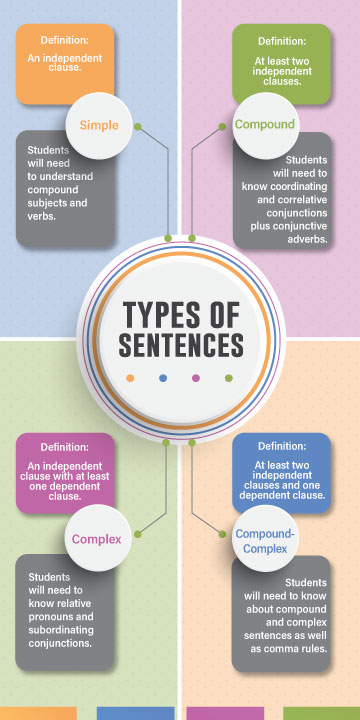 Next, introduce simple sentences. Students know what these sentences are: simple sentences contain a subject and a verb, and either one of those can be compound. Don't think that these "easy" sentences can get a fast explanation. Students must be able to identify an independent clause for other sentences.
Spend a two or three days (take more if needed!) covering simple sentences. Ask students to write them. Create simple sentences with compound subjects together. Find simple sentences in literature. Practice them in a variety of ways.
After students understand simple sentences, cover coordinating and correlative conjunctions, along with conjunctive adverbs. You probably covered conjunctions with parts of speech earlier in the year, but students normally need a quick reminder. I do provide direct instruction so that students can reference their notes.
Combine simple sentences together from the previous days' lessons, and build on students' prior knowledge. Typically, I complete lots of group and laid-back work with simple and compound sentences by using grammar manipulatives. Students write compound sentences every day, but many of them forget to use proper punctuation. I review that component with them as well.
Then, review subordinating conjunctions. We memorize these conjunctions, and my students often call them ASWABIs. (That pneumonic sounds like a medical term to me, but students remember it!) After students can recognize subordinating conjunctions and relative pronouns, we begin highlighting dependent clauses in complex sentences. Again, I provide direct instruction before students begin writing and identifying complex sentences.
Students might need a quick review at this point. I rely on color by grammar to review the three types of sentences so far. This coloring activity encourages students to reread the questions so that they get the coloring right, and I like that extra emphasis. You could also do a quick Google quiz review if you don't have time for coloring.
Finally, we add all the pieces together for compound-complex sentences. We play with the language with our manipulatives or sticky notes. Often, I treat this portion as a review of all the sentences. Students will create a simple sentence, then add another independent clause for a compound sentence, and then they will add a dependent clause for a compound-complex sentence.
You can have students write a paragraph that uses all of the sentences or you can write a paragraph together. Discuss concepts with students: when does a simple sentence work? When is a complex sentence effective?
Finally, be sure students understand the material with a quick exit ticket activity.
Another tip: reference the infographic as you teach! It has definitions, and students can keep a copy pulled up on their devices.
Types of sentences worksheets, hands-on pieces, and grammar sorts sprinkled with direct instruction, writing, and guidance will create a successful experience. If you are looking for many of the materials mentioned in this post, you can see my types of sentences unit.