First Chapter Fridays work well in my secondary classroom. Here are some tips I've learned.
(First, I want to acknowledge that I did not invent First Chapter Fridays. I saw teachers talking about the process on Instagram. I searched for ideas and couldn't find solid ideas for high school students. I took the idea and developed the guidelines below. If you know who indeed created First Chapter Fridays, let me know, and I will credit them.)
I want my classroom culture to be one of language, of appreciating the written and spoken word. Like so many of you, I want a literacy-rich classroom. This past summer, I decided that one way to achieve that would be through First Chapter Fridays.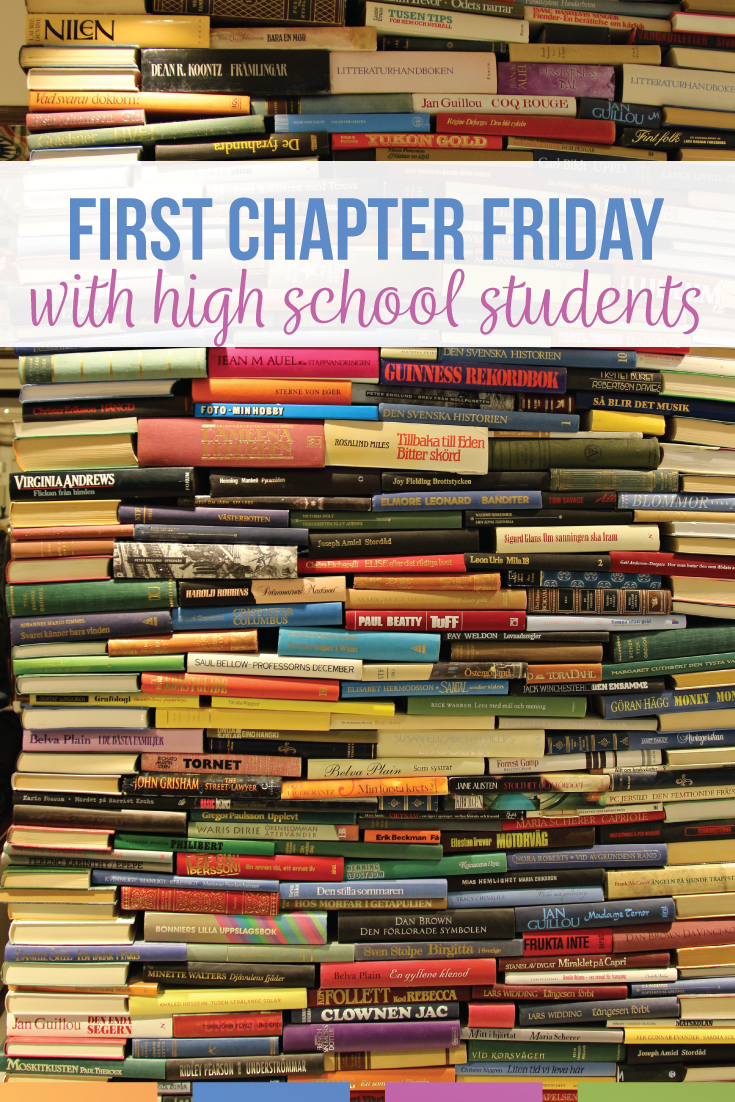 Students love it when I read to them. Every Friday, I read one chapter of a new book to my students. Hopefully, one of them asks to read it. If no one takes the book, that's ok! Students relaxed while I read, and they experienced a new author, genre, point of view, and on.
This process has worked well with my freshmen, and I hope you can adapt the process to fit your needs.
Find an assortment of books. In my post about building a classroom library, I discuss ways to find inexpensive books. If you don't own books, borrow some from the library. Share books with colleagues.
Pick your book! I have a general process of considerations. I want to expose my students to different genres and both male and female narrators. I want them to experience meaningful topics about refugees, blended families, bullied teens, and everything! I keep a running list of my First Chapter Friday books. I search for ones that will address new criteria.
Complete a quick Internet search. Only you can judge what will work in your community and school. Be sure that the subject matter is acceptable.
Read the book, or at least read a few chapters. If you're like I am, you'll read the whole book. It's fine; stand in the hall and read and greet students. I actually believe this small act of stepping into the hall to read has improved my classroom culture.
Make a plan for the presentation. Sell your book! I do a bit of a "book talk." For instance, when I used Deadly Design for a First Chapter Friday, I planned my presentation ahead of time:
I read the first chapter. We "met" the twin brothers. The brothers were genetically modified, and one was kept frozen for two years. The twins were actually born two years apart.
I read the back cover that explains how one twin will die of a genetic condition, leaving the younger twin two years to find a doctor to fix the problem. At this point, students were hooked.
I read the second chapter. They were hooked!
Plan ahead what will work for your book.
Finish, and ask if anyone wants to borrow the book. Often, I do have students ask me to borrow the book. If I have a student who looked interested, I will ask that students quietly as the bell rings. They normally take the book.
Choose a new book for the next Friday!
My librarian is fabulous, and when I have multiple students who want to read the book, she borrows extras for me. Sometimes I will give students a similar book. I once read a Sarah Dessen book for First Chapter Friday, and I ended up distributing several of her books to interested students. The point for me is that I was putting books into the hands of students.
Those are my thoughts and processes behind First Chapter Friday with secondary students. Have you tried First Chapter Friday? What worked for you? What concerns do you have? I'm interested to see other high school teachers' processes. 
Thanks for coming to my blog! Did you want literary graphic organizers or note-taking sheets? Other common searches include literary posters and talking points for parents. I'm glad that you're here!