I am simply not judging your grammar.
Recently, I've seen a weird and unfortunate joke popping up online. There are posters, mugs, t-shirts and memes: I'm Silently Correcting Your Grammar.
Lots of ELA teachers have a dilemma about teachers judging students on something so connected to culture like grammar. (When I mention "grammar," I am referencing both written and spoken English.) I've seen jokes and witnessed meltdowns about language in both settings. All of these experiences lead me to question why teachers (and other adults) "judge" students' grammar. 
As an English teacher, I'm always interested in ways teachers use grammar in their classrooms. One of my main goals as an author is to give teachers a variety of tools to explain grammar, whether through a scaffolded workbook, through coloring or through manipulatives. (Yes, even a worksheet can help students.)
But this "judging your grammar" message is not beneficial to students. The memes might be funny, the t-shirts cute. Here are three reasons why the message is not.
1. Judgment ignores the complexity that is language.
Search "code-switching" on Twitter, and you will see educators and linguists arguing about the best approach for teaching grammar. Text messages, emails, formal language, informal language: Professionals debate what these should look like.
A few weeks ago, educators discussed if "you" belonged in formal, academic papers.
That is wonderful—and we should show students that people do this! Why? These debates are grammar in action. These discussions are evidence that grammar is applicable to real life. Language changes, and grammar rules do evolve.
Our cultures play a huge role in "grammar." Don't dismiss a student's previous experience; grammar is complex. We wouldn't dismiss what life experiences a student brings to literature, and we shouldn't do it with grammar, either.
2. Judgment ignores the obstacles about teaching grammar.
Some educators believe that grammar lessons are detrimental to student development. Some believe that a worksheet is inherently bad. When we teach grammar, we can face obstacles.
A fear that educators share with me is that they don't want to return to poor teaching practices. I agree. Lessons should connect to real life. Show students that grammar is ever-changing and debatable. Invite students to take part of the debate and to participate in questioning rules.
If we tell students we are judging them, they won't want to analyze their language. They won't feel comfortable with us. Plus, who wants to give a speech or write a paper that will be judged from the beginning?
3. Judgment ignores that grammar is more than rules and lists.
Sure, "understanding" grammar requires memorization. This knowledge can be liberating instead of constricting.
NCTE states: "For English teachers, the study of language does not stop with improving the quality of written sentences. It involves tuning students in to the language of their daily lives."
Learning the concepts and understanding the basis for rules can be fascinating—but grammar instruction should never end there. Grammar is more than rules and lists. Grammar comprises what we read and say and write. It is a tool for writing, sure, but grammar lessons must go beyond that.
As NCTE advises, grammar should include the language that students use. As an educator, I don't want my students to feel judged. I want them to feel the exact opposite way. I don't judge what students think about literature or what they choose for a speech topic.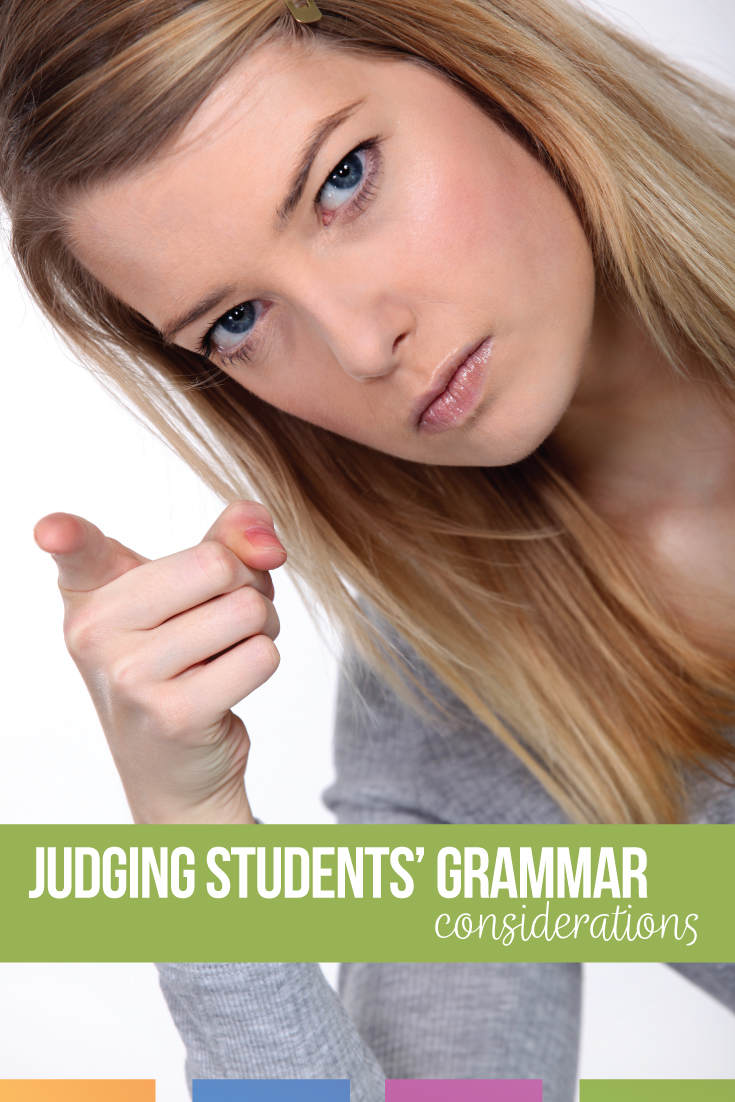 The takeaway
All these memes, shirts, jokes, and posters (even in classrooms!) about "judging your grammar" may perpetuate bad, dangerous myths about learning and teaching grammar. Even if we adults think our jokes are funny, even if our students laugh, this joke sends the wrong message.
In fact, it takes me back to a teacher asking for memorization and ending the grammar lesson there. Back then, as a student, I was eager to discover more about the language of daily life. I reread slang and interesting dialogue in my stories. I didn't realize that I was investigating colloquialisms and sentence structure. And now, as a teacher, I believe that grammar is a tool for us all to reinforce positively. We cannot return to the old practices of handing out a grammar worksheet and stopping at that.
Our world is diverse, and students deserve having a foundation of their language. They can learn it. That should only be the beginning of grammar lessons.
If we tell students we are judging them, we'll never get there.
In The English Grammar Workbook for Grades 6, 7, and 8, I provide over 125 activities to help students learn the basic framework of grammar and hone their skills. If these grammar activities and processes help you in your classroom, this book provides exercises for whenever you need them. The workbook covers everything from parts of speech, to sentence structure, phrases and clauses, active and passive voice; mood; punctuation; writing style; and more.