Teaching nonfiction? I almost titled this, "how to teach nonfiction without putting your students to sleep or confusing them." This is a look into my nonfiction lessons.
I teach nonfiction alongside literature and poetry, but I also complete a larger nonfiction unit and require students to compose thoughtful and appropriate responses to nonfiction. I feel that this readies them for college and careers, and I've found that students (and adults) struggle to respond maturely to a variety of subjects.
This is my process for teaching nonfiction. You should be able to apply this process to any piece of nonfiction and make it your own. I will provide examples throughout the post, but you of course don't have to use them.
Set the tone
Nonfiction will be the majority of what students read as they leave high school. It is heavily covered on standardized tests because colleges expect students to proficiently read it. Nonfiction is a multifaceted source that requires analytical skills.
Before diving into a piece, students and I devote time to discussing when they will read nonfiction. Part of being a citizen is staying abreast of important situations. Remaining modern in whatever field they study will require reading updates.
Next, I start with a high-energy piece that will interest them and that I can bring to life with images. Often, I let students do the work for me and find images that match the nonfiction piece! This provides an opportunity into discussing valuable resources and citing sources.
No matter what the first nonfiction article is, I provide "extras" to help students understand the material. I'm ready to scaffold with graphic organizers or brainstorming as a class. Then, we move to reading and understanding the nonfiction piece.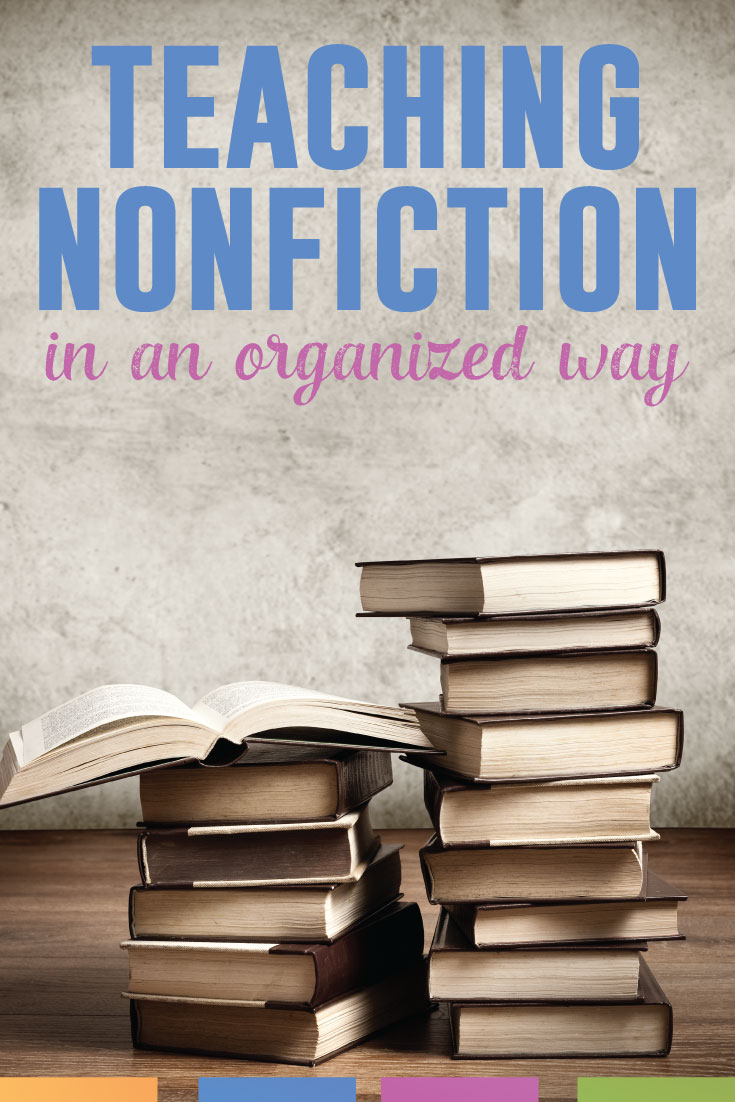 Provide background
For instance, students love learning about advertising and marketing. When I teach a nonfiction article about marketing, I detail what "marketing" is. Students will acknowledge print, radio, Internet, and visual advertising.
I remind them that marketing encompasses more than standard commercials. The colors, fonts, container shapes – everything associated with a product contributes to the marketing message. Students wouldn't regularly know this, and by giving them background, I'm setting them up for success.
I also tell students that they will be responding in writing to the nonfiction piece we read. The background information is not necessary to their written responses, but they are welcome to cite it.
Brainstorm together
I believe in the power of analysis together. For every piece of nonfiction, we read some or all of the piece together and brainstorm varying angles together.
In  "The Curse of the Olympics," students see a very negative view concerning the destruction the Olympics leave behind. I discuss the author's attitude with students and look for specific words that show the author's angle. Sometimes, we simply make a chart on the board and add examples. Don't think that you need to create a huge activity for students to find meaning!
For the first nonfiction piece, we analyze views together. The next time, students might work with a partner. As continue with nonfiction, I release students and have them complete more work alone.
Another important topic we discuss is the opposing view. Students might not find an opposing view in the article, but one probably exists. It is important for students to look and not simply swallow the viewpoint in front of them.
Write a response!
After looking at the background, reading the nonfiction piece, and analyzing it, students write about the topic.
This is fun for me (and hopefully my students) because the writing prompts are limitless. If you're covering nonfiction for the first time, you might wish to give students one or two writing topics. If you need to meet argumentative or informative writing standards, you might need to specify a topic.
If you are comfortable, provide suggestions but then allow students to take ownership of their response's directions.
I also keep nonfiction in my classroom library. Students have other opportunities to interact with nonfiction aside from assignments. That is a quick rundown of how I approach teaching nonfiction.
If you need pre-made nonfiction materials, I have five weeks of material in my Nonfiction Unit of Current Issues. All samples (and more) used in this blog post are included in this unit.
Looking for more nonfiction teaching ideas? Melissa has you covered at Reading and Writing Haven.