Are you looking for The Hunger Games lesson plan ideas? I have taught the famous novel as well as Catching Fire and Mockingjay multiple times.
Each chapter ends with a cliffhanger, a love story spans three books, and a memorable heroine takes charge: I love teaching The Hunger Games. Any time that students become excited about literature, I love a story even more than I previously did. Students really enjoy this series, and I have taught it in both middle school and high school. My Hunger Games lesson plans have evolved, and I've created Hunger Games activities for middle and high school students. 
No matter your format (lit circles, whole class novel) you can implement these pieces into your lessons. The Hunger Games lesson plan ideas: Use the following ideas to form or build your dystopian study.
The author
Any Hunger Games pre-reading activities I use with students involves looking at the author. 
Show an interview of Suzanne Collins talking about the background of The Hunger Games. Before I watched that video, I was unaware that the story had mythological origins. That's perfect prior knowledge to build off for students who love the Percy Jackson series.
Collins also discusses her inspiration for starting the story which students might find intriguing. Hooking students before diving in to your Hunger Games novel study will pay off later. 
Infographics
After teaching The Hunger Games a few times, I realized the depth of material included in the book. Students might find some of the story confusing and need support. I often make anchor charts a staple in my Hunger Games activities. 
If students find the characters confusing, clarify the characters with infographics. Students can add descriptions, quotes, and actions from the characters to personalize the meaning. Plus, you can use the final images as review when you finish the book.
Dystopian literature
The Hunger Games lesson plans should include a background of the genre. Students might not be familiar with dystopian literature. Explain the background and genre so their knowledge expands.
After students finish the series, you can suggest other dystopian books. I enjoyed Divergent, The Fifth Wave, and The Grace Year. If you learn that students enjoy that genre, you can add dystopian novels to your First Chapter Friday list.
Writing
Students remember concepts when they write about those ideas. Include time for writing in your The Hunger Games lesson plans. For higher order thinking questions, I provide choice with an assortment of prompts. Not every student will feel inspired by every prompt!
I share and utilize  journaling prompts with students many ways:
Quick exit tickets.
Group writing (where students each contribute ideas to a journal).
Brainstorming for larger writing assignments.
Sometimes, I don't incorporate journaling prompts into my lesson plans. Instead, once we have a fabulous discussion, I'll add on one of the prompts to cement students' understanding of our conversation.
Reality television
Discuss the implications of audiences not understanding the setup and performance of reality television. Katniss is incredibly aware (as are the other tributes) that their performance during the show earns food, safety, and money. The final viewing with Caesar, a montage of clips, is heavily edited to portray what the Capitol wants citizens to see.
I typed out every example of reality television from the book. After providing informational texts about reality television, students and I examine the effect that propaganda had on the citizens of Panem. Students understand that television and advertising manipulates them, and you can explore data and statistics concerning medial while teaching The Hunger Games.
Movie
The movie is well done, and you can meet standards if you show the movie to students and ask them to compare the book and movie. Some parts were added to the movie, and some were taken away. What was the effect? Were the changes improvements? Students love critiquing movies, and you can incorporate lessons on text support and citations in a written response.
Other options include a basic movie review, a T-chart, or a one pager to cap off the movie and your Hunger Games novel study.
Mentor sentences
Since students enjoy the story, you can easily meet language standards with the material. This free download includes sentences for students to analyze and includes an answer key for you. Mentor sentences allow for
Extension activities
A common extension activity with The Hunger Games is creating an art piece. My students have created collages, movie posters, and skits to end our unit.
I've compiled a list of extension activities if you're wanting to provide student choice in closing the novel study.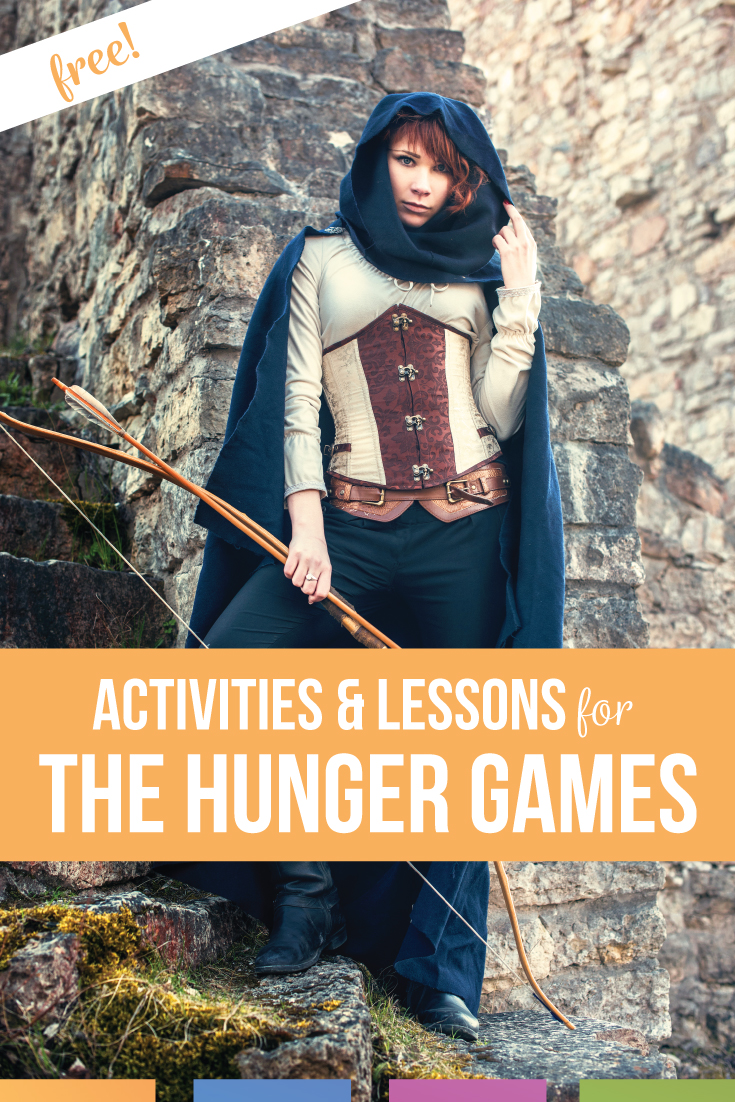 You probably already have started to gather The Hunger Games lesson plan ideas. I hope these videos, informational texts, and resources enhance your novel unit. If you need a complete Hunger Games novel study, check out my Hunger Games Unit.