Using Twitter for professional development – to build your personalized learning network? Sure! Here are Twitter tips for teachers and ways to build your PLN.
I've been on Twitter for five years now. At times, Twitter has annoyed me and I've given it up for months at a time. Other times, I've learned from Twitter and appreciated its versatility. It is a useful part of social media marketing and collaborating, so I am sharing my Twitter tips for teachers that I've learned over the years. Hopefully this gives new Twitter users tricks and ideas to get the most from Twitter.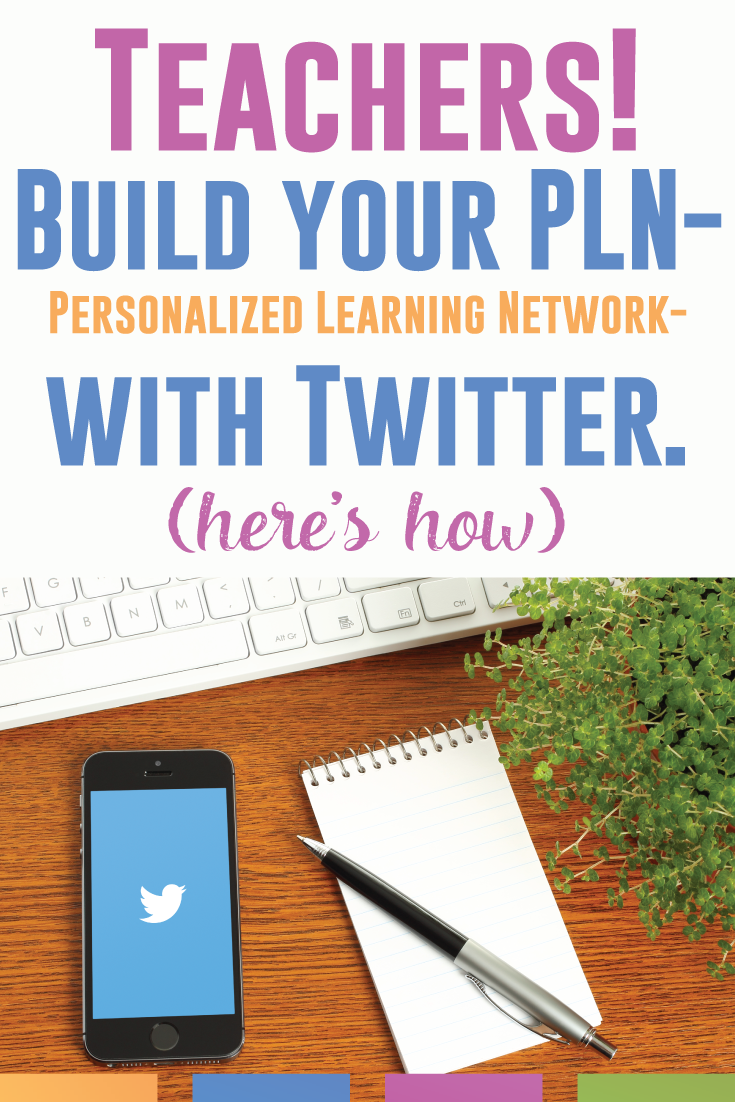 1. Follow influential people.
The beauty of Twitter is that you can hang with the big dogs, without really "hanging." That is, you can follow celebrities (or famous people in your field) and they will perhaps follow you back! or tweet at you! Twitter makes keeping updated with happenings in your field easy. You can see the news in a timely manner.
This goes for news publications too. For instance, I follow @Comm_College, @Scholastic, @educationnation, @edutopia, @HuffPostEdu, and @EdProgress. Even if I don't 'agree' with the news, I'm current in my field.
2. Spread the tweet love.
You want to be recognized in your niche as a quality person, a well-read someone, an "in the know" type who tweets valuable reading materials. That means you should tweet other TpT bloggers, other educational bloggers. People devoted to a field of study will acknowledge valuable information. Don't simply tweet your own stuff – followers will mentally or literally block you.
Recognize where you got information. Include the person whose post you are tweeting. Most people will return the favor.
3. Make two Twitter accounts.
Twitter doesn't limit how many Twitter accounts you can have. Unless your personal beliefs and opinions are a major part of your brand, consider having two accounts. The Twitter app will even let you switch back and forth between them.
For instance, most of my family and friends are not "in" to education like I am. They would be annoyed if they followed @elaclass. That's fine because they follow my personal account, where I don't discuss my work ideas. My TpT colleagues, similarly, are uninterested in my views on reality television (even if I think they're interesting).
4. Know hashtags.
The two most popular hashtags on my Twitter feed are #educhat and #tptchat, followed by #homeschooling and #parents. I add to those discussions and learn new ideas. If I don't have tons of time to devote to Twitter, I conduct a quick hashtag search and go from there. This also loops back to #1 because I find new Twitter accounts to follow that way.
Every Twitter user will have favorite hashtags – and you can even create one of your own.
5. Don't overpost – plan your tweets.
When I first started on Twitter, I would check in a few times a day. And tweet and overwhelm people's feeds, I'm sure. It probably got me unfollowed as well. Have a presence on social media, but don't saturate people. It's fun to be spontaneous and respond to people but when you are promoting your blog posts or products, space out your tweets. You can check in periodically to do that, or use a program.
I use buffer currently but have also used TweetDeck and HootSuite. Play around with them and choose what works for you.
6. Make and follow lists.
You can make lists on Twitter. These immensely organize me! It also minimizes the chance of my becoming overwhelmed. For instance if I feel like reading daily stories on education, I click on my "education list." This is where I follow major outlets' educational sections. If I want to see what is happening in the TpT world, I click on my "TpT list."
You can follow people's lists, too! I'm on the lookout for "TpT' and "teacher bloggers" lists.
Don't know how to make lists? Click on your profile button and a drop-down menu will appear. Click on "lists" and start making lists that matter to you.
7. A trick with "@."
I did not know this and have made this mistake. If you start a tweet with "@" and the Twitter handle (the Twitter account), you will be replying to that person. So if you are tweeting someone's fabulous blog post and want to include that person in your tweet, don't start the tweet with "@." That person will be the only one able to read the tweet. You can read more about that here.
The beauty of Twitter? It is a social media tool that encourages users to be social. Everyone can see your tweets (unless you have your account set to private) and you can follow a range of people and businesses. These Twitter tips for teachers are on the beginning – Twitter is huge and you can find tons of information from a quick Google or Pinterest search. Twitter even has its own glossary of terms specific to itself! Hopefully this gives you a start in your Twitter use.
What Twitter tips help you? It's a social media giant, and we can use all the tips you have to offer.