American literature lesson plans: Are you teaching an American lit course?
I know that many ELA teachers work through literature thematically, but I teach American literature chronologically. I also know that ELA teachers break the time periods differently (by labels and by specific years), so I'm not writing about that today.
Basically, I want to provide you with some informational texts to pair with your American literature pieces, give you some free downloads, and show you some links. This post simply gives ideas of what another American literature teacher has done in her class. I always want to freshen my lessons with new ideas, and I hope this post gives you inspiration.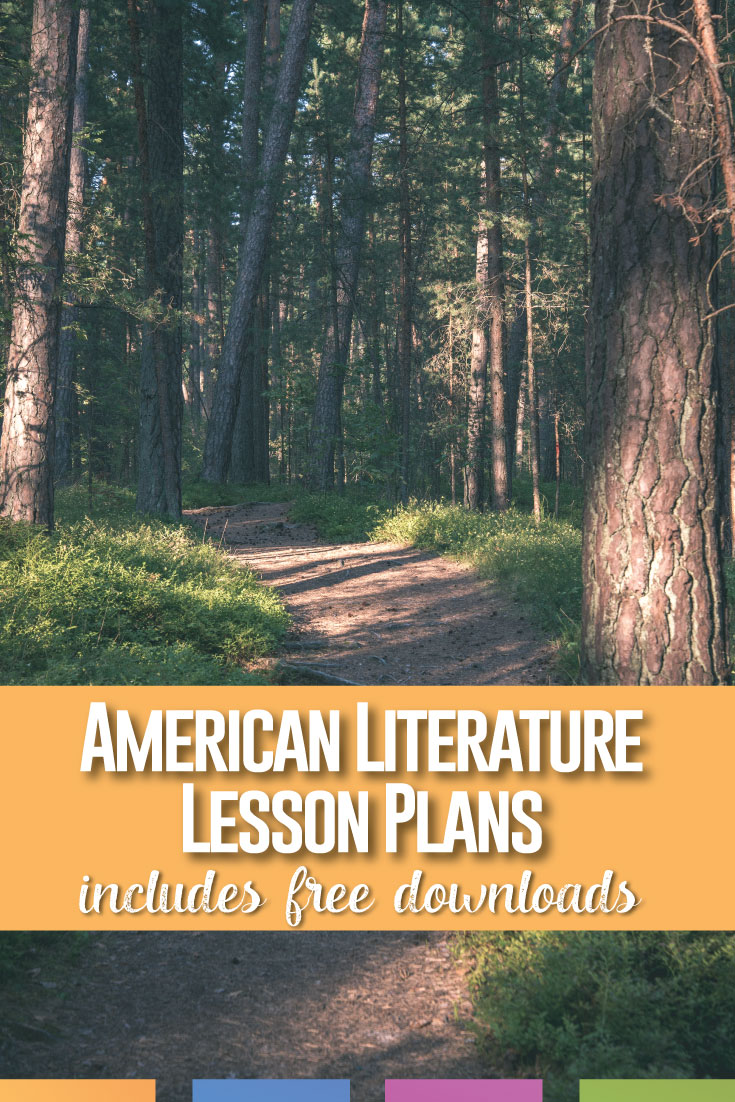 Beginning
America had many moving pieces at its creation that still affect citizens today. We work on the Colonial and Revolutionary periods, but we also read specifics of varying voices.
One of the first readings I incorporate into American literature lesson plans is Equiano's writings. His writing is powerful and many of my students, even though they are juniors in high school, are shocked to read about the treatment of slaves. We spend a day exploring slave narratives.
I never want my students to read American literature and think that Christopher Columbus found America and we lived happily in peace. To make that point, I stress with students that we must hear from different voices.  As we continue with early American literature, I cover Abigail Adams,  Anne Bradstreet, Jonathan Edwards, and Phillis Wheatley.
Students have an idea of what America looks like today. How did those moving pieces, those different voices contribute to the foundation of their country? How are those voices still important today?
Middle
As we continue, I bring different pieces to class. Literature, sure, but also poems, speeches, and letters.
The middle of  chronological American literature lesson plans will include romanticism (realism and naturalism). High school students normally enjoy Henry David Thoreau, Taught during the transcendentalism time period. Often, students interpret what his writings mean in their lives. I particularly use informational texts to help students make deeper connections.
In Maine Trail Pays Tribute to Thoreau, Clarke Canfield writes about an effort to retrace Thoreau's footsteps. (I think this Henry David Thoreau lesson could also be used with Google Earth.)
A few ideas:
Have students read the nonfiction article before reading Thoreau. Ask them to write what they think a major theme in his work will be, making a nice anticipatory set for your Henry David Thoreau lesson.
Have students read the nonfiction article after reading Thoreau. Help them draw connections between the writing and the "tribute."
What poetry would pair with this nonfiction? Pairing texts for students really shapes a literature unit.
The article is nonfiction and may help students understand that Thoreau is still relevant today. Teaching the American Transcendentalist time period is such an awesome way to reach students who may not typically care for literature. Also, science-minded students care deeply about the environment and enjoy the outdoors. They will perhaps see connections from American Transcendentalism in their lives today.
I continue to pose questions to students. What voices are amplified? Why? Where are we missing pieces? Sometimes, students will tell me that they are frustrated by the book's reliance on male authors. (My textbook does have an abundance of male authors.) I continue to supplement with outside pieces.
Modern
Teachers have a bit more freedom in connecting American literature lesson plans to the modern world.
I teach The Great Gatsby as well as A Raisin in the Sun.